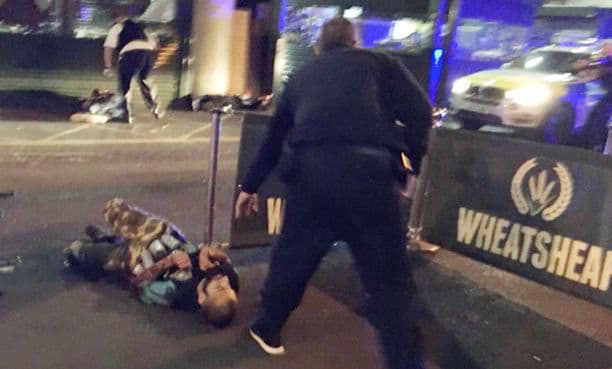 London attack: 3 Jihadi terrorists dead after plowing into London Bridge pedestrians and slashing restaurant patrons.
Reports have told of up to three Jihadi terrorists armed with 12 inch knives entering London area restaurants slashing revelers during Saturday night festivities in the London Bridge area.
The attacks came after a white van stormed into pedestrians along London Bridge, injuring upwards of 50 individuals before three men alighted and began slashing randomly along the bridge before entering nearby restaurants, including the Black & Blue steak restaurant and nearby Wheatsheaf pub, in Borough Market.
Witnesses described the knifemen 'storming' the packed steakhouse and slashing at diners during the ensuing chaos, slicing at their throats, faces and stomachs.
One witness said a 'dark-skinned' man in a red tracksuit 'calmly' stabbed a man three times.
'The men said this is for Allah as they left the van and attacked victims. There were definitely three people sitting at the front of the van,' told one witness, London Bridge eyewitness Eric Seguenzo via BBC News
London Bridge attack: White van runs into pedestrians, 3 men get out slashing, 7 dead, 20 injured
@glnta7777 @LeaveEUOfficial @DavidJo52951945 @ProudPatriot101 @blackcat9508 Eyewitness to London attack pic.twitter.com/cQpgGZhIUV

— I'm with stupid (@done_cba) June 4, 2017
The bbc reported confirmed seven individuals dead and up to 48 persons injured in total. It wasn't clear if the fatalities included those attacked along London Bridge or revelers inside adjoining establishments?
At least two of the attackers are believed to have been shot by police outside a pub. One of the shot men was pictured with what appeared to be canisters of munitions along his chest. A second assailant was shot dead nearby. A subsequent report via the dailymail told of three Jihadi's in total shot dead.
A report via the guardian told of the assailants wearing hoax suicide bomb vests.
The rampage lasted eight minutes, beginning at 10.08pm on Saturday, before the three men suspected of staging the attack were shot dead by police at around 10.16pm.
From BBC – photo taken of 2 men on ground allegedly shot by police, nearest has cannisters strapped to him. Outside Wheatsheaf pub pic.twitter.com/xhfJxfx9Ev

— Juicyfruit (@HindeQuarters) June 4, 2017
Witnesses told of the knifemen stabbing and slashing indiscriminately, with one reveler believed to have been stabbed five times, while unconfirmed reports told of another individual shot in the head. 
At least one person is believed to have been stabbed in the doorway of the Southwark Tavern in Southwark St. 
Drinkers are said to have thrown chairs and glasses at one attacker as he stormed the pub. Video showed drinkers (see immediately below) in the basement German-themed bar Katzenjammers hiding under tables as the terror attack unfolded around them. 
BREAKING NEW VIDEO: several London police officers enter bar at London Bridge telling people to get down. pic.twitter.com/bjq15uVEmN

— The Rouser (@RouserNews) June 3, 2017
Shocking footage: London on High Alert. Police storm a pub in a hail of gunfire as customers flee#London #LondonBridge #londonattack #tcot pic.twitter.com/eTdU06Hm8h

— The Rebel (@TheRebelTV) June 4, 2017
Told one witness, at the Black & Blue in Rochester Walk: 'We hid under the table and people came into the restaurant and knocked a bunch of stuff over, like the till.
'And then we ran into the the kitchen, where there was a bunch of other people and a guy had been stabbed and he was cut and he was bleeding quite a lot.'
He added that they waited in the kitchen for 'quite a while' before they were evacuated.
Told a female witness: 'We were in the restaurant and we just saw three guys come in, stabbed someone in the face and someone in the stomach.
'One of them had a big knife, then he came in and walked around the restaurant, I guess they just kind of stabbed anyone that they saw and knocked things on the ground and then we just hid.  
Gerard Vowls, 47, who was in a pub near London Bridge, said he threw chairs and glasses at the attackers in a bid to stop them entering.
He told The Guardian: 'They kept coming to try to stab me – they were stabbing everyone. Evil, evil people.' 
The attacks come days ahead of a June 8 election in the UK and less than two weeks after a suicide bomber killed 22 people at a pop concert by Ariana Grande in Manchester in northern England. That followed a March 22 incident along London's Westminster Bridge. There was no immediate claim of responsibility for Saturday's attack.