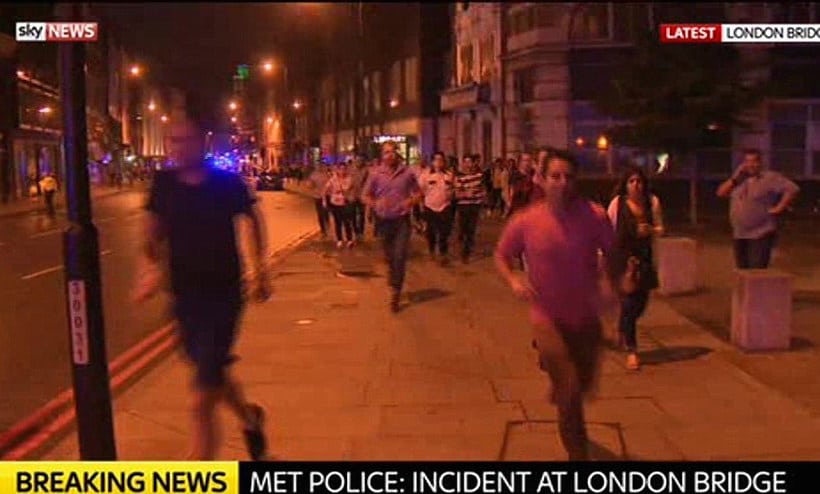 London Bridge attack: Van runs into pedestrians, 3 men get out slashing, 6 dead, 30 injured with two nearby other attacks at Borough Market and Vauxhall.
A white van has reportedly hit no less than 15-20 pedestrians along London Bridge Saturday night in a suspected terror attack leading to six people confirmed dead and 30 hurt in a 10pm local attack. Initial reports had told of seven people being killed.
The attack appeared to be part of a larger co-ordinated London terror attacks with reports of stabbings at Borough Market and another purported incident in the Vauxhall area.
A report via the bbc told of witnesses observing a van swerving off Borough Market into a crowd of pedestrians.
Told a witness via bbc: 'A white van driver came speeding – probably about 50mph – veered of the road into the crowds of people who were walking along the pavement,'
"He swerved right round me and then hit about five or six people. He hit about two people in front of me and then three behind.
I'd say there are about four severely injured people. They all have paramedics assisting them at the moment."
The witness said police were on the scene within two minutes, quickly followed by ambulances.
Upon plowing into pedestrian, witnesses told of a group of up to three men of  'Mediterranean origin', getting out of the van and targeting pedestrians with 12 inch knives.
 Five Jihadis enter London restaurants slashing patrons, 3 dead, 2 on the run
#UPDATE #LondonBridge & #boroughmarket Attack – 5 Attackers stabbing people with long knife pic.twitter.com/sniGVmzWw9

— Lucid Hurricane™✘ (@Lucid_Forever) June 3, 2017
Eyewitness video captures the moment 'gunshots' were fired in #LondonBridge Terrorist Attackpic.twitter.com/Ua0HQB6U74

— Danny smith (@doglab) June 3, 2017
Reported the UK's Sun: 'There have been reports of two to three men armed with knives stabbing people at random'.
Told one witness via the sun: 'There's been about eight of them stabbed. I ran up to see if they were all right but people were already with them. I was bloody terrified'.
Adding, 'I thought is that real? If we had of been on the other side of the road, it could have been us.'
One of the those killed was reportedly a police officer.
One attacker was stabbed by a police officer and shot by another officer, dying on the scene. Police also shot and killed a second attacker, with a third man still on the loose. 
Witnesses told of one attacker carrying 'canisters attached to his abdomen as he stabbed multiple people in nearby Borough Market.'
Reports also told of terrorists trying to storm into a busy pub in the nearby Borough Market, where a man was reportedly stabbed five times in the chest. One witness said a 'dark-skinned' man in a red tracksuit 'calmly' stabbed a man three times.
'The men said this is for Allah as they left the van and attacked victims. There were definitely three people sitting at the front of the van,' told one witness, London Bridge eyewitness Eric Seguenzo via BBC News.
@glnta7777 @LeaveEUOfficial @DavidJo52951945 @ProudPatriot101 @blackcat9508 Eyewitness to London attack pic.twitter.com/cQpgGZhIUV

— I'm with stupid (@done_cba) June 4, 2017
— Tennessee (@TEN_GOP) June 3, 2017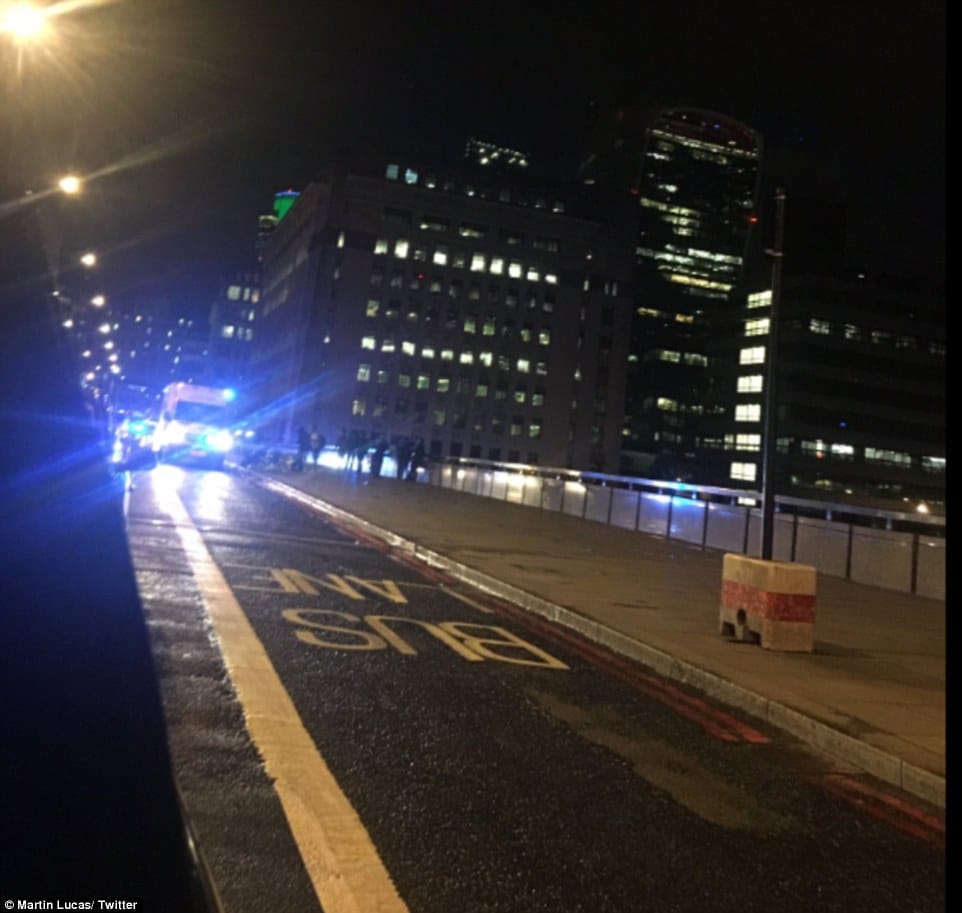 Following the attack, police implored the public to 'run as fast as they could' westbound. Police remained on the scene treating injured people and carrying them away at the end Thrale Street, some with slash wounds to the neck.
London officials described that attack as an act of "Islamist-related terrorism" and noted that one of the attackers had sent a text message just before his death saying he was committing an act of jihad against Western forces.
The attacks come days ahead of a June 8 election in the UK and less than two weeks after a suicide bomber killed 22 people at a pop concert by Ariana Grande in Manchester in northern England. That followed a March 22 incident along London's Westminster Bridge. There was no immediate claim of responsibility for Saturday's attack.
Latest updates included claims that there had been a second incident in Borough Market. with a 3rd incident in Vauxhall. That said follow up reports told of the incident in Vauxhall being an unrelated stabbing.
Follow up reports also told of authorities placing London bridge in lock down with the surrounding area closed with bus routes being diverted, as armed police and a bomb squad attend the scene and boats search the Thames for bodies – amid reports that people were pushed into the water.
To date one man has been arrested, with developing reports continuing….
NEW: London authorities apprehend a possible suspect in the London attack. Watch live: https://t.co/bCOmpCLzWg pic.twitter.com/MBAxyEanR8

— CBS Evening News (@CBSEveningNews) June 3, 2017
#LondonBridge incident: Picture shows man on ground with canisters strapped to him #LondonAttack https://t.co/pYkiuFVi5F pic.twitter.com/nAA8xnjyYu

— The Telegraph (@Telegraph) June 4, 2017
Breaking News: Another attack in Southwark London Bridge. Stabbing and gunfire.2nd incident in Borough Market. 3rd incident in Vauxhall.

— ACE (@trACEymod) June 3, 2017
BREAKING: ANOTHER ATTACK JUST TOOK PLACE; two men carrying knives and stabbing people #LondonBridge pic.twitter.com/dtR9lU4eVP

— Sandeep (@sandeep_7847) June 3, 2017