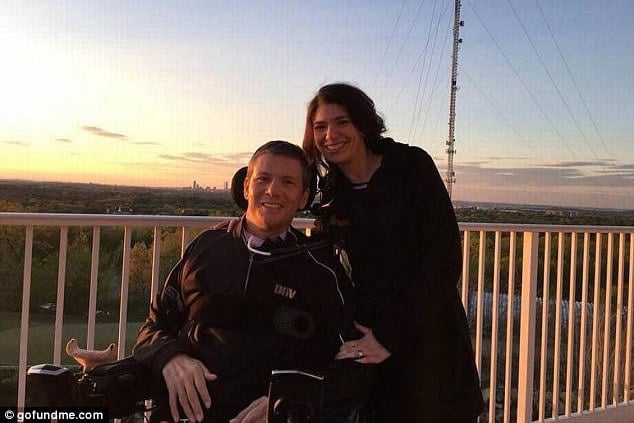 Bob Barlow a paralyzed Massachusetts man is awarded $10.75 after suing a Key West resort after claiming shallow pool he dove into had no warning signs. 
Bob Barlow a 42 year old Massachusetts father of two has been awarded $10.75 million settlement after suing a Key West resort after having been left paralyzed diving into a shallow pool.
The lawsuit against Galleon Resort and Marina came after the married father of two visited the Key West, Florida resort in April 2015 only for tragedy to strike.
At the time, Barlow and his family were vacationing at the resort, amidst 40th birthday celebrations, when he decided to dive from the Sunset Tiki Bar deck into the water below. 
It was at that moment, the former army veteran who had fought in Iraq, struck his head on the concrete bottom and suffered a severe spinal cord injury that left him paralyzed from the neck down reported the dailymail.
According to a GoFundMe page that was initially created for him in 2015, Barlow didn't realize that the water below the bar was as shallow as it was. 
He then sued both company owners for not having appropriate signage in the area. 
According to his lawsuit, neither company had posted warning signs of dangers such as diving for customers to see. 
'Nor were there any barriers or appropriate guardrails to prevent Tiki Bar patrons and/or hotel guests of visitors from diving off the deck into the shallow water,' the suit says.
So severe is the spinal injury that Barlow incurred the father is unable to breathe without a ventilator. 
Barlow's lawyer, Stuart Grossman, made the announcement of the $10.75 million settlement on Thursday.
His attorney said the bar also lacked signs about diving into shallow water. 
The Galleon at Key West Inc, the Galleon at Key West Community Association Inc and the Galleon Resort Condominium Association Inc agreed to pay a combined $9,750,000 through insurers, according to the Miami Herald. 
According to the suit, the Cook Group, who owns the Sunset Tiki Bar, will pay $1 million.
The settlement has since led to some wondering what culpability, Barlow may have played in his misfortune, after having elected to dive into an area of the pool the man wasn't certain of its depth levels.
That said, others wonder, the resort and Tikki bar were held to a standard to stave off potential injury to guests by notifying them of what most would have assumed were safe standards being enforced.