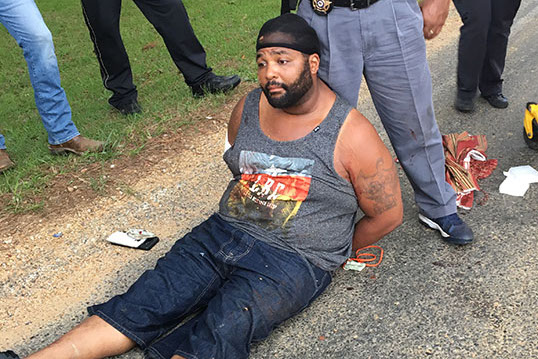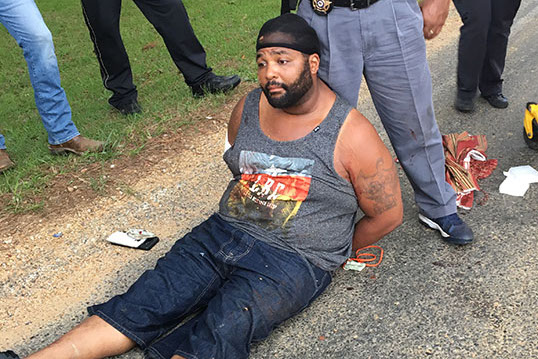 Willie Cory Godbolt shoots 8 dead in Mississippi shooting because he loved his wife and children. A custody dispute case ends in tragedy.
Willie Cory Godbolt a 35 year old, Bogue Chitto, Mississippi man is in custody after fatally shooting dead eight individuals including a deputy sheriff. 
It is initially believed the shootings came as a result of a custody dispute when the man went to see his wife.
Told Godbolt upon his arrest: 'I ain't fit to live, not after what I done,'
'Not in y'all eyes, not in nobody else's eyes.'
A report via The Daily Leader told of Godbolt going on a mass shooting after having gone to an address in Bogue Chitto to talk about his children. At some point neighbors called police, and that's when the deputy arrived.
Reiterated the father as he waited to be transported to jail: 'My pain wasn't designed for him. He was just there,'
'We was talking about me trying to take the children  home… somebody called the officer…. that's what they do, they intervene. It cost him his life. I'm sorry.'
Godbolt said he'd planned to have continued wrecking havoc until the police killed him, but he 'ran out of bullets.'
He said he was ready to die for his crimes.
Adding, 'Suicide by cop was my intention'.
Having begun his mayhem Saturday evening it wasn't until Sunday morning shortly before 7am at Super Jack's at East Lincoln Road and Hwy. 84 that Godbolt was captured.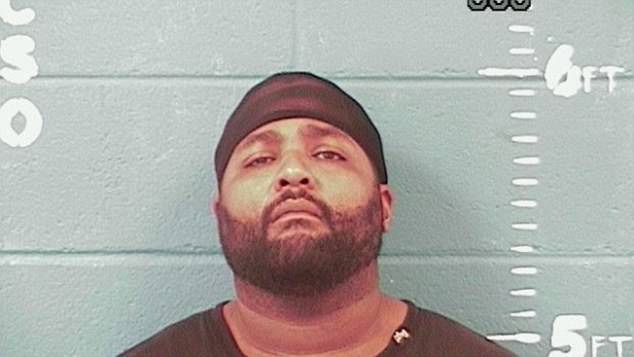 Suspect tells me Lincoln Co. deputy was just in the way, and after all this he meant to commit suicide by cop. pic.twitter.com/ZebieSQkdR

— Therese Apel (@TRex21) May 28, 2017
According to a news release from Mississippi Bureau of Investigation spokesman Warren Strain, the shooting spree began at about 11:30 p.m. with a domestic call at 2871 Lee Drive in Bogue Chitto.
Four bodies, three females and the deputy, were recovered there. The second crime scene was located at 1658 Coopertown Road in Brookhaven. The bodies of two juvenile males were located there. The third crime scene was located at 312 East Lincoln Road. A male and a female were recovered at that location.
Strain went on to identify the slain police officer as Lincoln County Deputy William Durr, 36.
Durr was a two-year veteran of the Lincoln County Sheriff's Department and a four- year veteran of the Brookhaven Police Department.
The identities of the other victims are pending notification of next of kin.
Lincoln County Sheriff Steve Rushing said the suspect, Willie Cory Godbolt, was captured Sunday morning https://t.co/4NsUbyha0q pic.twitter.com/V2aQgQraT9

— Daily Mail US (@DailyMail) May 28, 2017
#LincolnCounty: der Schütze wurde als Willie Cory Godbolt (35) identifiziert (pic: @TRex21)
pic.twitter.com/bIjwZw3mBJ

— I.E.N. (@BreakingIEN) May 28, 2017
A statement via Lincoln County Sheriff Steve Rushing told of Godbolt having been shot in the arm by someone inside one of the three homes before being transported to a local hospital for treatment.
Mississippi Bureau of Investigation spokesman Warren Strain said the shootings occurred at three separate homes Saturday night in rural Lincoln County. Two of the homes are in Brookhaven and one is in Bogue Chitto. The area is about 68 miles south of Jackson, the capital.
Strain said investigators were gathering evidence at all three locations.
Asked what set the man off, Strain responded it would be 'premature' to discuss a motive.
To date, none of the victims have been identified.
Authorities say Godbolt held a 16-year-old boy hostage at one point. The teen was freed unharmed.
A report via foxnews told of Godbolt having a long criminal record, including:
■ Charged with armed robbery and aggravated assault in 2005 after he allegedly struck a man with a pistol and took his cash and jewelry;
■ In 2013, the Lincoln County Sheriff's Office charged him with simple assault;
■ Arrested in 2015 for disorderly conduct/breach of peace and failure to comply with a request from a sheriff;
■ Arrested in 2015 for speeding, driving with a suspended license, and no proof of liability insurance by the Mississippi Highway Patrol.
In 2016, Godbolt filed an appeal to a judgment against him in a simple assault and disorderly conduct case.
In the aftermath of the Mississippi shootings, Gov. Phil Bryant issued a statement asking state residents to pray for the victims. He also noted the 'sacrifice' made by law enforcement officers to protect and serve their communities.
Told Bryant: 'Every day, the men and women who wear the badge make some measure of sacrifice to protect and serve their communities. Too often, we lose one of our finest. I thank the law enforcement agencies involved for their hard work'.
Lincoln County has about 34,000 people. The county seat, Brookhaven, has about 14,000 people, and Bogue Chitto, an unincorporated town of about 533, is about 10 miles south of Brookhaven.
Raw video from the arrest of Cory Godbolt, accused of killing 8 people in Lincoln County overnight. pic.twitter.com/8NLSkSvXQR

— Therese Apel (@TRex21) May 28, 2017
Statement from Mississippi shooter Cory Godbolt's nephew: "This was NOT the Uncle Cory everyone loved and knew. " pic.twitter.com/oOndTWnBaM

— Jacob Steinblatt (@Jsteinblatt) May 28, 2017