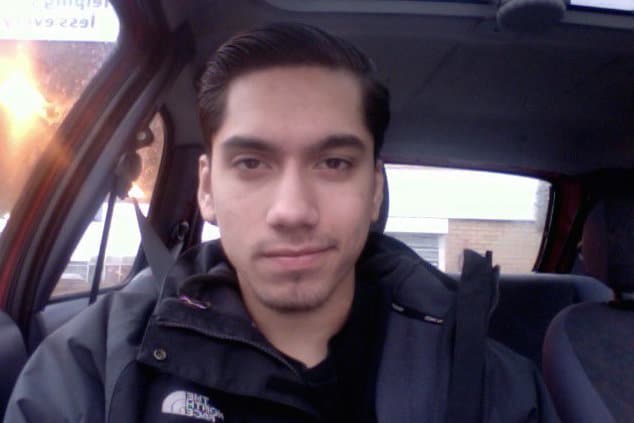 Verran Madhavan a Brooklyn man has been arrested after trying to extort a cheating husband he met on Tinder while pretending to be a woman.
A married Manhattan, NYC husband has found out the hard way that playing around on dating app site, Tinder comes with perils.
Meet Brooklyn hipster, Verran Madhavan who posing as a likely date, aka Jennifer was able to lure the husband out of $4000.
It wasn't until the duped husband went to cops that Madhavan was busted in a sting operation in Washington Square park on May 16 according to court papers.
Told the British expatriate as a nydailynews reporter tried to get a comment as the alleged extortionist made his way to their Bushwick home on Friday: 'I'm not talking',
Adding, 'I'd rather speak to my attorney.'
Court records cite, Madhavan having created a profile for a fictitious 'Jennifer' on the hook-up app, responding when the unidentified married man reached out last month.
The pair agreed to an April 27 date in Brooklyn, where the sucker husband discovered his clandestine date was looking for a pay off instead of passion.
Told court papers: 'the target was instructed via text messages to take out as much cash as you can take out of an ATM tonight or the person would … tell (his) spouse and children about the Tinder profile'.
The married man followed the directions and left $800 cash inside a yellow newspaper box.
Not done, Madhavan hustled his dupe date for a further $3,115 in hush money via PayPal.
It was when Madhavan reached out for a third time that the mid-town married man went to cops.
In his third extortion attempt, the Brooklyn native demanded another $2,500, ordering his target to stuff the cash in an envelope and leave it in the Greenwich Village park last week.
And the trap was set.
As cops watched their mark, Madhavan was arrested as he made off with the money in the envelope and money in his right jacket pocket.
During questioning, Madhavan confessed to setting up the Tinder account to blackmail the husband, conceding he used some of the extortion money to cover his rent.
A regard of Madhavan's many social media profiles include the man listing his pursuits of moshing and photography.
Of note, the introduction on Madhavan's Facebook page reads, 'Please Die.'
Told prosecutors, 'This is a strong case with a full confession as well as electronic surveillance'
Investigators said the suspect had no prior arrests. That said it wasn't necessarily understood if other tinder profiles had come to be squeezed by the man.
Presently, Madhavan is free on $3,000 bail. He is due back July 10 in Manhattan Criminal Court.