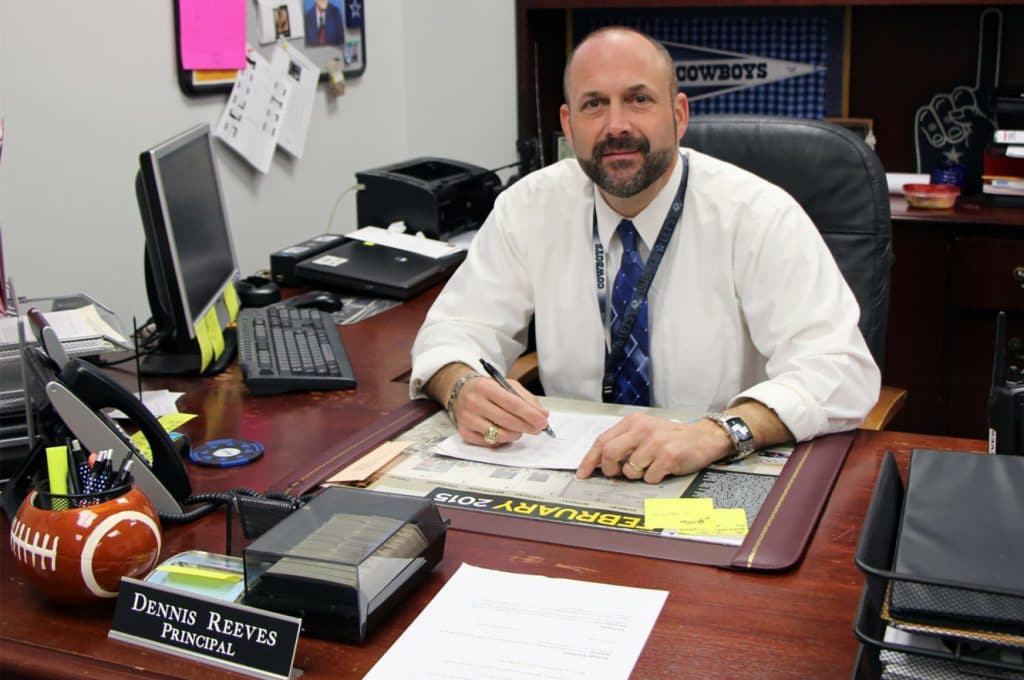 Texas School Principal Dennis Reeves suicide death? Investigators seek to determine what led to an educator killing themselves moments after handing in resignation.
Dennis Reeves a 45 year old Texas school principal has died after fatally shooting himself in the head in a high school parking lot moments after resigning.
Notice of the educator's death came after Reeves' body was found in his truck at Kirbyville High School, northeast of Houston late Tuesday afternoon.
A police report told of a .380 caliber semi automatic pistol being found.
At the time of the morbid discovery, just on 5pm, the engine of the deceased school principal's truck was still running.
Of note, police said the transmission was in reverse but Reeves' foot was on the brake noted the Houston Chronicle.
The death of School Principal Dennis Reeves, a father of two has since caused consternation with many wondering what led to the highly liked and well regarded teacher killing himself.
At the time of Reeves' death, a report via KFDM told of the superintendent and assistant superintendent being the only ones left at the school when the school official was found dead. It had been these two men that Reeves had seen when he 'tended' his resignation.
The superintendent saw Reeves in his truck and called police to check on him.
Authorities said there was no suicide note found in the vehicle. 
Not immediately understood is what prompted the educator's decision to resign nor what may have preempted the superintendent's immediate concern on the resigning school principal.
School has been out of session since last week and the administrators were the only ones on the property.
Reeves was married and had two sons – one of whom had just graduated from high school. 
Principal Dennis Reeves ultimatum: Resign or be fired. Was he having an affair?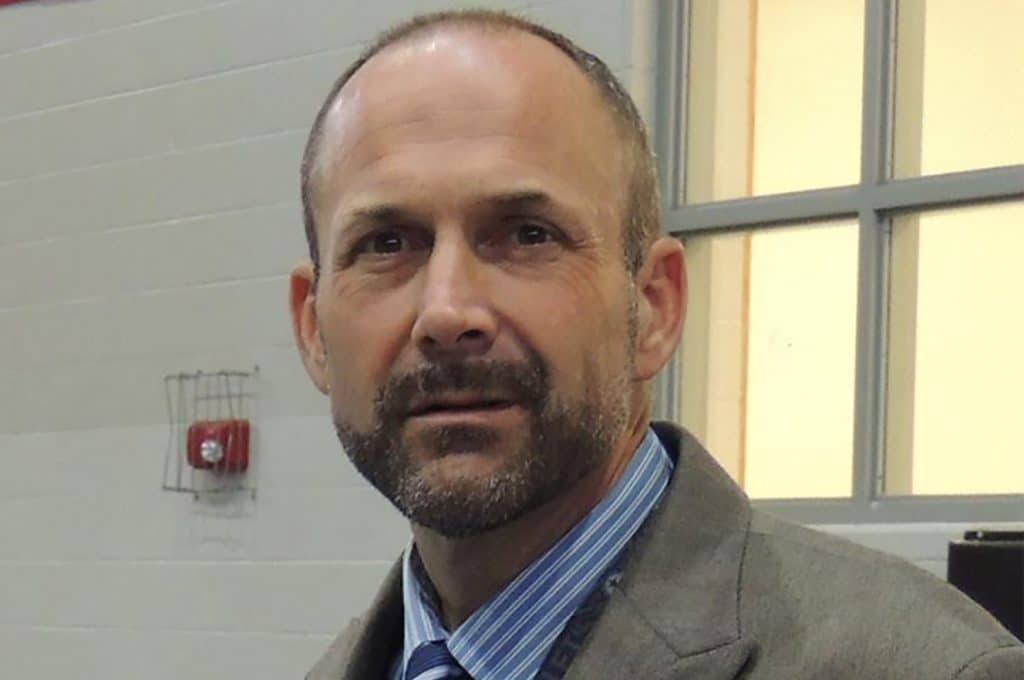 Told Trey Ainsworth via the nypost, 'There's nothing that indicated that he would do this,'
Adding, 'We don't know of anything.'
Ainsworth added that the family was unaware if Reeves was in any legal trouble or had been suffering from any medical conditions, like depression.
'It's kind of a shock to everyone,' he said. 'Everybody loved Dennis. He was a great guy. It seemed like in recent years he was like citizen of the year in Kirbyville. The kids loved him, and his teachers loved him, too.'
Of note, Kirbyville Superintendent Tommy Wallis said officials called for what he described as a procedural meeting with Reeves.
'We had several things to discuss,' Wallis told KFDM. 'We called the meeting to visit with him about a couple of things – summer school, staffing patterns, several things to discuss.'
Wallis said the district is cooperating with the investigation, but declined to suggest any reason why Reeves resigned and committed suicide.
Reiterated Wallis, 'I don't have any idea what Mr. Reeves was thinking,'
'I can't get into anybody's head.'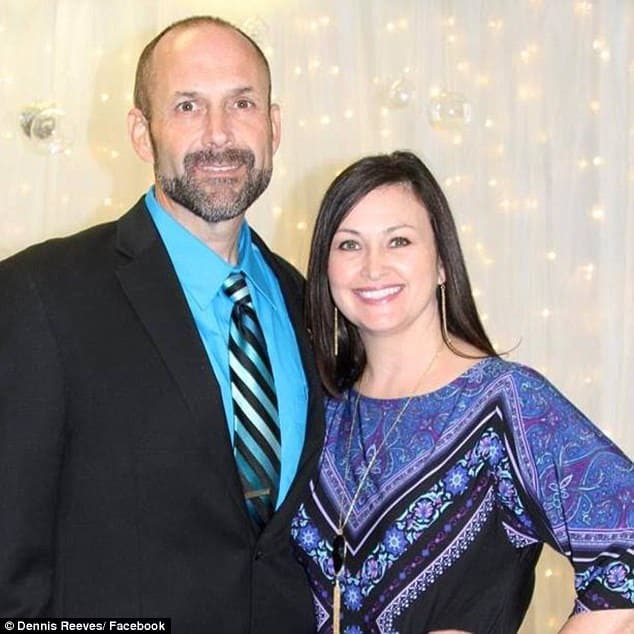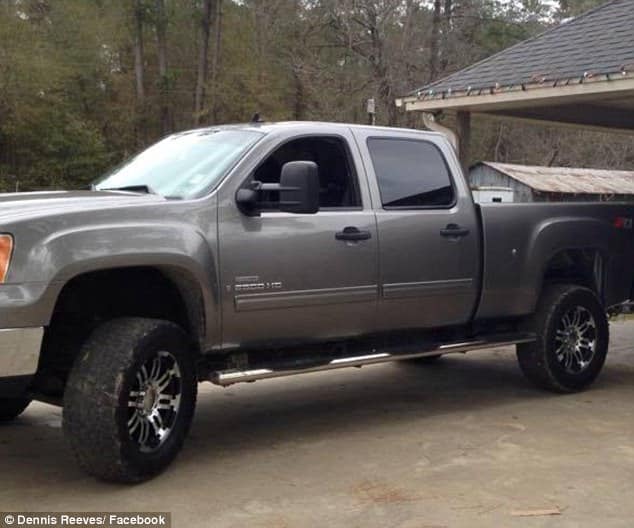 Reeves, according to his obituary, had been the principal at Kirbyville High School for three years. He was also an avid deer hunter and enjoyed camping with his wife, Tammy Kelley Reeves, and their two sons, Austin and Dylan.
'Dennis loved watching his boys play football at KHS and watching the Dallas Cowboys,' the obituary read. 'He loved restoring old tools and rescuing and refinishing driftwood.'
Prior to becoming principal at Kirbyville, Reeves worked as a juvenile probation officer in Jasper and took criminal justice at Silsbee High School. He also worked as an assistant principal at Vidor Junior High and Vidor High School.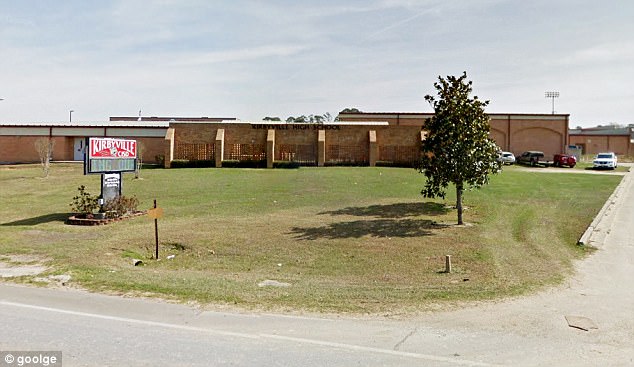 Candlelight vigil being held for late Principal Dennis Reeves at the Kirbyville football field @12NewsNow pic.twitter.com/Xhcu4rNkAr

— Royden Ogletree (@roydenogletree) May 25, 2017
Bro the last thing Mr. Reeves told me was " I love you Ty go do great things" ?

— Ty Dennis? (@tydennis32) May 24, 2017
In the aftermath of Reeves' death, tributes have flowed in on social media from students and colleagues.
Wrote one parent, 'Dennis Reeves was more than a principal. He was the kids supporter, voice, cheerleader, backbone if needed and disciplinarian if necessary! He did all of it out of love,'
'Mr Reeves showed up when he didn't have too, he fought for his students when no one else would… My heart hurts for everyone's lives that he touched as well as my daughter! He was her principal and was wonderful! I am so hurt by his lost!'
Wrote one of Reeves' students: 'Breaks my heart. My principal for three years, he put up with a lot from me but through it all he believed in me. I remember a conversation between us when he broke down in tears and encouraged me. Dennis Reeves was a great man. You just never know what people are going through.' 
Photos from tonight's candlelight vigil in memory of Kirbyville Principal Dennis Reeves. Ceremony lasted a little over an hour. @12NewsNow pic.twitter.com/ZcRLPJhxzA

— Royden Ogletree (@roydenogletree) May 25, 2017
People gathering are singing and holding hands to honor former Kirbyville HS Principal Dennis Reeves. pic.twitter.com/HqJqGC9tqz

— Jacque Masse (@jmasse12news) May 25, 2017
Dozens of people are lined down highway 96 to honor former principal Dennis Reeves pic.twitter.com/ArDJ2DeH3C

— Jacque Masse (@jmasse12news) May 24, 2017