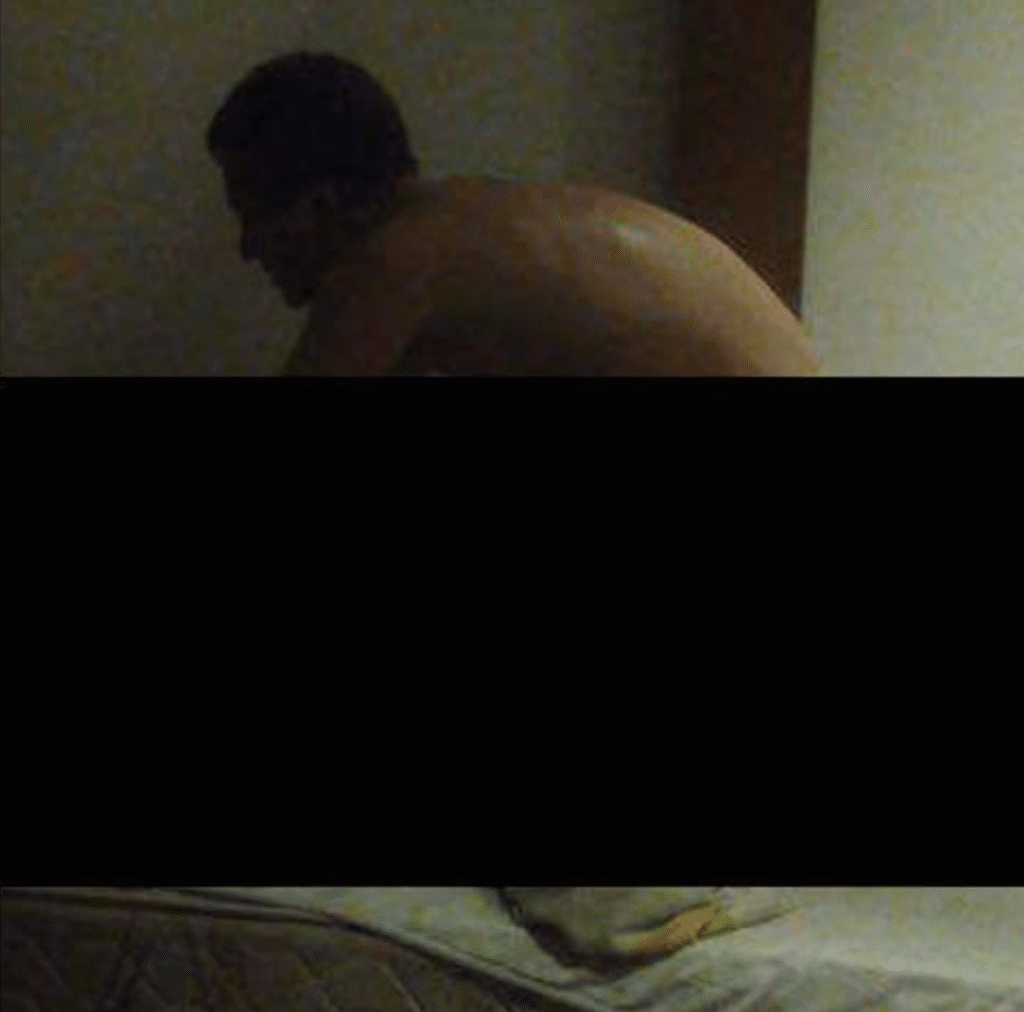 Ryan Hefford Australian Facebook mens forum posting leads to outrage as Facebook choose to overlook latest social media indiscretion.
Causing disconcert are images an Australian man, Ryan Hefford has allegedly posted on a private men's group forum on Facebook of him having sex with an overweight woman with him disparaging his 'conquest'. Facebook's response? The social media outlet couldn't figure out where the problem lay.
Read the caption underneath a video screen grab image of a man on top of a woman amidst sexual throes, 'What's the biggest whale you have harpooned? I went through a tubby phase and landed this 130kg (286-pound) beast.'
The images were shared in a closed men's group of nearly 15,000 members where it received hundreds of likes and comments including, 'That is bordering on bestiality!!!' and 'This man has been to war and earned his stripes.'
The incident came to light after Hayden Brien, a member of the group, reported the images to Facebook. The site's response: It 'doesn't go against any of our specific Community Standards.'
Brien took a screenshot of the post along with one of the images and shared it on his page, calling out Facebook for not removing it. (His screenshot censored the woman, but still showed the naked man on top of her.) The post has since gone viral.
Wrote Hayden in part, 'I bite my tongue over the daily misogynistic, racist, homophobic & generally uneducated posts in the group because hey, this is a safe space for the working class Aussie males, right? This however crosses the line in a very very big way, and needs to be stopped immediately. Men's groups can be a great help to plenty of people going through tough times, but 'banter' is no excuse for this sort of behaviour'.
Hayden noes Facebook's response was 'beyond a joke' with the images and disparaging comments continuing to remain in the group.
But for reasons not immediately clear, Facebook instead chose not to react.
Facebook's current Community Standards page on sexual violence and exploitation states that it will remove images 'shared in revenge or without permissions from the people in the images.'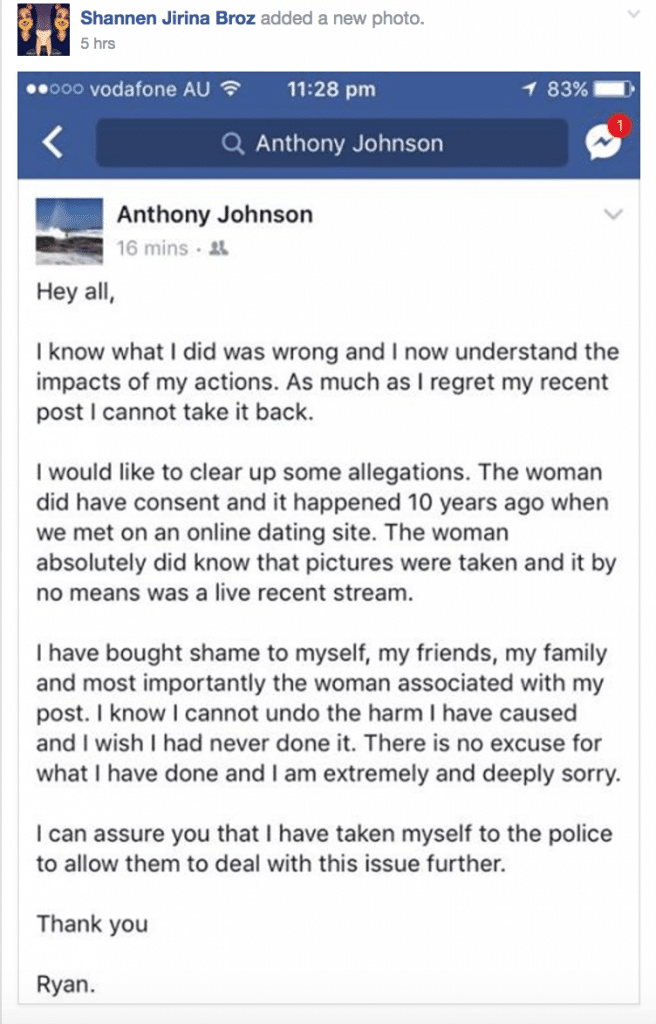 Commenting on Brien's post was Shannen Jirina Broz who purported to have reproduced a screenshot of an apology from someone she claims is the person who iniated the post. Broz claimed the purported perpetrator since changed his name and profile images.
'There is no excuse for what I have done and I am extremely and deeply sorry,' the post said, adding that the pictures were taken 10 years ago, with the woman's consent, and wasn't a recent livestream.
'I can assure you that I have taken myself to the police to allow them to deal with this issue further,' according to the posting.
Broz later posted saying the user deleted the apology and once again changing his name and profile again.
The fracas comes as Facebook has come under fire for its lackluster response to violent, hateful or abusive content, including so-called 'revenge porn' posts. According to the UK's Guardian, Facebook faced nearly 54,000 potential cases of revenge porn in January alone.
Monika Bickert, the head of Facebook's Global Policy Management, told the Guardian that Facebook's sexual content policies are 'complex areas' and the problem won't be easily solved.
In May, Facebook chief Mark Zuckerberg announced that Facebook would be hiring 3,000 moderators — on top of the 4,500 it already employs — to monitor videos and images reported as inappropriate content. This initiative was largely in response to outrage over people livestreaming suicides, rapes and killings.
To date, the social media bulwark has shied from delisting Facebook Live where many egregious acts continue to proliferate as other social media outlets follow suit and advertising dollars becomes an ever crucial gambit…..but at what cost?