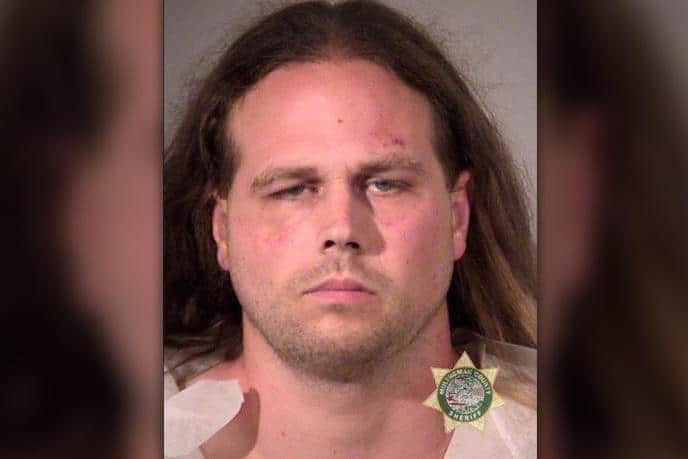 Jeremy Joseph Christian an alleged Portland white supremacist goes on a stabbing spree during a hate tirade directed at two Muslim woman. A history of white violence.
Jeremy Joseph Christian a 35 year old Portland man is in custody after fatally stabbing two men who'd sought to intervene a hate filled tirade Christian had launched at two Muslim women whist on a light train.
Along with the deaths of his two victims, a third man was injured and taken to hospital with non life threatening injuries. At the time, one of the victims died on the scene, while another victim later died at hospital reported the Oregonian.
Upon his arrest, the Portland white supremacist was charged with two counts of aggravated murder, two counts of second-degree intimidation and one count each of attempted aggravated murder and being a felon in possession of a restricted firearm, according to a press release from the Portland Police Department.
Christian is currently being held without bail in the Multnomah County Detention Center.
Police and first responders arrived at the Hollywood Transit Station early Friday evening to find three stabbing victims, with witnesses saying a man had targeted a pair of women who police said were possibly Muslim. One of them was sporting a hijab at the time.
Both women fled the scene before officers arrived.
Police said the suspect fled from the scene, but was eventually arrested in Northeast Portland.
Told Sgt. Pete Simpson during a press conference: 'In the midst of his ranting and raving, some people approached him and appeared to try to intervene with his behavior and some of the people he was yelling at,'
Adding, 'They were attacked viciously.'
The suspect slit two of the victims' throats before trying to escape. Police arrested him in Portland around 4:30 p.m. as he tried to flee on foot.
Christian received medical treatment before being turned over to homicide detectives, ABC News reported.
A regard of suspect's previous criminal history revealed Christian being arrested on felony robbery charges, kidnapping and weapon convictions.
Reiterated Simpson, 'It's not clear why the man was yelling,'
Adding, 'He was talking about a lot of different things, not just specifically anti-Muslim,'
'We don't know if he's got mental health issues,' Simpson said. 'We don't know if he's under the influence of drugs or alcohol or all of the above.'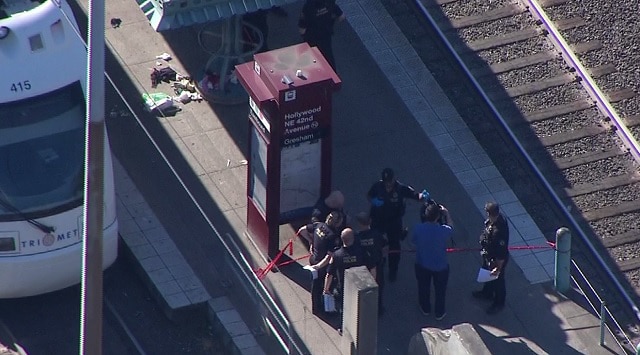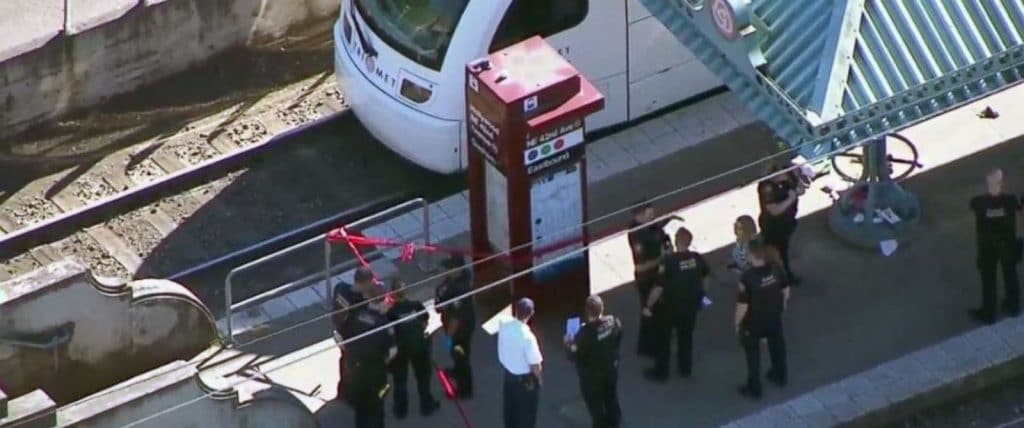 Of disconcert, a report via the Portland Mercury told of Christian allegedly having ties to white supremacy groups in the area.
On April 29, police confiscated a baseball bat from Christian at a 'March for Free Speech' rally, after which he screamed racial epithets and gave the Nazi salute throughout the day (see tweet below with Christian holding American flag).
Police said they were familiar with Christian but they did not see him as a threat to public safety, adding that he suffered from mental illness.
Offered Portland's mayor, Ted Wheeler: 'Two men lost their lives and another was injured for doing the right thing, standing up for people they didn't know against hatred. Their actions were brave and selfless, and should serve as an example and inspiration to us all. They are heroes.'
The suspect's mother, Mary Christian, told via HuffPo that she had no idea that her son might have been involved.
'It's scary,' she said. 'I can't imagine he would do anything like this, unless he was on drugs or something. He's been in prison, he's always been spouting anti-establishment stuff but he's a nice person I just can't imagine.'
The identities of the victims have not yet been released.
Portland is home to a rough estimate of about 50,000 Muslims of different ethnicities.
The Council on American-Islamic Relations condemned the incident Friday, referencing President Donald Trump's anti-immigrant rhetoric as a possible cause.
'President Trump must speak out personally against the rising tide of Islamophobia and other forms of bigotry and racism in our nation that he has provoked through his numerous statements, policies and appointments that have negatively impacted minority communities,' CAIR National Executive Director Nihad Awad said, Reuters reported.
To date, Donald Trump has declined to respond to the incident.
A vigil is planned for Saturday night at the transit center.
Man engaging in hate speech and giving the Nazi salute at the end of the #Portland free speech march pic.twitter.com/8QRmmvTDAf

— Mike Bivins (@itsmikebivins) April 29, 2017
Here's murderous white supremacist Jeremy Joseph Christian intimidating Portlanders in Montavilla less than a month ago: pic.twitter.com/QM4S3f7jiw

— Always Antifascist (@RoseCityAntifa) May 27, 2017
From Jeremy Joseph Christian's FB page. He was at a "free speech" pro Trump rally in Montavilla in April. #Portland pic.twitter.com/t24IgilWRL

— George Bailey Smith (@GeorgeBaileyDog) May 27, 2017
Nothing to see here, folks. Jeremy Joseph Christian, the man who murdered two people after yelling anti-Muslim slurs, is just *troubled.* pic.twitter.com/dl5nz23Abb

— Dab Aggin (@DabAggin) May 27, 2017