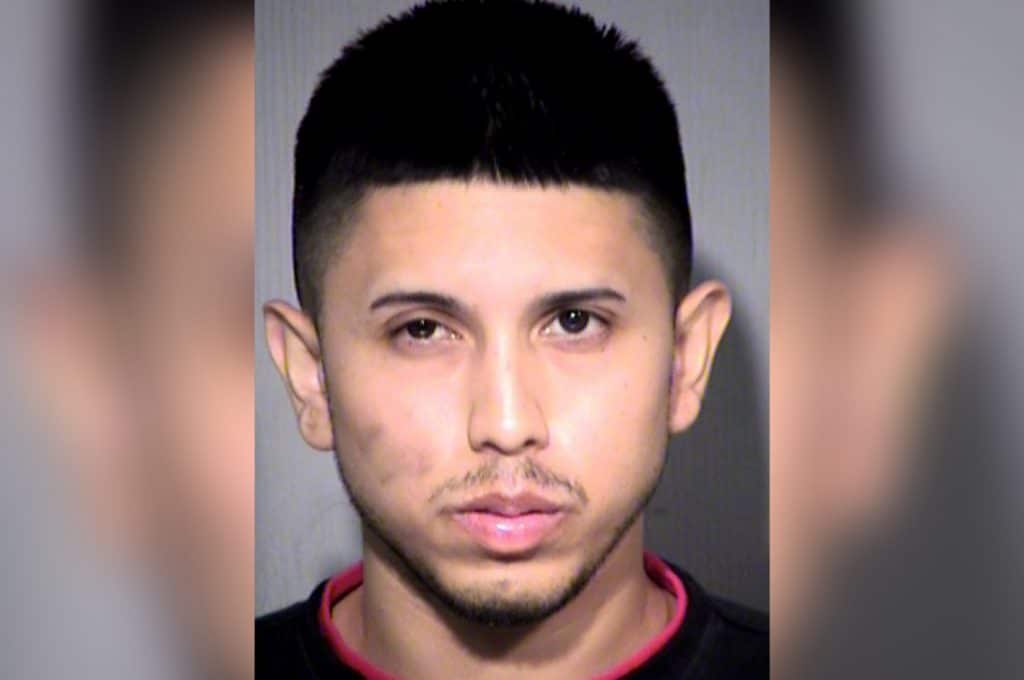 Aaron Saucedo identified as the Phoenix serial street shooter who randomly killed 9 mostly Latino victims in a predominantly blue collar neighborhood.
Aaron Saucedo a 23 year old Phoenix, Arizona man has been charged with the murders of nine individuals, all of whom were killed last year. 
Already in custody, on suspicion of killing his mother's boyfriend, 61 year old man, Raul Romero on August 16, 2015, police held a Monday press conference in which they told of Saucedo being linked to a series of murders all occurring in Latino neighborhoods between March and July last year.
According to police, Saucedo stalked victims after dark, selecting people who were either outside of their homes or sitting in cars before opening fire with a handgun. The attacks according to Fox News occurred in the predominantly blue collar Maryvale neighborhood.
Told Phoenix Police Jeri Williams: 'This case plagued our community for more than a year,"
Adding: 'And left behind a trail of victims that included mothers, sons, brothers, sisters and families still mourning the loss of their loved ones.'
'Our hearts go out to the surviving families. Today we are closer to providing them the justice they deserve.' 
Police have been working to solve the killings for more than a year. During their hunt, they began referring to the suspect as the 'serial street shooter' told a report via the Phoenix New Times.
It wasn't until after Aaron Juan Saucedo, a local laborer had been picked up in April 19 that they were able to piece a string of unsolved murders which had taken place between March and July last year.
According to police, at least seven people were killed by the murderer who randomly opened fire on pedestrians and cars in areas of west Phoenix.
The gunman committed the murders while driving one of a handful of cars including a black BMW 5-series and a white Cadillac. 
Detectives produced sketches based on statements provided by witnesses and survivors with police at one stage having offered a $75,000 reward for information which might trace him but the killer went unstopped for more than a year.  
It wasn't after discovering that Saucedo had pawned in a High-Point 9mm handgun days after the death of his mother's boyfriend that cops began linking the son to a series of unsolved murders involving Latno's in the community. 
Detectives followed up with the pawn shop, whose employees reported that the same type of gun pawned September 1, 2015, had been sold on June 28, 2016, just days after a brutal killing which saw three individuals killed at once.
The next victim after Romero's death was 22-year-old Jesse Olivas who was shot dead on January 1, 2016. 
He was found outside a home with multiple gunshot wounds and died in hospital. 
The next killing came on April 1. Diego Verdugo-Sanchez, 21, was shot outside a home at around 9pm.
Next came the death of Krystal Annette White, a 55-year-old who was gunned down in the street at 4.30am on April 19.
On June 2, 32-year-old Horacio De Jesus Pena was shot while he stood outside a home shortly before 10pm. 
Teenager Manuel Castro Garcia died next. The 19-year-old was gunned down on June 10 at 9.30pm while he stood outside a different house. 
Come June 12, Saucedo gunned 33-year-old Stefanie Ellis, her 12-year-old daughter Maleah along with 31-year-old friend Angela Linner in the street at 3am. 
In the most recent attack on July 11, 2016, a 21-year-old man and his 4-year-old nephew escaped injury after the gunman shot at a vehicle they were sitting in.
In total, Saucedo was charged with 26 felony counts, including homicide, assault and drive-by shooting.
Of question is why and how Saucedo only came to target on Latino or African-American individuals.
This has been a long time coming. #SerialShooter #Phx #azfamily pic.twitter.com/0bfhLMEM93

— Amanda Goodman (@AGoodmanReports) May 8, 2017