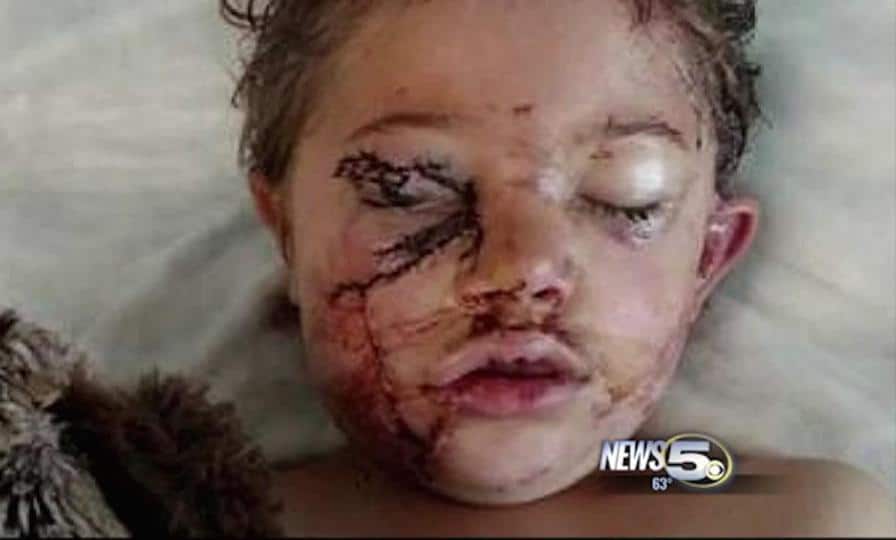 Zoey Green a five year old Florida girl survives a pit bull dog attack and is left with a torn off eyelid, a broken jaw,  lacerations on her face and body. 
Zoey Green a five year old Crestview, Florida 5 year old girl has survived a vicious mauling after her mother agreed to mind a family friend's two pit bull dogs.
So vicious was the attack, that the five year old girl was left with a broken jaw, a torn eyelid along with countless stitched and staples along her face and neck.
The attack happened whilst Green had accompanied her mother Paige Woody, who agreed to pet sit two dogs on Saturday when a pit bull mix named Mandingo suddenly lunged at her, bit her in the face and dragged her into the yard.
Green's mother managed to fight the dog off and covered her daughter's body with her own before she was airlifted to an intensive care unit in critical condition, WKRG reported.
When Paige had initially arrived, the mother didn't want to leave her daughter in the car, so she brought Zoey along, making sure the five-year-old girl stayed inside the house, while the dogs remained outside in the yard and despite the owner's assurances that the dogs were great with children.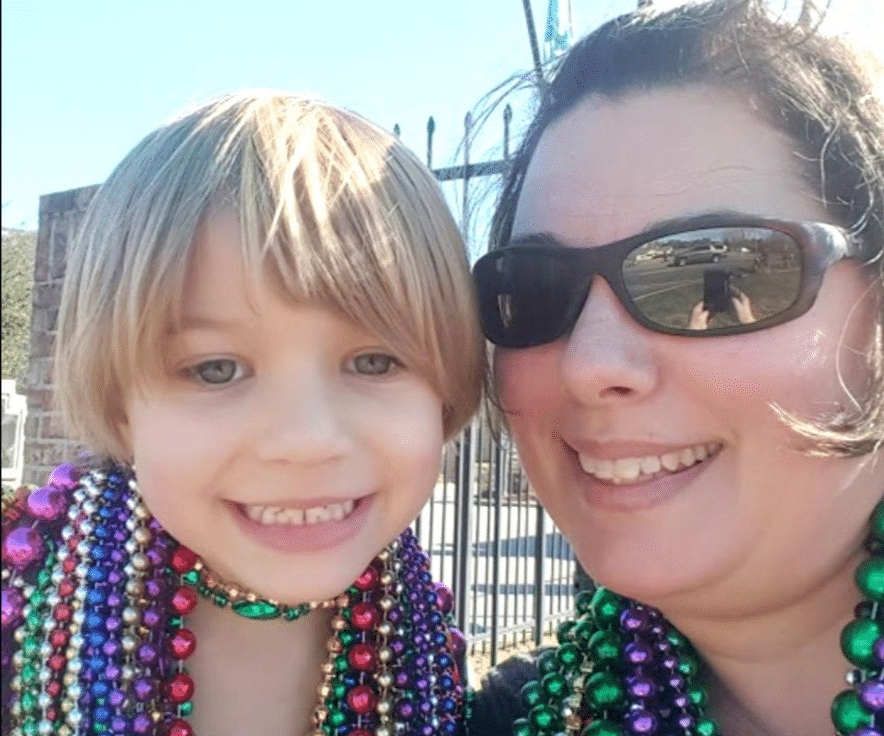 At the time Paige had gone outside when her daughter became impatient and began to start tapping on the glass door. In turn Zoey had become impatient and started tapping on the glass door for her mother.
Told Paige via WEARTV: 'I cracked the door to say we're getting ready to leave and as soon as I cracked the door, the dog yanked her out by the face'.
The jarring of the door led to one of the pit bull mixes lunging at Zoey, biting her in the face and dragging her into the yard. 
The owner was busy holding the other dog back while Paige fought the dog off her daughter and shielded her from harm.
But Paige soon realized her daughter was losing significant amounts of blood, and crawled into the house to call 911 with Zoey tucked underneath her. 
The mother received 28 staples and stitches at the North Okaloosa Medical Center while Zoey had her eyelid reattached. The girl also endured a numerous lacerations on her face and head. 
Zoey was also airlifted to Sacred Heart, where she underwent a nine-hour surgery for her broken jaw. 
Doctors managed to piece the broken bone together, choosing to hold off on inserting a titanium plate because it would require additional surgeries every year before she stopped growing. 
Told Zoey's father Jonny Green via Northwest Florida Daily News: 'They didn't want me to see one side of her face, it was so bad. The side of her face I could see was bad, too. It was the saddest thing I've ever seen.'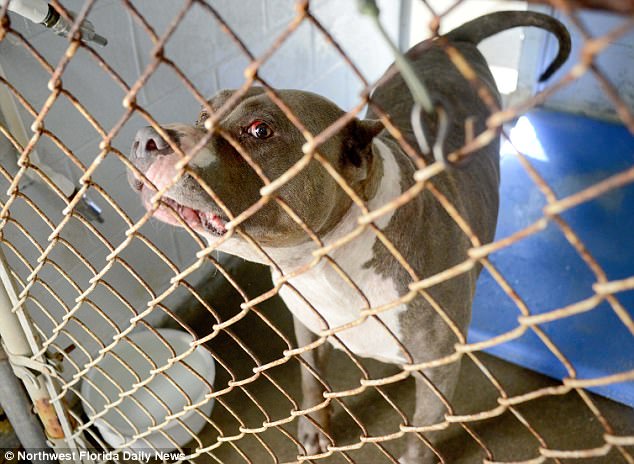 Both dogs are quarantined at the Panhandle Animal Welfare Society, where their fate remains unclear.
The owner initially told Paige the dogs had been euthanized, and later said the paperwork hadn't been signed. She appeared hesitant to do so through a series of text messages and suggested her pet wasn't responsible. 
In the interim Zoey Greene continues to recover at hospital five days after the attack, with her mother Paige wondering if her daughter will manage to grow up and leave the harrowing experience behind her….