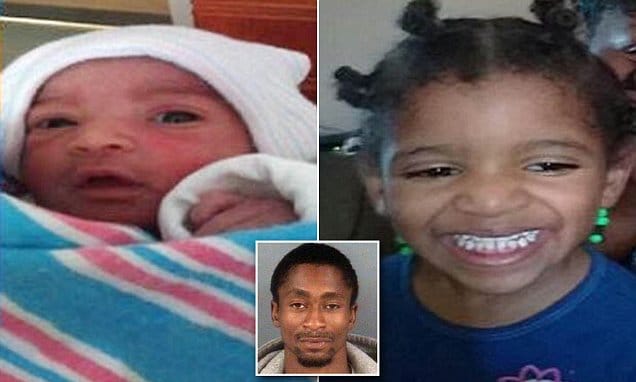 Tillman Freeman a North Carolina father is arrested after stabbing to death his two infant children after claiming his wife was involved with another man. 
Tillman Freeman lll a 30 year old Raeford, North Carolina, father has been charged with two counts of first degree murder after the man stabbed to death his four day old son and the boy's  two year old sister before dumping their bodies in an abandoned car.
The murders come after the Fayetteville based father told authorities that his wife had been seeing someone else and that the children weren't his.
A report via WRAL cited Sherif Hubert Peterkin saying the missing children were discovered early Saturday morning in Hoke County after the newborn and toddler were reported missing late Friday following a 'domestic dispute'.
At the time of the children first being reported missing, the father had refused to say where the children were. It wasn't until authorities came across the father's automobile that they came across the grim discovery of both children having been stabbed multiple times.
Found deceased were, 2-year-old Serenity Freeman or 4-day-old Genesis Freeman.
The man's wife was at a hospital when Genesis and Serenity went missing, prompting a frantic search.
Authorities believe Freeman and his wife got into a fight, after which Freeman took the children.
The father originally faced charges of child abuse and child endangerment, which were later changed to murder.
Freeman was taken into custody Friday afternoon after someone alerted authorities about a suspicious person near a doctor's office in Raeford. 
Police say Freeman was driving a dark green 1993 Toyota Camry on Friday, but when they arrested him in Raeford, the car was initially nowhere to be found, until officers came across the abandoned vehicle off Army Road about 200 yards in the woods some hours later.
Inside the vehicle were the two children who the father had fatally stabbed following a domestic dispute with the children's mother….