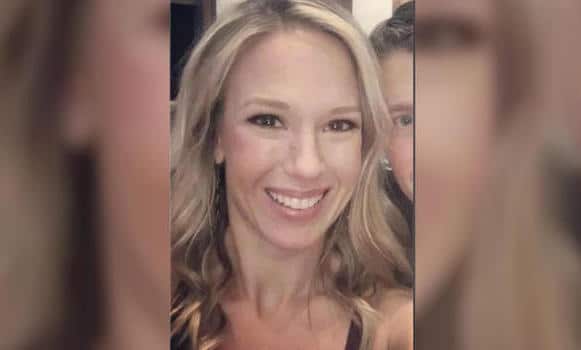 Jackie Watts autopsy death report scheduled for Monday as investigators now say that the missing Indianapolis woman didn't die of suspicious circumstances and no foul play cited. 
In the latest developments of missing Indianapolis, Indiana woman, Jackie Watts who was found dead a day after she went missing, authorities Sunday night said ahead of the release of an autopsy that no foul play is suspected.
The statement comes a day after Jacqueline Watts body was found Saturday morning along Flatrock River at Noblitt Park, Columbus by a search team after the married 33 year old was reported missing Friday afternoon.
At the time of her disappearance, the woman's car was discovered in woodland still running with the emergency blinkers circa Friday 4pm.
Watts had been en route to meet her husband with whom she was planning on traveling to Washington DC when she never made it. 
At the the time of the discovery of Watts' body the following day, police had declined to say how the licensed aesthetician had died, only to say that the circumstances surrounding her death appeared 'suspicious'.
Reserving further comment, Columbus Police Lt. Matt Harris said investigators were awaiting the results of an autopsy scheduled to be released Monday before making further comment.
Who murdered Jacqueline Watts? Missing Indianapolis woman found dead.
Ahead of a scheduled Monday noon press conference, the indystar told of investigators Sunday night saying that police suspected no foul play in Watts death and that they didn't consider her death a homicide despite initial inference that the woman may have indeed been murdered.
Police Lt Harris declined to cite the cause of the missing woman's death, pending the final release of Watts' autopsy result.
At the time of her disappearance, Watts was going to drop off pets at a relatives' house in Columbus. With some commentators having suggested that the animal lovers pets may have somehow gotten loose during the drive over, leading to Watts running after them. Claims that Columbus police have declined to comment on except to warn people to be mindful of what posts they make on social media speculating on the specifics of the case.
If there can be good news out of a death, maybe this is it #ColumbusIN #JackieWatts pic.twitter.com/AMWWnavmWm

— Beth Hardesty (@bahardesty) March 4, 2017