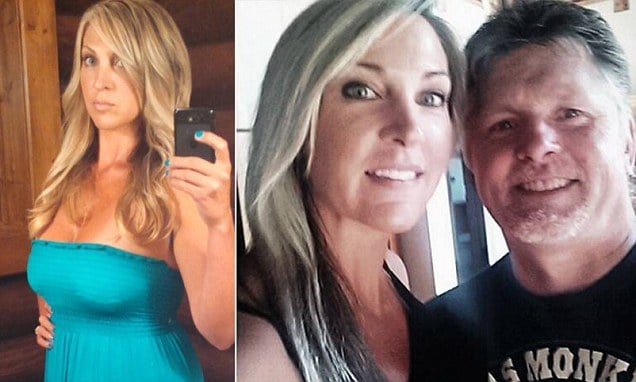 Brooke Lajiness a 38 year old married Michigan mother has been accused of having had sexual relations with a 14 year old boy as prosecutors challenge other victims existing. 
Brooke Lajiness a 38 year old married Lima Township, Michigan mom appeared in court on Thursday to face charges of allegedly having sex with a 14 year old boy.
Brooke Leigh Lajiness' court appearance came after the mother of two young boys was earlier this month arraigned on 13 counts, including criminal sexual conduct, accosting a minor for immoral purposes and furnishing obscenity to a child. 
She has been free on bail since then, after posting $50,000 cash bond. Prior to attending yesterday's court hearing with her husband, Lajiness had appeared in court March 3 where she was formally arraigned. 
The woman is now set to return back to court March 30th for a probable cause hearing with a a preliminary examination set April 13.
Assistant Washtenaw County Prosecutor John Vella announced that prosecutors were looking into whether they may be more victims. 
'This case involves a defendant seeking out minors for sex,' Vella said, according to M Live.
Lajiness' attorney, David I. Goldstein, said prosecutors need to focus on the case at hand. 
'He keeps talking about "minors," but there's one,' Goldstein said. 
Attorneys were arguing in court over whether Lajiness should be allowed to travel to Toledo to visit her family while she's free on bail. The judge ruled that she should be free to travel there, so long as she lets the court know in advance. 
15 years: Brooke Lajiness sentenced after luring two teen boys with illicit Snapchat selfies
20 years: Brooke Lajiness pleads guilty to having sex with two teen boys
During Lajiness initial court arraignment, Michigan State Police Trooper Donald Pasternak testified that he started investigating Lajiness a few weeks before, when the victim's mother walked into a police station and complained that Lajiness was having sex with her son. 
Investigations led to the discovery of Lajiness having allegedly exchanged photos with the teen while he was still in middle school. 
From there, the 38 year old married mom is alleged to have started having sex with her victim last summer. At the time the boy was in middle school or high school.
Laginess reportedly confessed to having sex with the teen between eight and 15 times and exchanging the nude pictures. 
Pasternak testified that most of the sexual encounters happened in the back of Laginess' car in a Lima Township driveway. 
As part of her bond conditions, Laginess is not allowed near school property or around minors except for her own children. She is also not allowed to use computers, social media websites or to drink alcohol or take drugs.   
To date authorities have yet to necessarily explain what led to the married mother sexually preying on her victim and using her dominance as an older mature woman to subjugate her male victim.