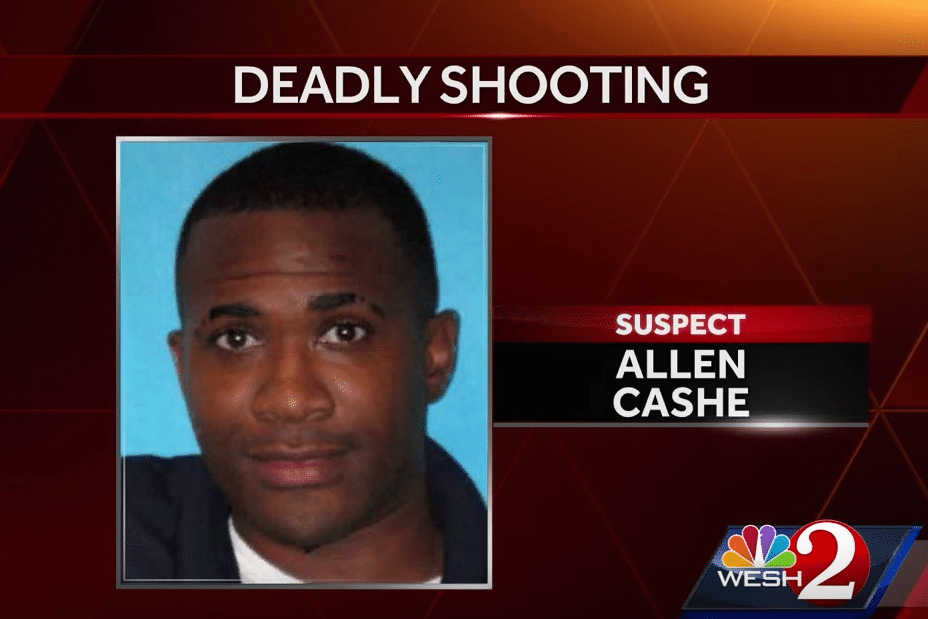 Allen Cashe Sanford Florida shooting. A boyfriend shoots dead his girlfriend, injures three family members, after being warned twice that morning by police.
Allen Cashe a 31 year old Sanford, Florida man has been taken into custody after shooting dead his girlfriend and injuring three members of her family during an early morning dispute, Monday.
Also shot and critically injured were two bystanders.
Caught in the blaze of gunfire was the man's girlfriend, her seven and eight year old sons, the woman's father at the woman's Hay's Drive home along with the two bystanders soon after fleeing the home.
One of the children is fighting for their life reported My News13. In total witnesses told of hearing no less than 12 gunshots coming from the home.
The shooting comes after the boyfriend, Allen Dion Cashe had been warned not once but twice by police earlier that morning.
Allen Cashe is accused of killing one, shooting five others is now heading to jail @MyNews13 pic.twitter.com/PIzw9Peqb0

— Bailey Myers (@BaileyMyers_) March 27, 2017
A report via Click Orlando cited police described the shooting at the Sanford home as 'horrific'.
Told Sanford Police Department spokesperson, Bianca Gillet: 'I can't stress enough that this scene is one of the worst that our officers and investigators have ever responded to'.
Police say the 'domestic incident' related shooting originated from an argument Allen D. Cashe and his girlfriend had at a gas station over some physical property. 
Police were called to intervene and the couple went their separate ways after an officer calmed them down. 
But police were called later when the couple started arguing again back at the girlfriend's house. 
The girlfriend, a worker at a nearby fast food vendor gave the officer who arrived on the scene a bag of Cashe's belongings, which reportedly included a gun. It's unclear if the officer knew there was a weapon in the bag. 
The same 911 caller called back shortly after to say Cashe had a gun, but at that moment the officer was still at the residence. 
Gunfire rang out around 6:15am, when Cashe returned to the home. 
The man's girlfriend was pronounced dead at the scene, while her two sons and father were rushed to the hospital in critical condition. 
The sons were airlifted to Arnold Palmer Hospital for Children while the grandfather was taken to Central Florida Regional Hospital.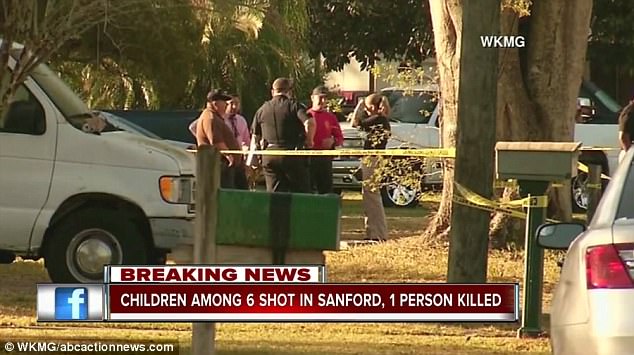 Having shot the family members, Cashe fled the house and ran to West 24th Street and Marshall Avenue where he shot two more bystanders, both of whom were also taken to Central Florida Regional Hospital. Both are in stable condition. 
Police say the bystanders, a man and a woman, were not connected to Cashe.  One of them was a student at Winter Springs High School.
Police were able to track Cashe down at nearby Seminole Garden Apartments, where he was taken into custody without incident.
'There was a brief moment (that) he attempted to flee, but he went into custody willingly,' Gillet said, adding that a firearm was recovered at the scene.   
Dominique Smith, 17, told the Orlando Sentinel that she was waiting for the school bus when she and classmates heard the gunman shoot the two bystanders.
She says the man was dressed in all back. 
Neighbor Arlene Bush said she heard about a 'dozen gunshots'.
She says she ran outside and then found one of her neighbors struggling on the ground.
'When I looked at that man, I didn't known if he was going to make it,' she said.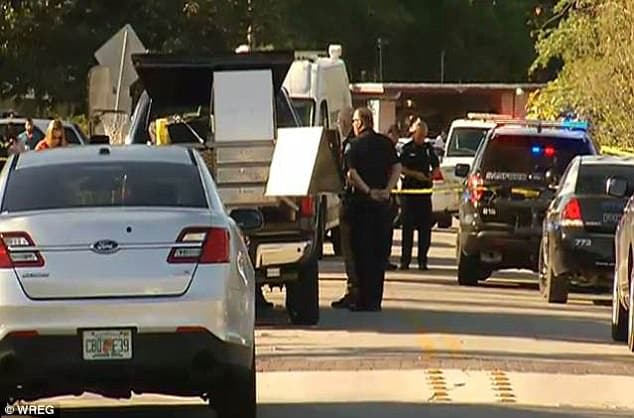 Bush said that the boys were best friends with her children, and that they played basketball together everyday.
'These little boys didn't ask for this,' she said.
Seminole County Public Schools Superintendent Walt Griffin issued a statement about the shooting, saying three of the victims are students.
Read the statement: 'I am saddened to hear of the domestic violence related shooting that took place in Sanford this morning. It appears that three of the victims attend Seminole County Schools. We are working with both the Sanford Police Department and Seminole County Sheriff's Department to determine the students' names and schools. Grief Counselors will be availabe at all affected schools' tomorrow. Our hearts go out to the families of these young and innocent children.'
State records show Cashe on felony probation which had been scheduled to be terminated Friday. The boyfriend also had a pending case against him on a charge of violating his probation.
State records show Cashe having a 'long arrest history.'
Sanford became infamous in 2012, as the town where George Zimmerman shot black teen Trayvon Martin in his apartment complex, after allegedly mistaking him for a burglar. Martin was living at the apartments at the time. The shooting is considered the origin of the Black Lives Matter movement notes the dailymail.
Seminole Co Sheriff's Office says this is a 2015 mug shot of @SanfordPolice shooting suspect Allen Cashe, 31 @WFTV pic.twitter.com/k0Wpl6yNtF

— Cierra Putman WFTV (@CPutman_WFTV) March 27, 2017
2 children critically injured in Sanford shooting https://t.co/r3avrR0LDl pic.twitter.com/BgZvRVkIgE

— WPBF 25 News (@WPBF25News) March 27, 2017
UPDATE: Allen D. Cashe, 31, is the suspect in today's #Sanford shooting. 6 people shot, 1 killed. Developing: https://t.co/iC5aC9GJ71 pic.twitter.com/WgBfZTR75j

— News 13 (@MyNews13) March 27, 2017