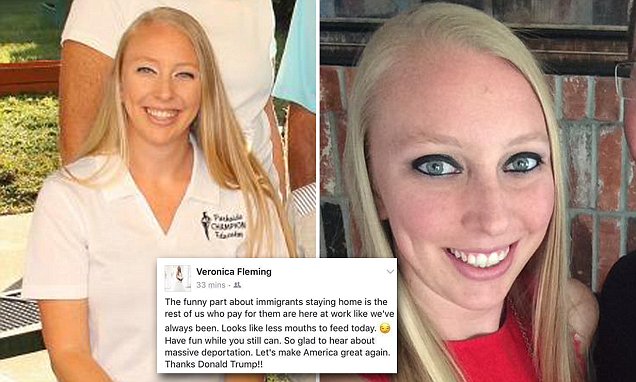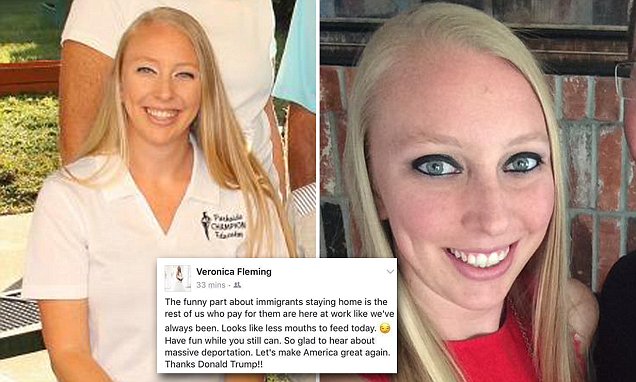 Veronica Fleming Florida teacher is reassigned after Facebook comments applauding mass deportation of immigrants. Petition to have her fired now mounts. 
Veronica Fleming an East Naples, Florida elementary teacher at a predominantly Latino school has been reassigned after making Facebook comments supporting mass deportation.
The Parkside Elementary teacher had her classroom taken away and put on administrative duties after making a status update where she said she was 'glad about massive deportation' and that there would be 'less mouths to feed' on Thursday.
The comments came after Veronica Kochis Fleming referenced a Chicago Tribune article about 'A Day Without Immigrants,' which cited demonstrators calling for immigrants to stay home from school and work Thursday to show the contributions they make to the U.S. economy and culture.
Read Fleming's post: 'The funny part about immigrants staying home is the rest of us who pay for them are here at work like we've always been.
'Looks like less mouths to feed today. Have fun while you still can. 
'So glad to hear about massive deportation. Let's make America great again. Thanks Donald Trump!' 
A report via naplesnews cited Fleming working as an instructional resource teacher who ran a computer lab at the school and taught students about technology.
Of note, the school that Fleming teaches at counts as much as 96% of students as a minority.
Fleming is believed to have posted the status during school hours, in essence targeting the very students she teaches who could be directly affected by deportation.
A report via NBC 2 told of Flemings comments causing outrage amongst parents where the majority of Parkside Elementary students are non white, with 70 percent Latino and 20 percent Haitian.
It wasn't until aggrieved parents began calling the school that the principal was alerted to Fleming's update status.
A decision was soon made courtesy of the school district deputy superintendent and human resources to reassign the teacher and launch an investigation.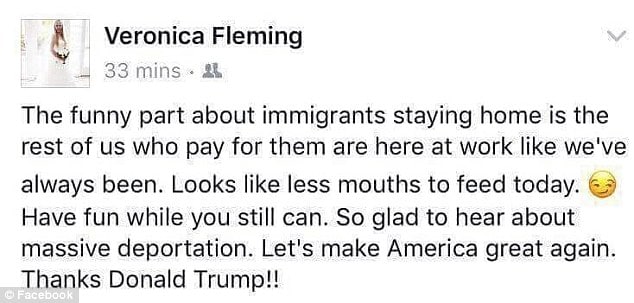 In the interim, a petition demanding Fleming's firing has since ratcheted more than 3,097 signatures and counting.
Reads the petition in part: 'We understand that as a private citizen Mrs. Fleming should be allowed to express herself, however, as an educator at a school composed of predominantly Hispanic, Haitian, and students of other minorities, one should always be professional and behave as an impartial authority figure that is held to higher standards'.
Reflected Gabriela Marquez who has two kids enrolled at Parkside Elementary, 'My kids love this school.'
'My husband and I love this school. We know the teachers love their students. This was just one bad teacher.'
Adding: 'What hurts is that Ms. Fleming works at an elementary school. These are little kids. What is she teaching them? How was she treating them just because they're Latinos?'
Responding to the fracas, Principal Tamie Stewart released a statement saying: 'We greatly appreciate our parents who have communicated to the school to share concerns so that we can address this issue. 
'I want to ensure our families that this person's individual post is not at all reflective of our school staff in any way.' 
Indeed….
And then there was this comment on the web that made me wonder, see what you think?
The great thing about America is that we're allowed the freedom of free speech ! But I believe when you're a professional / teacher , you're in a position of accountability , you need to demonstrate respect for all the students you teach irregardless of how you truly feel ! And if these are her true feelings , she should find another job . She has obviously forgotten that it's because of all students that she has a job .