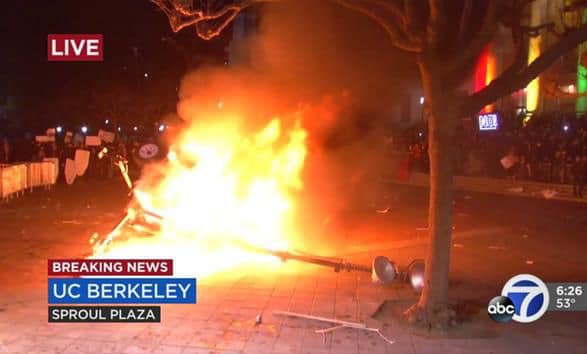 Milo Yiannopoulos Berkeley protests force Breitbart editor's campus meeting to be cancelled. Defining free speech vs hate speech.
A planned talk by senior Breitbart Editor, Milo Yiannopoulos at Los Angeles' prestigious Berkeley University has been cancelled after violent protesters preempted the self admitted agitator's Wednesday evening speech.
The right wing provocateur and openly Donald Trump supporter had been set to give a speech inside a UC Berkeley campus building after student group, Berkeley College Republicans had invited the outspoken conservative self admitted 'troll'.
Yet by the time Yiannopoulos was set to take stage, reports of over 1500 protesters had already gathered, throwing fireworks and pulling down the metal barricades police set up police.
Demonstrators were reported smashing windows and setting fires as masked protesters stormed the venue where the conservative commentator had been set to appear.
Ahead of his planned arrival, protesters condemned Yiannopoulos as being racist, misogynist, anti-Muslim, whose comments were emblematic of white supremacist dogma.
As chaos ensued, Berkeley Police locked down all buildings and ordered a shelter in place, while firing rubber pellets at protesters who defied orders to leave the area.
Masked protestors just shot off fireworks and are tearing down fences at Berkeley. Milo inside. pic.twitter.com/3SRNLjuTVn

— Michael Bodley (@michael_bodley) February 2, 2017
'This is what tolerance looks like at UC Berkeley,' said Mike Wright, a Berkeley College Republican member via sfgate in an increasing debate as to whether colleges should allow political commentators, known to imbue firebrand rhetoric onto campus. 
Supporters of Yiannopoulos decried the actions of protesters, insisting that even unpopular views and ideas had the right to be heard, pointing out Berkeley's mandate to promote free speech and wider learning.
Protesters argued the Breitbart editor's views amounted to 'hate speech' and not free speech, countering the university's explanation on why it had allowed the event to proceed despite student calls to disinvite Yiannopoulos. 
Read a smattering of protest signs, 'We reject a fascist America,' while another read, 'F— Donald Trump,'
'It's not a question of free speech,' a protester said via megaphone, 'It's about real human beings.'
Offered Berkeley student, Fatima Ibrahim said via the sfgate: 'As a black Muslim woman, all three of those identities have been targeted throughout (Trump's) campaign,'
'To have someone like (Yiannopoulos) come into my campus and affirm those people's beliefs, it's very, very hurtful.'
Said Nick Pardee, 26, protesting with a group from the Party for Socialism and Liberation: 'We came here tonight to help make sure this event did not happen,'
'We came here to prevent the hate speech that leads to acts like the shooting in the Quebec mosque the other night.'
While another protester using the name, Red said: 'You have to confront fascism and not let it advance or give it a platform. You can't even allow the platform to spew their bullshit.'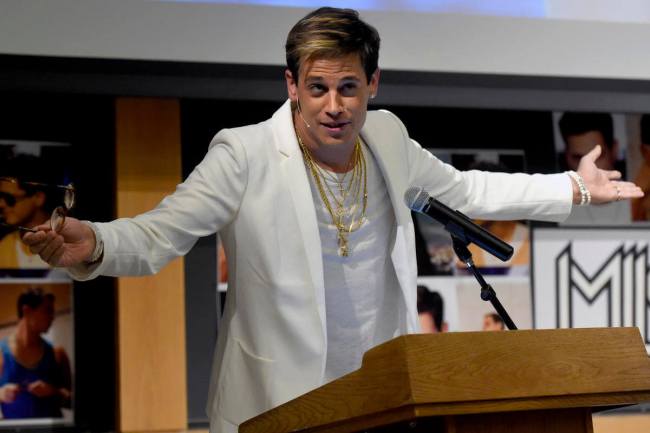 Yiannopoulos reported the latimes had been expected to use the event to kick off a campaign against 'sanctuary campuses' that had vowed to protect undocumented students as President Trump cracks down on illegal immigration.
Responding to the shut down, Yiannopoulos posted a message on Facebook, circa 6.30pm saying he was safe; 'I have been evacuated from the UC Berkeley campus after violent left-wing protestors tore down barricades, lit fires, threw rocks and Roman candles at the windows and breached the ground floor of the building. My team and I are safe. But the event has been cancelled. I'll let you know more when the facts become clear. One thing we do know for sure: the Left is absolutely terrified of free speech and will do literally anything to shut it down.'
Reiterated Milo, 'One thing we do know for sure: the Left is absolutely terrified of free speech and will do literally anything to shut it down.'
Which raises the awkward question, are dissenting ideas comparable to hate speech if only one agrees/disagrees to their content and message? Or is free speech tantamount to hate speech if it inspires violence? And how are we to define dissenters if they employ mechanisms of violence and affirm their own degrees of hate and intolerance?
The shut down comes as campus police had sought to avoiding a repeat of the chaos at UC Davis on Jan. 13, when protesters overwhelmed barricades and shut down Yiannopoulos' speech. Something that one imagines must have brought a rueful smile to the provocateur's face…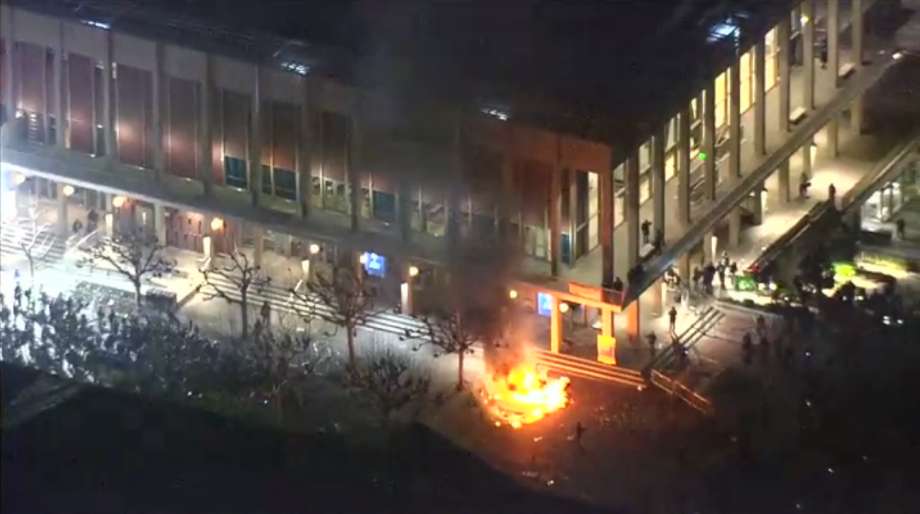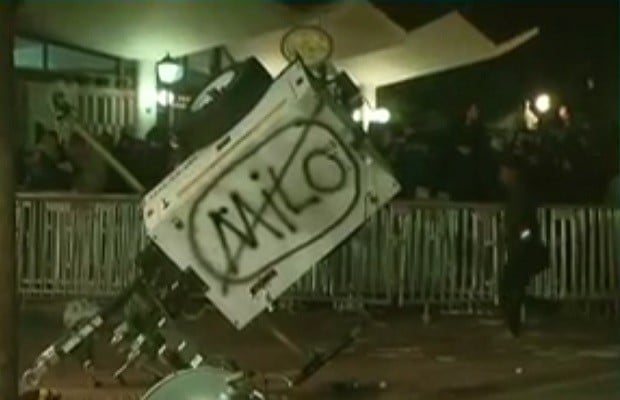 And then there were these comments on the web that made me wonder, see what you think?
And the liberals think Trump is a threat to our freedoms and liberties.  The intolerant left proves yet again they will shut down free speech if it doesn't meet their view point.  The liberal dogma is by far the biggest threat this country faces.
The greatest fascist threat we face is the intolerance of the political left in this country. These institutions claim to support diversity and free thinking, but those values are totally lacking now. Do not deviate from their preconceptions or else be silenced and punished.
California colleges are all for diversity except for ideas.
It's time to shut down UC Berkeley and deport all the students.