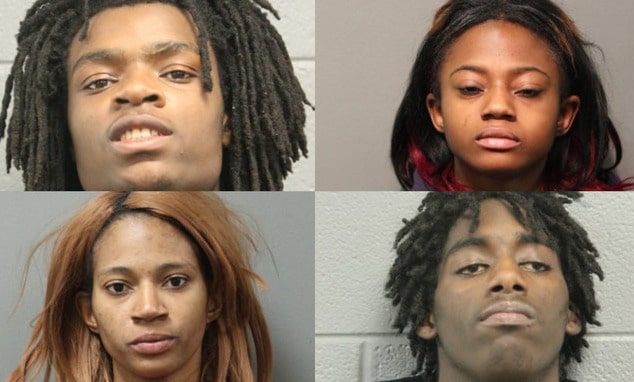 Brittany Covington, Tesfaye Cooper, Jordan Hill, and Tanisha Covington have been charged with hate crime over Chicago Facebook torture video.
Four black Chicago area individuals, including three 18 year old teens and one 24 year old woman have been charged with hate crimes after torturing and beating an 18 year old white man in a Facebook Live video.
Indicted were Jordan Hill, 18; Tesfaye Cooper, 18; Brittany Covington, 18; and Tanisha Covington. 24, who were charged Thursday morning with aggravated kidnapping, aggravated unlawful restraint, aggravated battery and a hate crime, according to the Cook County State's Attorney's Office. 
Hill was also charged with robbery and possession of a stolen motor vehicle. He, Cooper and Brittany Covington face addition charges of residential burglary. 
The four are set to face a judge for the first time this afternoon for a bond hearing. 
The announcement of charges comes a day after the four were arrested in connection to  video that was live-streamed on Facebook, under the alias of Brittany Herring (real name Brittany Covington) showing four young black people beating a young white men with special needs while shouting 'f*** Donald Trump. F*** white people'. 
While Chicago Police Superintendent Eddie Johnson said Wednesday night that he didn't think the attack was actually politically or racially motivated, a Chicago police spokesman said on Thursday they they continue to investigate the 'senseless attack' as a possible hate crime.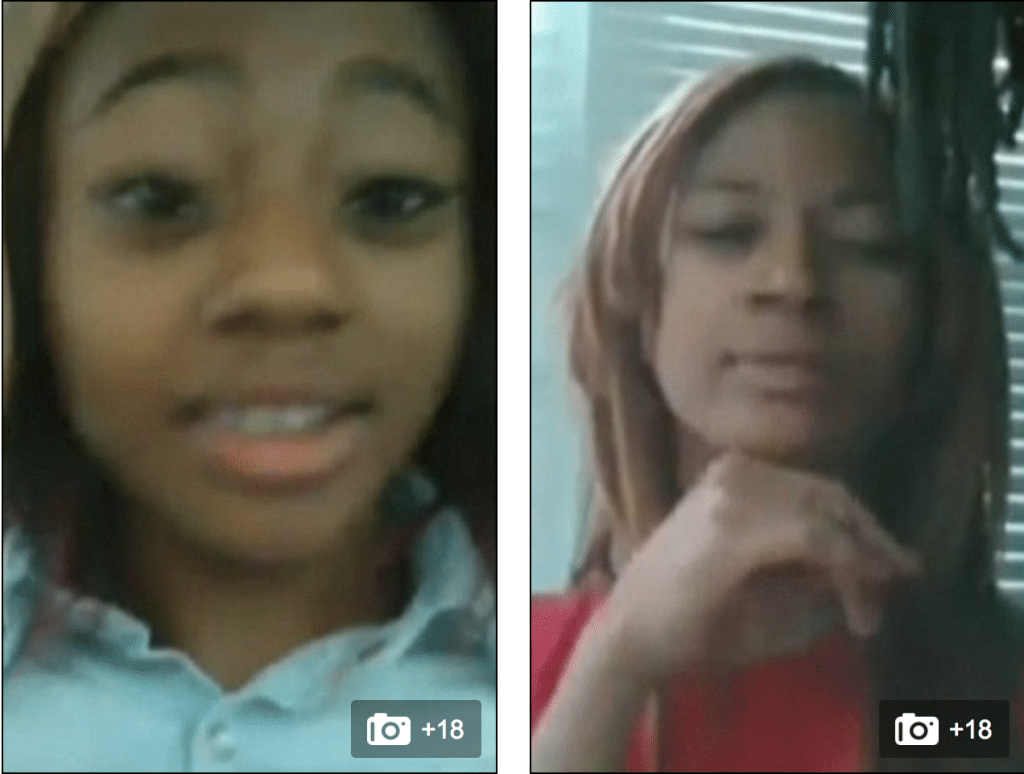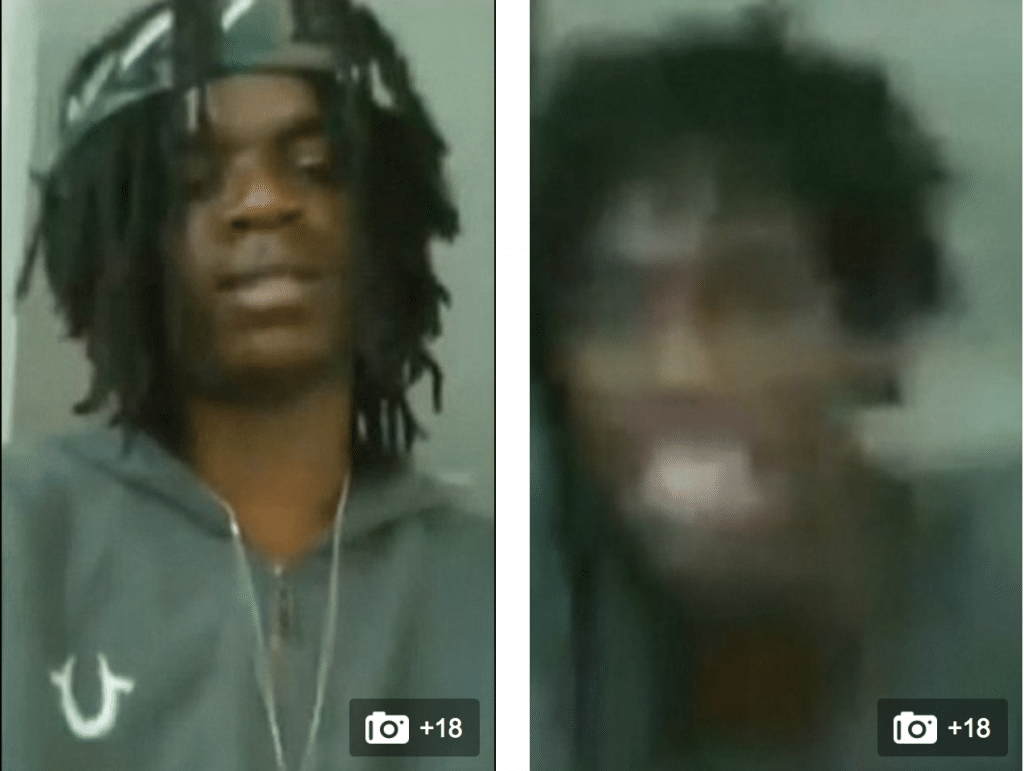 The victim in the video has not been identified. Police found him wandering the streets on Wednesday, after his captors set him free. He has since been returned to his parents in suburban Chicago. 
It is believed the white teen had agreed to meet one of his captors, whom he knew at a suburban area school before unwittingly finding himself abducted and held against his will, and soon after tortured and beaten.
During a Thursday afternoon press conference, it was revealed that the unidentified victim and one of his tormentors, Jordan Hill were 'acquaintances' who had hung out a few times before. The two knew each other from attending a school together in Aurora, Illinois at one point.
The victim's parents dropped him off at a McDonald's in Streamwood on Saturday so that he could spend the night with Hill. He was reported missing on Monday when they could not get into contact with their son.
When Hill picked the victim up, he was driving a stolen van – something the victim apparently did not know. For the first two days, the two hung out visiting friends and the victim reportedly slept in the van at nights.
Things took a turn on Tuesday, when they visited the West Chicago residence of the Covington sisters. A few hours after they arrived at the house, where Cooper was as well, Hill and the victim got into a play fight that then escalated.
That's when the sisters tied the victim up and the group started torturing him for about six hours. Half an hour of this torture was live-streamed on Facebook, showing the group beating the mentally disabled youth, cutting off a piece of his scalp, forcing him to drink toilet water. At one point in the video, one of the four yells  'f*** Donald Trump. F*** white people' at the victim.
The video is believed to have taken place near the venue where cops found the distressed teen, who by then had been released, Tuesday afternoon roaming in the cold in nothing but shorts. Cops were soon able to pair the distressed teen with that of the tortured individual who that afternoon was seen no less than 62 000 times on Facebook before the video of the beating was taken down.
MORE VIDEO FOUND

Blacks kidnap and torture white Trump supporter. pic.twitter.com/aNrQuULeRk

— James J. Vinson (NT) (@JamesJVinson) January 5, 2017
@Chicago_Police @FBIChicago they deleted it but "Brittany Herring" of chicago posted this pic.twitter.com/eE9LOB1KV3

— cbanks420lol (@cbanks420lol2) January 4, 2017
The footage which was played live on Facebook shows Jordan Hill, Tesfaye Cooper, Brittany Covington, and Tanisha Covington allegedly holding white victim hostage in an apartment on the 3400 block of West Lexington on Chicago's West Side on Tuesday.
During the youth's abduction, the group reportedly send text messages to his parents during, causing them to report him missing on Monday. 
In the first video, the victim was seen cowering in a corner with his arms tied and mouth taped shut.
He was filmed being kicked and punched before he had his hair cut until his scalp bled.
The victim also had his clothes cut and had cigarette ash flicked over the wound on his head.
At one point the two men seen in the video express their hopes that the video will go viral. 
Two more clips of the alleged abuse surfaced overnight as well, one of which shows the group forcing the man to drink water out of a toilet.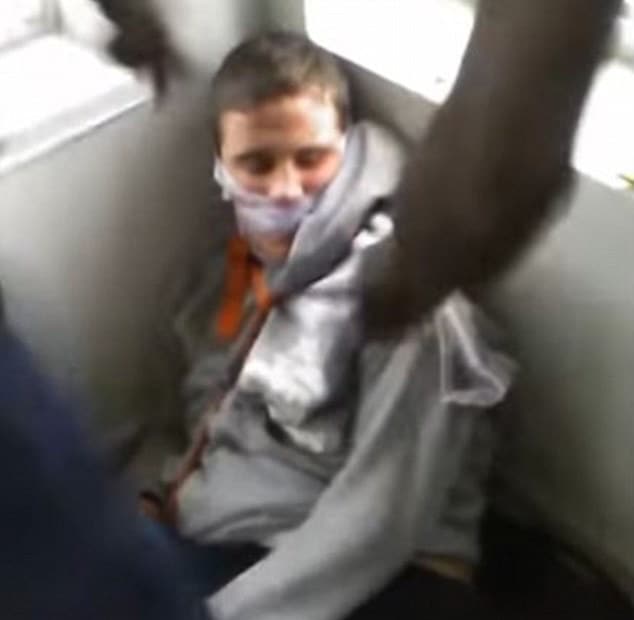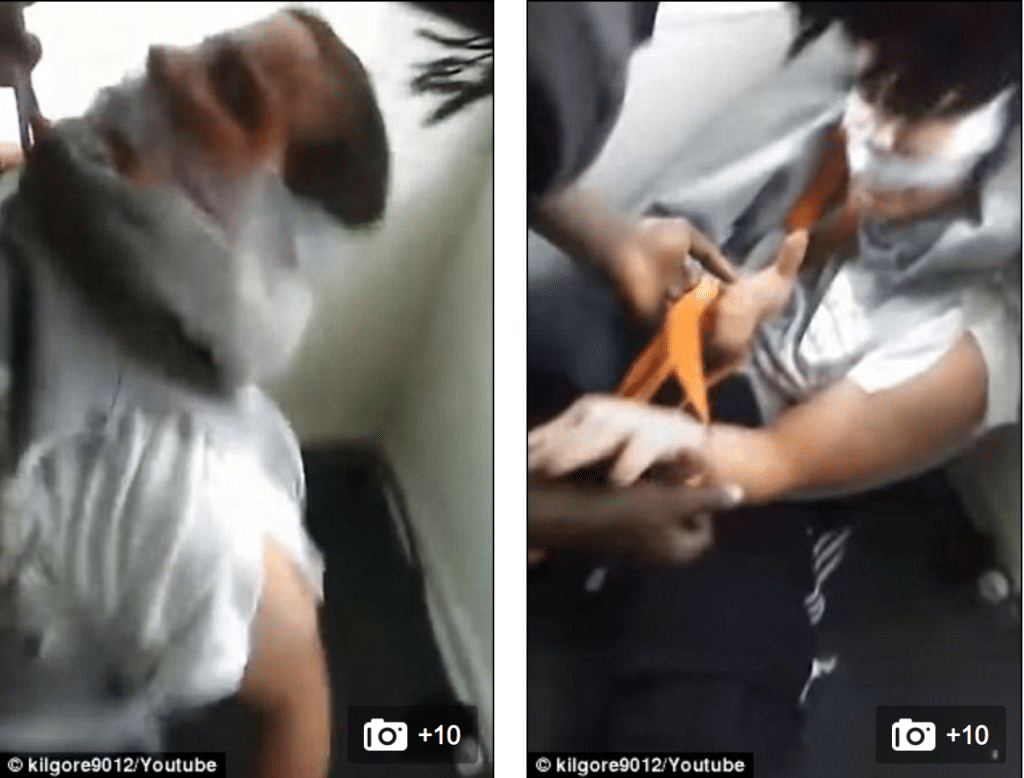 Told  Chicago Police Supt. Eddie Johnson during a Wednesday night press conference,: 'It's sickening,'
Adding: 'It makes you wonder what would make individuals treat somebody like that. I've been a cop for 28 years, and I've seen things that you shouldn't see in a lifetime, but it still amazes me how you still see things that you just shouldn't.'
Police said the victim was treated and released from hospital into the care of his parents, who live in the suburb of Crystal Lake. 
Chicago Police Cmdr. Kevin Duffin said the victim was an acquaintance of one of the offenders and they had attended school together.  
'Apparently, they met out in the suburbs. These subjects then stole a van out in the suburbs and then brought him into Chicago,' he said.
'It is quite possible that it is a kidnapping. (The victim) is traumatized by the incident and it is a little tough to communicate with him.'
They then held him for 24 to 48 hours, before eventually letting him walk free.  
Arrest of the un-named victim's captors came after authorities were able to use one of the suspects' phones to track the four-some down.
Police arrested all four people shown in the footage and they remain in custody. Three of them are Chicago residents while the fourth is from Carpentersville notes a report via the dailymail.
Police said it was too soon to make a determination if the attack was racially motivated (never mind over riding public consensus damning the group).
They added that the four offenders had not said anything that led them to believe the attack was politically motivated. 
'I think some of it is just stupidity, people just ranting about something that they think might make a headline. I don't think that at this point we have anything concrete to really point us in that direction, but we'll keep investigating and we'll let the facts guide us on how this concludes,' Supt. Johnson said.