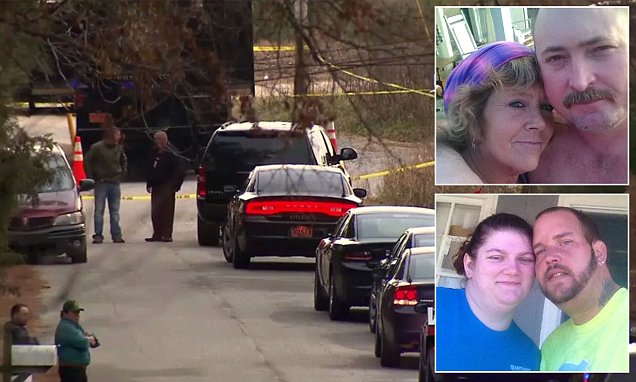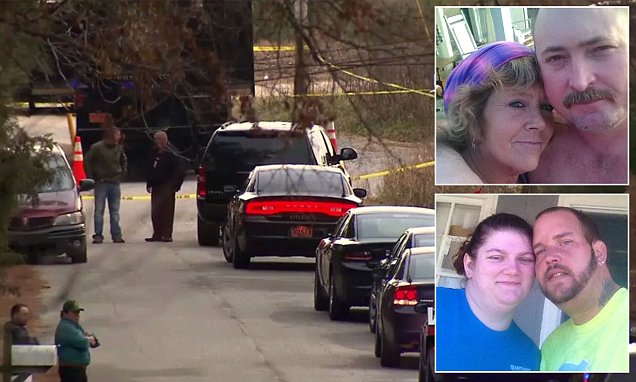 What led to the fatal shootings of family members, Paul and Tammy Pearce, Selby Outland and Dominique Privette at a Wilson, North Carolina residence?
Wilson, North Carolina authorities have yet to tell what led to four family members, who made up two couples sharing a residence being fatally shot on Christmas eve in what has since been described as an 'isolated incident.'
The bodies of all four individuals were found at a residence in the 2200 block of Banks Lane East in Wilson where an elderly family members intending to celebrating festive holidays with family members discovered their bodies at around 1pm on Saturday.
A statement from Wilson County Sheriff's Office Chief of Staff Wanda D. Samuel identified the victims as 54-year-old Tammy Lynette Pearce; 28-year-old Paul Shane Pearce, 47-year-old Selby Gene Outland and 23-year-old Dominique Nicole Privette.
Selby Outland and Tammy Pearce were in a relationship, and Paul Pearce, who went by his middle name, 'Shane,' was the woman's son. 
The 28-year-old man and Dominique 'Nikki' Privette were engaged to be married. 
The quadruple homicide is thought to have taken place sometime between late Friday night and early Saturday morning. To date police told a report via WITN declined to say what the motive behind the shooting may have been.
Offered a neighbor via WTVD: 'It's Christmas Eve. It's shocking,'
Added another neighbor, Michael Taylor: 'What could've happened? What could've made a person be so crazy to do some things like that?'
Adding: 'This is a good area. A very good area. Quiet. You don't hear any bad things going on.'
FIRST LOOK: Four victim's shot, killed on #ChristmasEve. Mother and son murdered–along w/ their significant others per family. #ABC11 pic.twitter.com/ByzT9uNlY7

— Tim Pulliam (@TimABC11) December 24, 2016
The shootings came literally hours after Tammy Pearce according to the dailymail had taken to Facebook, Friday night where the recently engaged woman shared photos of the 'solid diamond' ring that her boyfriend gifted her for Christmas. 
In the caption accompanying the photos, the 47-year-old called Outland her 'Santa baby' and said that she might even 'marry his a**' because she loves a challenge.
According to Tammy Pearce's past social media posts, the 47-year-old was a cancer survivor and had at least one grandchild.
Tammy's son, Shane Pearce, and his girlfriend, Nikki Privette, got engaged in October 2015, according to the fiancee's Facebook page.
Shelby Outland, Tammy's boyfriend, is survived by a grown son, also named Selby.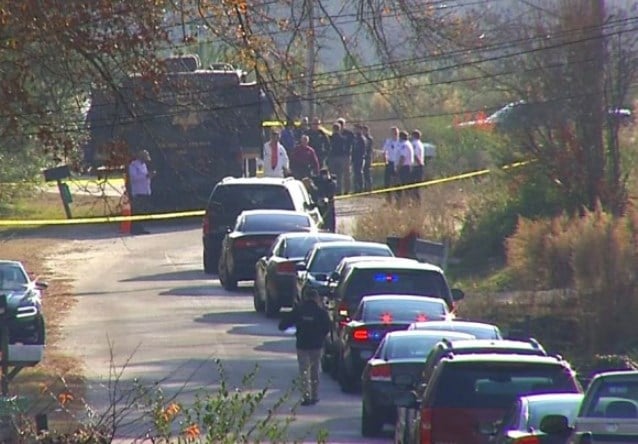 As of Monday morning, no arrests have been made and no suspects have been identified. Wilson Times reported that investigators have not disclosed whether anyone is wanted in connection to the slayings. 
To date Wilson County police have not said whether the quadruple murders may have been the result of one of the dead initiating fatal force before then killing themselves. And if so, why?
In the interim, police say they continue to follow up on interviews while saying they have yet to have made any arrests.
A GoFundMe account has been set up to help with funeral costs.
Anyone with information should contact the Wilson County Sheriff's Office at 252-237-2118.