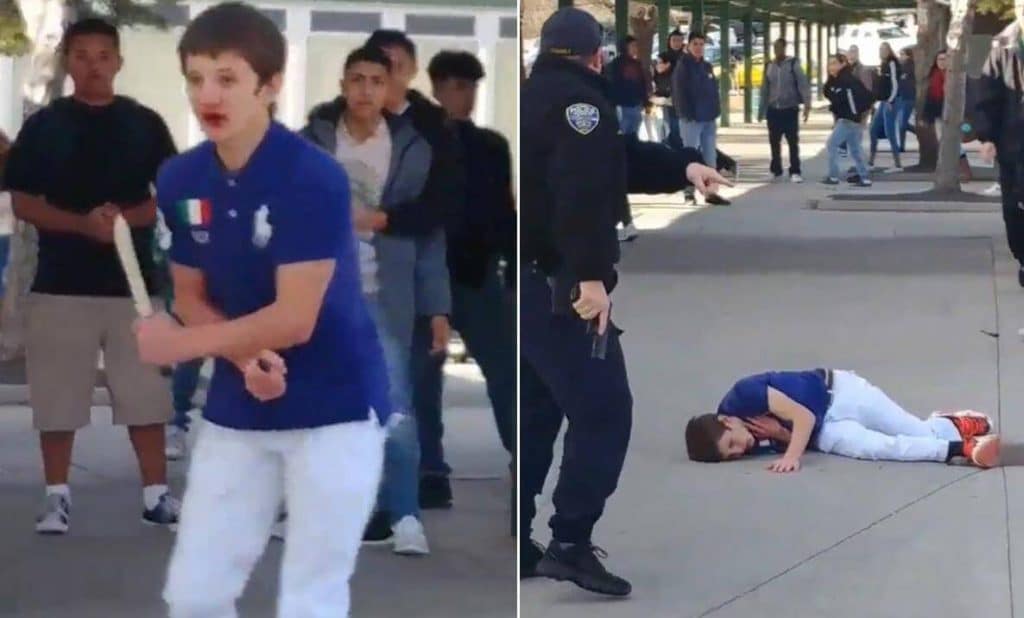 Logan Clark Hug High school knife attacker shot: A teen subjected to unrelenting bullying in the days past takes to defending himself.
Logan Clark, a 16 year old Reno, Nevada teenage boy is in hospital after earlier on Wednesday being shot by a campus high school police officer after the student sought to stab a fellow student.
The shooting at Procter R. Hug High school was first reported at 11.30 am when a campus police officer responded to the knife wielding teen lunging at classmates in the schoolyard.
Leading up to the attack, it is believed that the boy had been relentlessly bullied at the school in prior days.
Told the boy's father, Justin on a social media post cited by the dailymail: 'To idiots that think Logan was wrong know he was being bullied he is not the kind to back down.
'He brought the knives because he was gonna b jumped and he was the school knew of this and failed to act.' (sic)
A report via the Reno-Gazette Journal quoted parent Demick Laflamme saying his son Demick Jr was a friend of the wounded student, with the father saying Logan had been bullied in the days leading up to the incident.
Explained the father: 'He is my son's best friend. He's a victim and he's only 15 years old. He is over at my house almost every day.
'He's a good kid. All of his friends like him. Hell, even I love him and I don't like kids.
'The kids take bullying into their own hands, and he was shot for it.'
Mr Laflamme also criticized police for their handling of the situation and for shooting the teenager.
He added: 'How could they shoot a kid in front of a bunch of other kids? My kid was right there. He could've been hurt. My son tried to go help (his friend) and the police told him to back off.'
Pursuant to the shooting, Washoe County School District spokesman Riley Sutton released a statement saying that the school was put on lockdown with the knife wielding student now in stable condition with unspecified injuries. No one but Logan Clark was physically hurt. 
Subsequent reports have told of Clark holding two knifes during the attempted attack, reports which were later corroborated with the release of video (see below).
According to the Reno Gazette-Journal an officer shot the student in the shoulder after the teen pulled a knife and stabbed a classmate during a confrontation outside the school library.
In the aftermath of this morning's incident, several videos emerged on social media appearing to depict this morning's unsettling incident. See below.
Part 1 of incident at Hug High School where the knife-wielding teen was shot ?? pic.twitter.com/V62LAeHyhh

— EVANYUSON (@evanyuson) December 7, 2016
//Part 2…. pic.twitter.com/C4M7Uc5Eak

— EVANYUSON (@evanyuson) December 7, 2016
In one video, a teenage boy dressed in a T-shirt is seen brandishing a large knife during what appears to be a school fight. 
The video starts with several students trying to get out of the way of a boy in a blue shirt who can be seen brandishing a knife.
A man's voice can be heard yelling, 'back up, back up!'
In another recording also shared on Twitter, a single gunshot is heard with several students screaming, the same teen is seen writhing in pain on the ground while holding onto his neck, with a campus officer pointing a gun at him.   
School officials can be heard yelling: 'Get out of here!'
The campus police officer kneels down and turns the shot student over on his back, and then can be seen using his radio.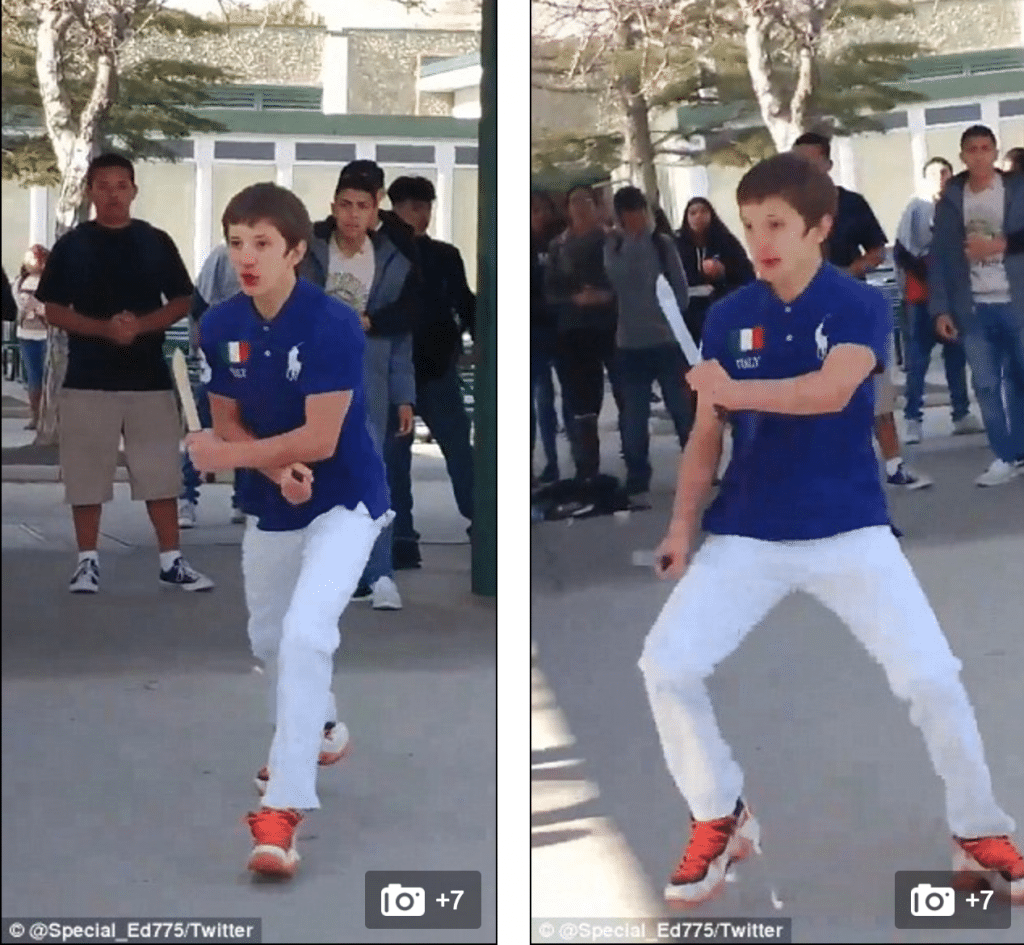 According to the nydailynews, Hug High School was on lockdown until around 1:30 p.m. local time, when police said that the school was secure and began allowing students to leave.
Responding to the shooting, Reno police Officer Tim Broadway said: 'There's multiple videos out there,'
'There's some very disturbing video out there. But there are other events that led up to this incident, so please don't react to those.'
At the time there were up to 40 students who witnessed the incident many who filmed the unsettling scenes as they unfolded and posting on social media.
In the aftermath of the attack, a report via kolotv told of the shooting officer placed on administrative leave with Reno Police investigating the incident. The student and officer have not been identified. Police say the student's family has been notified.
Hug High opened in 1968 and is named for Proctor Ralph Hug Jr., a former teacher, athletic coach and Washoe County School superintendent who served as a state senator and a federal judge.