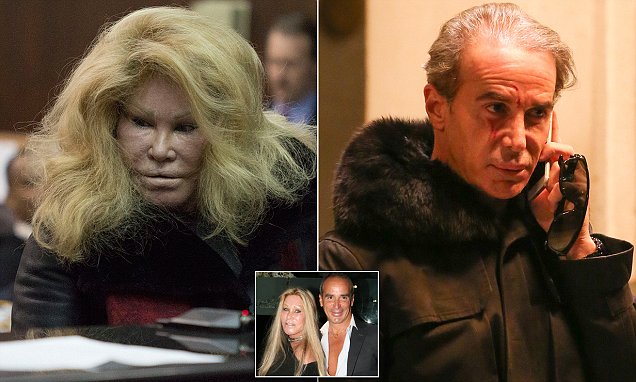 Joycelyn Wildenstein boyfriend knife attack: What led to the Manhattan socialite physically assaulting her fashion designer boyfriend, Lloyd Klein?
Manhattan socialite, Joycelyn 'Catwoman' Wildenstein, 71 has been accused of clawing her boyfriend and slicing him with scissors.
The alleged faux pas incident came after the Queen of misdirected plastic surgery got into an argument with her 49 year old fashion designer boyfriend, Lloyd Klein inside their Trump Tower apartment on 1st ave and 47th st.
According to pagesix, the socialite scratched the man's face with her nails along with cutting this chest with a pair of scissors in the early hours of Wednesday morning, circa 1.30am. 
A short time later, Wildenstein's boyfriend reported the alleged attack, with a police report noting that the man's chest had drawn blood. 
Upon arriving, Klein refused medical assistance with cops charging our collective hero with felony assault with intent to cause physical injury with a weapon and a misdemeanor assault with intent to cause physical injury.

Told a police source via the nydailynews: 'We put her through the system just like everybody else.'
Sources went on to say so alarmed was Wildenstein's boyfriend the man felt compelled to stuff Wildenstein inside a closet to prevent another 'rabid attack'.
CAT WOMAN AT 76… https://t.co/TGT7qlat4V

— DRUDGE REPORT (@DRUDGE_REPORT) December 8, 2016
During her Manhattan courtroom, Daily Mail Australia told of Wildenstein being observed she 'spending five minutes combing her hair while using her cell phone as a mirror.'
Wildenstein and her live in boyfriend, Lloyd Klein, a Canadian born designer, according to the dailymail have been dating for the past decade. Klein's purported claim to fame includes designing looks for the likes of Nicki Minaj and Paula Abdul.
Yet to be necessarily understood is what specifically led to the couple being embroiled in an altercation and whether there have been previous reports of domestic violence/abuse exist?
The so-called 'Bride of Wildenstein' made bank in her high-profile divorce from her billionaire art dealer husband Alec in the late 1990s. He died in 2008.
Her 20-year marriage fell apart when her husband was arrested in their Upper East Side home on charges of pointing a pistol at her after she caught him in bed with his 19-year-old model girlfriend.
Noted the late husband in an interview with Vanity Fair: 'She was crazy. I would always find out last. She was thinking that she could fix her face like a piece of furniture. Skin does not work that way. But she wouldn't listen.'
At the time of the 1999 divorce, Joye Wildenstein was awarded $2.5billion and an additional $100million a year for 13 years after splitting from her husband of 21 years, Alec Wildenstein.
has publihsed photo jocelyn wildenstein before #PlasticSurgery Before under category – http://t.co/J4YDerfz36 pic.twitter.com/sP11SXEfaR

— Jenny Bailey (@JennyFBailey) May 12, 2015