What led to Ricardo Augusto Utuy a Los Angeles clothing factory worker setting on a three year old girl who was visiting her mother, a fellow co worker?
Ricardo Augusto Utuy a 34 year old a newly hired Los Angeles clothing factory worker has been arrested after 'randomly' stabbing to death a three year old child who was visiting the facility with her mother.
The child died after 'Baby Ruby' as police have referenced the toddler girl was left alone where the factory worker stabbed her multiple times.
According to a report via the latimes the girl had been brought to work by her parents when Ricardo Augusto Utuy for reasons yet to be understood set on the girl.
Witnesses said the factory worker was prone to talking and laughing to himself.
The attack occurred circa 5pm, after the child's mother stepped away from her work station. At the time, the child's father had brought the couple's daughter to the mother's place of work directly from daycare, which police noted was a fairly regular occurrence.
Utuy, who is said by police to have had 'minimal' contact with the mother, allegedly stabbed the girl multiple times with a knife before fleeing the scene. 
He was taken into custody at 2.30am on Tuesday after surrendering himself to police.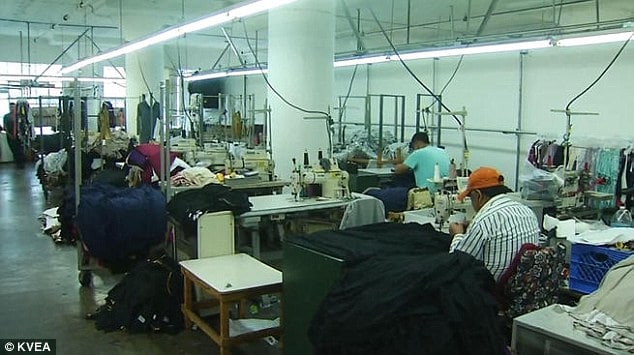 After the mom returned to her workplace and discovered what had happened, she rushed her child to hospital in a private vehicle, but the girl later died notes a report via ktla.
The girl has yet to be identified by the coroner's office.
Responding to the slaying, Los Angeles Police Captain Jorge Rodriguez said that the man had behaved erratically around witnesses, and would talk and laugh to himself.
'He would do certain things that would lead them to believe he was not all there,' he said. 
Noted LAPD Detective Moses Castillo: 'This individual just began working there about two weeks ago,'
Adding: 'He did not know the child's family,'
'That's the bizarre thing about this — there is no known motive,'
'It was unprovoked. … There is no words to even try to describe this person.'
Police said that though the mother and the suspect worked together, they had minimal contact with each other.
Reiterated Castillo: 'Anybody that's capable of doing this heinous act to a young child is capable of doing anything.'
Of question is if the assailant had previous incidents of child abuse with police since asking the public to step forward with any information they might have and reach out to the Abused Child Section of the LAPD's Juvenile Division at (213) 486-0586.
Ricardo Augusto Utuy was charged with murder and is being held on $1million bail.