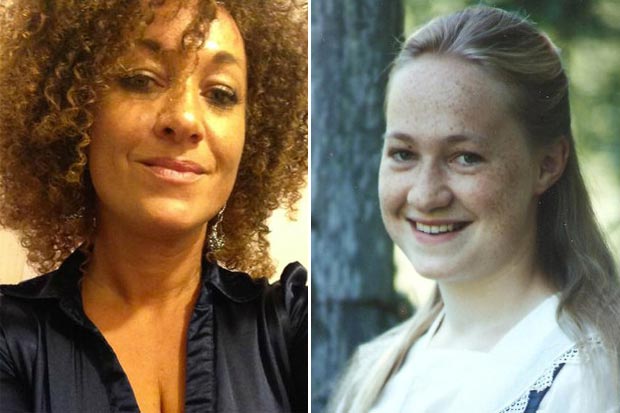 Rachel Dolezal memoir, In Full Color receives a less than endorsing reception as commentators question the woman's claim of black experiences.
Returning to the tabloids is identity martyr, Rachel Dolezal who has found (for the lack of a better description) herself receiving a mixed bag response to the release of her memoir, 'In Full Color.'
The memoir set to be released in March under Amazon's banner of 'sociology of social theory' category (did you expect otherwise?) in which the former NAACP president contemplates the nuances of race and color, discrimination and how we as a culture must (or not) embrace and ultimately choose the identity we choose (or not).
To be sure, Dolezal has managed to leave a particular taste on many people's tongues after the teacher insisted she was black despite the obvious fact that she wasn't born black, isn't biologically black but affirms herself culturally to be black.
Which is to argue one is allowed if inclined to argue and perpetuate their preferred identity (along with gender, religion, and sexuality, etc etc) irrespective of any perceived slight with anyone who might disagree.
A discussion of mores and attitudes which some would argue has much to do with political correctness along with the philosophical acrobatics that purveyors are inclined to argue if indulged.
Notes people: In the book, Dolezal promises to explain how she transitioned from 'a child of white evangelical parents to an NAACP chapter president and respected educator and activist who identified as black.'
Notes Rachel Dolezal memoir description: 'A lot of people think they know what Rachel Dolezal is,'
'Race faker. Liar. Opportunist. Crazy bitch. But they don't get to decide who Rachel Dolezal is."
You tell them Rachel! Who cares what our eyes and ears feel and see and never mind the idea of cultural appropriation. If one feels it, one is it.
Continues the description which accompanied an instagram post from the academic publicizing pre-orders: 'Along the way, she'll discuss the deep emotional bond she formed with her four adopted black siblings, the sense of belonging she felt while living in black communities in Jackson, Mississippi and Washington, D.C., and the discrimination she's suffered while living as a black woman.'
Rachel Dolezal to Matt Lauer: 'I am black because I said so.'
Rachel Dolezal resigns from NAACP: 'I'm a fraud.'
How Rachel Dolezal lied about her race in order to move up the food chain
Irrespective of one's take on one's ability to appropriate a race or not, commentators on social media haven't been shy to express their thoughts on the activist's take and her struggle, with some supporting her and affirming her while others, not surprisingly wishing she went away and let real people of historical black origin who've lived the plight of a black person in America to suffer in silence…. See what you think?
Rachel Dolezal wrote a memoir about being "discriminated against" but real Black women have trouble finding literary agents. pic.twitter.com/IntCP8sdXz

— Evette Dionne (@freeblackgirl) November 1, 2016
Rachel Dolezal's memoir is almost out. It will explore "discrimination she's suffered while living as a black woman". pic.twitter.com/qU0t4BE3tQ

— AJ+ (@ajplus) November 1, 2016
As I said at the time, if Rachel Dolezal doesn't call this "50 Shades of Cray," why bother? https://t.co/dzSZPTIoUR

— Rob Goblin (@RobGeorge) November 1, 2016
Which white actress in blackface will play Rachel Dolezal in the Lifetime movie based on her hack book about her lie of a life?

— Janée Woods (@janeepwoods) October 29, 2016
Rachel Dolezal has to go down as one of the greatest scammers in American history.

— Philip Lewis (@Phil_Lewis_) October 29, 2016
My white people: if you ever defended Rachel Dolezal, go buy a memoir by a REAL black woman. She'll get some money, you might learn a thing.

— Kate Tuttle (@katekilla) October 29, 2016