Why? That is the question media pundits and social media alike have been asking since the revelation that National Association for the Advancement of Colored People (NAACP) leader, civil rights activist, Rachel Dolezal, despite her many years of fronting otherwise, is in fact the daughter of white parents and not the product of a mixed black parenting.
Rachel Dolezal resigns from NAACP: 'I'm a fraud.'
Hardly the envisaged target and perceived beneficiary of civil rights movements, nor by definition for what the NAACP movement stands for. Then again if one can change gender, subscribe to a particular sexuality, religion, why not also ascribe to a particular race, especially if it opens a whole world of access that might have been closed off to a daughter of less than affluent white parents?
The guise would suit the woman well who was able to harness privileges, endowments, resources in a bid to rise up the ladder, both as an academic, artist as well as the leader of  the Spokane, Washington NAACP branch. A rise that the woman may never have been able to achieve had she simply been the daughter of two white middle class parents.
The world would come crashing for Dolezal when the civil rights activist found herself being cornered byKLXY4's Jeff Humphrey with an off camera photo of her father, after the outlet was notified by the woman's estranged parents that their daughter was not black but in fact white.
Reporter: Is that your dad?
Dolezal: Yeah. That's… that's my dad.
Reporter: This man right here is your father? Right there?
Dolezal: Do you have a question about that?
Reporter: Yes, ma'am. I was wondering if, uh, your dad really is an African American man?
Dolezal: That's a very—I mean, I don't know what you're implying.
Reporter: Are you African American?
Dolezal: I don't… I don't understand the question of—I did tell you that yes that's my dad. And he was unable to come in January.
Reporter: Are your parents—are they white?
Dolezal: [Walking away] I refuse…
For years Dolezal had been able to play her bluff, having distanced herself from her parents, even accusing them of assaulting her, social media accounts pictures of a black man the woman claimed to her father (he's not). Dolezal even went so far as to regularly write about her black son Izaiah (he's actually her adopted brother).
Dolezal's charade might have stayed secret had she not attracted attention for reporting an alleged hate crime against herself, which police say they have no proof happened.
Offered the woman's mother via the Spokane Spokesman-Review: It's very sad that Rachel has not just been herself. Her effectiveness in the causes of the African-American community would have been so much more viable, and she would have been more effective, if she had just been honest with everybody.
In light of yesterday's revelations, Rachel Dolezal is now facing a city ethics probe for falsely claiming on an application that she was black, whilst the NAACP instead issued a statement claiming the incident was 'a legal issue with her family'.
'We respect her privacy in this matter,' the statement said. 'One's racial identity is not a qualifying criteria or disqualifying standard for NAACP leadership. The NAACP Alaska-Oregon-Washington State Conference stands behind Ms. Dolezal's advocacy record.
'In every corner of this country, the NAACP remains committed to securing political, educational, and economic justice for all people, and we encourage Americans of all stripes to become members and serve as leaders in our organization.'
Of course one can't help but wonder if the NAACP was itself forced to make the above statement for fear of the tacit understanding that the group may indeed preach inclusiveness for the advancement of its causes but in reality operates on a model that prefers minorities and African Americans, a notion that Dolezal was more than likely cynically very aware of ….or dare we wonder was this all the affront of simply a mentally challenged woman?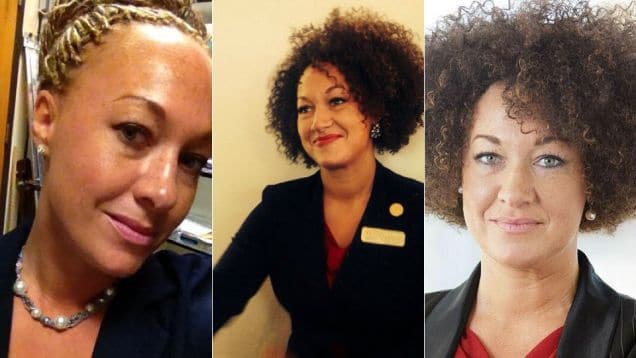 BREAKING: Robert Downey Jr. to play #RachelDolezal in the upcoming Lifetime movie. pic.twitter.com/uuezrj0Rxq

— Franklin Leonard (@franklinleonard) June 12, 2015
People bashing #RachelDolezal's self-definition as a black woman are bigots. Race is a social construct. #CaitlynJenner
— Ben Shapiro (@benshapiro) June 12, 2015
Next black peoples meeting expect long lines. Everyone gotta reapply #RachelDolezal pic.twitter.com/TMRp1oRHK7

— Desus Nice (@desusnice) June 12, 2015
Boom #RachelDolezal pic.twitter.com/OpoEVjDgtn
— Sam (@samwhiteout) June 12, 2015