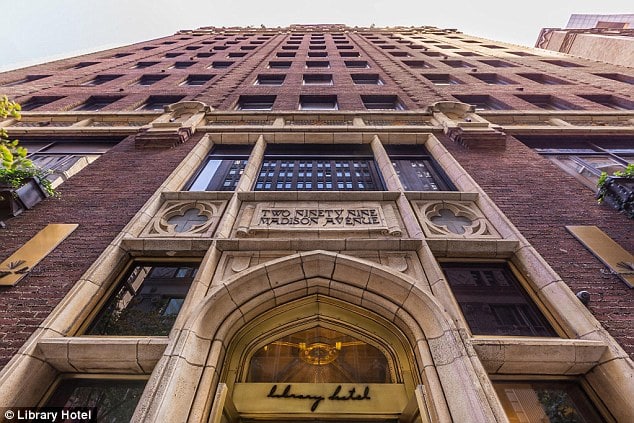 What led to Marodelle Prin a 33 year old Queens NY woman jumping off Manhattan's Library Hotel rooftop bar? Orders meal, two drinks then leaps.
Marodelle Prin a 33 year old Queens woman has died after jumping to her death from the roof of the Library Hotel in Manhattan.
The woman's death comes after the Phillipine native  ordered a meal at the roof of the Library Hotel, along with two drinks late Wednesday evening before leaping to her death shortly after midnight.
According to a report via the nydailynews the woman leaped from the 14th floor after her card was declined.
Prior to jumping, Marodelle Prin wrote the names of two relatives to contact following her death. Which is to imply the woman had planned all along to die that evening.
According to a report via the dailymail, a spokesperson of the family said the woman was intoxicated when she used a chair to climb onto the ledge on the 14th floor of the building. 
Bar staff called authorities and desperately tried to convince her to not to jump.
As police arrived at the small boutique hotel, at Madison Avenue at East 41st Street, she jumped and fell 140 feet.
Despite being taken to Bellevue Hospital, Prin she was pronounced dead on arrival. 
The Library Hotel is a book-themed boutique hotel, located nearby New York landmarks including Grand Central Terminal and Fifth Avenue.
The Bookmark Lounge is billed as an 'intimate rooftop bar offering literary inspired cocktails with city views.' 
In a statement to the dailymail, a spokesman for the Library Hotel Collection said: 'We are deeply saddened by the tragic incident that took place at our hotel last night. 
'Our guests safety and well-being is our number one priority, and our team is fully cooperating with the local officials.'
To date authorities have told of no possible motives as to what led to Marodelle Prin plunging to her death and when she made her mind up to take her own life. Also of question is why the woman chose the Library Hotel to take her life, suggesting sentimental value and the sense of loss and despair.
A cursory regard of the woman's social media biography pulled out zero listings.