Kanye West Hospitalized: What's led to the popular performer having to have his mental health evaluated and now his tour canceled? Theories emerge.
Maybe you missed Kanye West's recent rant during a Sacremento stop of his Saint Pablo tour. For those who don't manage to get through the 13+ minutes of accusations, assertions, complaints, and bloviations, Kanye goes a lot of places during his impromptu speech…and still somehow nowhere at all.
Before getting into the meat of the now infamous rant, it's important to note that Kanye cancelled the rest of his tour after this event. He was also hospitalized at UCLA, apparently as a danger to himself, and has undergone a psychiatric evaluation. Some reports indicate that Kanye was taken to the hospital in handcuffs, though others have denied these claims.
These are the kinds of events that have dominated Kanye's life of late. Ten years ago, we might have been talking about his singing career, despite it being auto-tuned and not professionally trained at voice schools like Ken Tamplin Vocal Academy.
There is plenty of speculation about what may be at the root of Kanye's ongoing meltdown. Anyone watching closely over the past few months has seen the cracks forming. His newest album, the Life of Pablo, is easily his most chaotic and disjointed. With no radio hits (Kanye lashes out at "the radio" during his Sacramento speech), it's Kanye's least-successful record, by far.
My sister sent me what @kanyewest said before he walked off. ? pic.twitter.com/RoKW0yPQRM

— LilAbarcaFrom79th (@GabeAbarca) November 20, 2016
On these tracks he makes all sorts of grandiose claims, and insults various people who used to be close to him, as he does in the Sacramento rant (Jay-Z, Beyonce, Mark Zuckerberg, and others). His appearance on Ellen earlier this year also showed him in a peculiar mode. Kanye had a crazy look in his eyes. At first he wouldn't answer questions except in monosyllables, but soon he started spouting off on an "inspirational" speech that didn't make a lot of sense. The biggest takeaway from the appearance was the phrase "balls, balls, balls". Not his finest moment.
Now that Kanye is in psychiatric care, perhaps we'll see what is to happen next in this superstar's career. Is this rock bottom for Kanye? After a relatively unsuccessful record and reporting being more than $50 million in debt, it's hard to imagine a Kanye West song topping the charts again, with or without the vocal help of Ken Tamplin.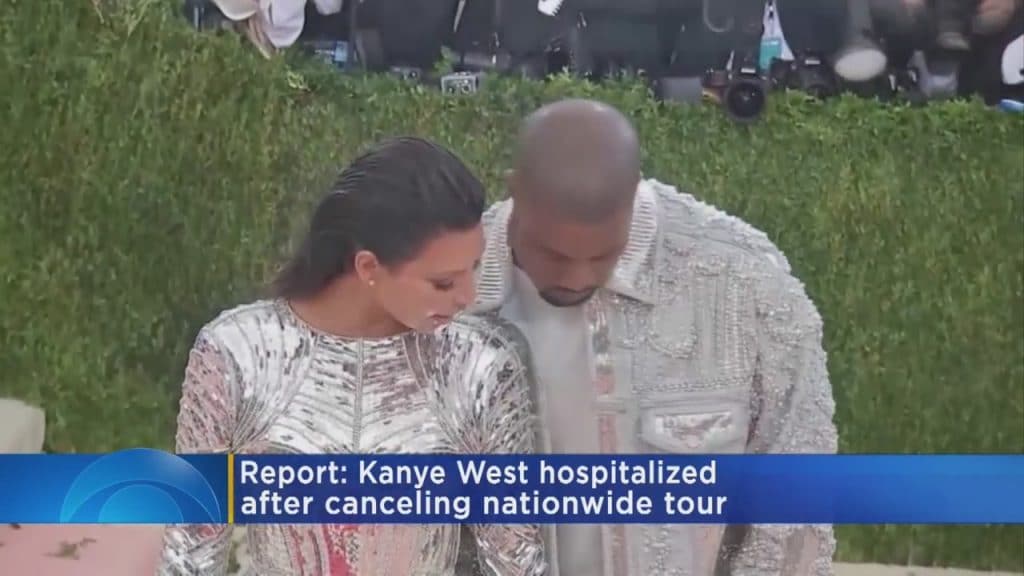 Many people have speculated about the root cause of Kanye's ongoing strange behavior. Snoop Dogg thought it might be some unknown drug, observing that his drug of choice (cannabis) doesn't produce behavior like Kanye's. Other people have speculated that Kanye's motorcycle crash and subsequent injury might have resulted in undiagnosed brain damage. Perhaps the reality is some combination of the two, or some unknown factor.
Whatever the case, Kanye seems to be spinning out of control. Old friends and collaborators are distancing themselves from him, and his famous ego seems to be at odds with reality. Whether or not Mr. West can pull himself out of this spiral has yet to be seen, but it is certain the music's biggest eccentric has once again made the public forget about his music.
Kanye West Hospitalized – FORCED EVALUATION After Endorsing Trump! – Taken Away In Hand Cuffs https://t.co/tzxl97G4PE

— Mark Dice (@MarkDice) November 23, 2016