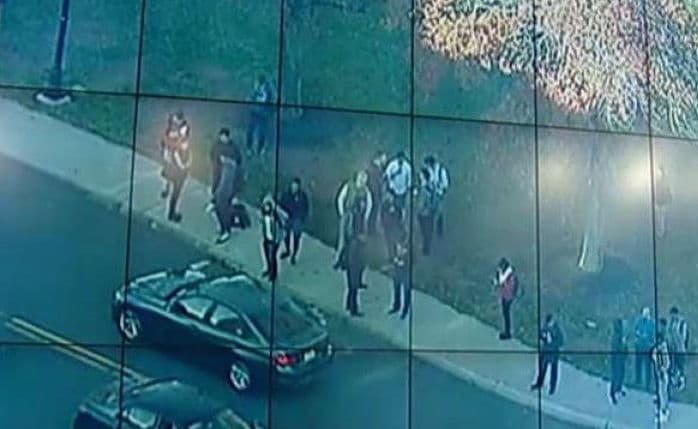 What led to Joshua S Thompson a former Rutgers University business student going on a Friday afternoon stabbing spree?
Joshua S Thompson an ex Rutgers University business student has been charged with attempted murder after stabbing two people on campus before turning the knife on himself Friday afternoon.
Publicly identified by authorities on Monday, the Mountainside, New Jersey native is alleged to have stabbed a faculty member along with a student at the 5th floor of a Livingston campus of Rutgers Business School in Piscataway circa 2.30pm Friday afternoon.
Thompson, 25 and his two victims were taken to the Robert Wood Johnson University Hospital in critical condition, with hospital spokesperson Zenaida Mendez saying that two of the patients have since stabilized.
One patient is still in critical condition, but Mendez declined to specify which of the three that was.
Along with two counts of attempted murder the former student who dropped out before completing his studies has been charged with possession of a weapon for an unlawful purpose and an unlawful possession of a weapon told Middlesex County Prosecutor Andrew C. Carey.
A report via NJ.com told of the assailant having been previously enrolled in the business school in September 2013 but wasn't a current student. What led to the former student dropping out is yet to be necessarily understood.
Matters came to the fore after Joshua S Thompson entered a university office and attacked his two victims with a knife before they managed to escape.
Of question is if Thompson had specifically sought to target the two individuals assailed in the assault? Authorities have yet to tell if the assailant had sought to target more individuals?
At the time of the attack, Rutgers put the business school on lockdown, and a warning was issued to staff and students to take shelter.
Students claimed afterwards one of the victims was stabbed in the throat. Another had their 'abs ripped open', they said, that said police have to date declined to reveal details of the afflicted's injuries.
Ultan Cullen said he was walking into the business school when the first police officer arrived on the scene.
Told the man via the dailymail: 'He was flooring it through and just like going straight to the other side of the road and just runs right out of the car and into the building,' 
'Just cop car after cop car started showing up.'
Cullen said he soon saw an ambulance pull up and paramedics carry a man out on a stretcher.
'There was a lot of blood,' Cullen said. 'He had one of his arms propped up in the air. It was really messy.' 
No motive has been released, and an investigation is still ongoing. 
Thompson was taken into custody at the scene, and bail has been set at $1million.