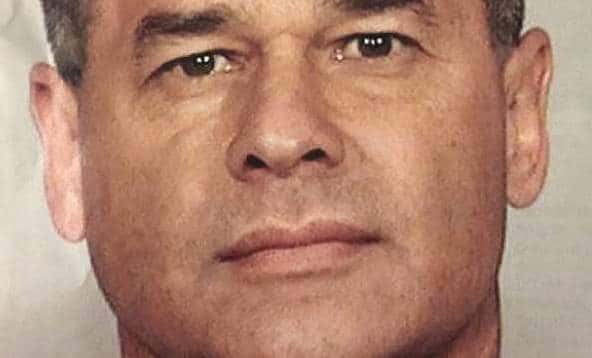 Was Detective Benjamin Marconi a San Antonio Police Department police officer's shooting death race related? Shot twice at close range by black suspect.
The San Antonio Police Department has identified Detective Benjamin Marconi as the Texas police officer who was shot Sunday noon in an ambush shooting outside police headquarters.
According to a statement released by Police Chief William McManus the 50 year old police officer's death came as Detective Benjamin Marconi pulled over a driver and was in the process of issuing a ticket when another vehicle pulled alongside Detective Marconi's vehicle and shot the police officer dead in cold blood.
At the time the assailant had gotten out of their vehicle and blasted the police officer who was in his patrol car twice, once in the head. From there the assailant got back in his vehicle, believed to be either a black Toyota or Nissan and sped off notes a report via KSAT-TV.
McManus in a Facebook post described the gunman as a black male, about 5'7″ tall, wearing a hoodie and baggy pants along with possibly having facial hair.
Reiterated Police Chief McNamus: 'Hopefully we'll solve this one real quick, and if this individual is a danger to more police or anyone else we will try to get him off the street as soon as we can.'
Yet to be necessarily understood is what led to the as of yet to be publicly identified suspect shooting Detective Benjamin Marconi, except to describe the incident as an 'act of cowardice.'
Added the police chief, 'This is everyone's worst nightmare.'
'Right now we are looking for a possible motive. We are looking for video footage that may help us identity this individual,' McManus said, according to the San Antonio Express-News.
Adding: 'It's always difficult, especially in this day and age, where police are being targeted across the country.'
According to local reports, the fallen police officer was a 20 year veteran.
This is 20-yr SAPD veteran Benjamin Marconi. He was shot while writing a ticket in front of HQ. He was 50 years years old pic.twitter.com/BIJJ6lMui0

— Zack Hedrick (@zhedricknews) November 20, 2016
.@SATXPolice release officer's identity, additional suspect vehicle photos. #KSATnews pic.twitter.com/Kyz530UJHu

— Pilar Arias (@KSATpilar) November 20, 2016
Responding to the police shooting, Mayor Ivy Taylor said: 'I want to extend my deepest condolences to the family of the officer killed outside police headquarters today, as well as to our entire police force,'
'This type of crime cannot and will not be tolerated. I ask for the community's thoughtfulness and patience as the investigation continues and SAPD searches for the suspect.'
Michael Helle, president of the San Antonio Police Officers Association, extended the union's condolences to the officer's family.
Read a statement: 'Our prayers and love are with the family of our fallen officer. We will stand by the officer's family and support them and their needs during this devastating time. The single worst event any police officer can face is the loss of a brother or sister in the line of duty. Words cannot express how deeply this affects every police officer, not just in San Antonio, but across our country. We are all hurting, but we are all a family and we will stand together, protect each other and protect our families.'
Detective Ben Marconi is the seventh officer to be shot and killed in the line of duty in Texas this year, according to the Officer Down Memorial Page. There have been 57 officers killed by gunfire nationwide.
Five of the Texas officers were killed during the attack on Dallas Police at a protest in July in which police officers were marked by militant black gunman, Micah Xavier Johnson who in a mission statement wrote that he only 'wanted to kill white cops'.
Detective Benjamin Marconi was Assassinated today right outside Police Headquarters. Obama's America #BlueLivesMatter #RedNationRising pic.twitter.com/lXqCXG1LU4

— RedNationRising (@RedNationRising) November 20, 2016
CHIEF: A black man got out and walked to the passenger side and shot the officer. Police say the suspect reached inside and fired again pic.twitter.com/KQ3wsBW0X7

— Zack Hedrick (@zhedricknews) November 20, 2016
This is as close as we can get for now. A lot of investigators looking at the area near the entrance of the south side parking lot of HQ pic.twitter.com/B27MKnPAlq

— Zack Hedrick (@zhedricknews) November 20, 2016
Always remember: Detective Benjamin Marconi, San Antonio Police Department, Texas https://t.co/8Xy6GpQEO1 pic.twitter.com/kje8jTvsgl

— SteveO (@steve62269) November 20, 2016