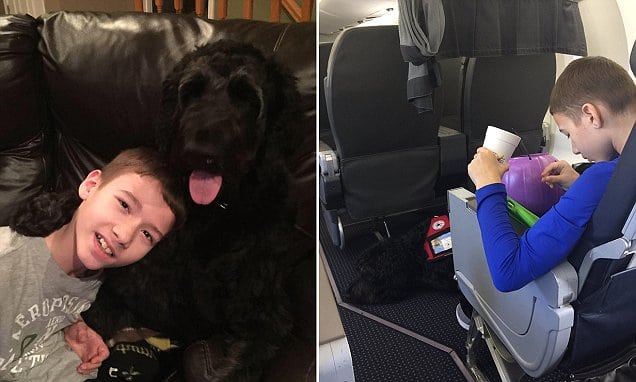 Bryant Weasel gets kicked off American Airlines cause his service dog was deemed too big. What led to the airliner saying it couldn't accommodate a disabled boy despite prior assurances?
Open outcry has ensued after American Airlines kicked off 11 year old severely disabled boy Bryant Weasel on account of his accompanying service dog being 'too big.'
At the time, the boy who suffers Dravet Syndrome, a rare form of epilepsy which causes frequent and prolonged seizures, was returning from his first ever vacation when he was made to get off the plane.
According to American Airlines, the boy's accompanying service dog, Chug a 110 pound dog was deemed too large.
The incident notes ksdk occurred while Bryant and his parents and eldest sister and Chug were making a connecting flight at Charlotte-Douglas, North Carolina for Evansville, Indiana on Thanksgiving Day after having made the trek out to Myrtle Beach.
The service dog is trained to alert Bryant's family when he suffered a seizure and comfort him until it passes.
Told Bryant's mom, Amy Weasel: 'Every type of seizure that you can possibly have, he has — and this particular syndrome is resistant to most pharmaceutical medications. [Chug is] able to detect seizures before they happen and then he's able to assist when he's actually having a seizure.'
Yet while there were no incidents on the way out to Myrtle Beach, when the family first flew out on November 2, it was not to be upon their return home.
Reiterated Amy Weasel: 'We flew from Evansville to Charlotte and then from Charlotte to Myrtle Beach on November 2 with absolutely no problems whatsoever.'
Prior to the family vacation, Amy Weasel called the airline in advance to make sure Chug could fly.
From there, Amy Weasel told of filling out the required paperwork, requested additional documentation from Bryant's doctor and then submitted the paperwork to the airline a week before they were set to fly when they were given the ok.
It was whilst heading home on their last leg on Thanksgiving Day as the family were settling into their seats prior to departure that the family ran into headwinds when they were approached by a flight attendant.
After various attempts of moving seats led to little vail, including a forced attempt to have Chug seated under the seat in front of them, management came on board the plane only to side with the flight attendant, telling the mother that they wanted the family off the plane.
The Weasels would spend their Thanksgiving in Charlotte-Douglas trying to get rebooked on another flight, with American Airlines eventually agreeing to put the family up in a hotel room and re-booking them on a flight Friday, but to St. Louis, Missouri, where a three hour drive awaited them to get back home.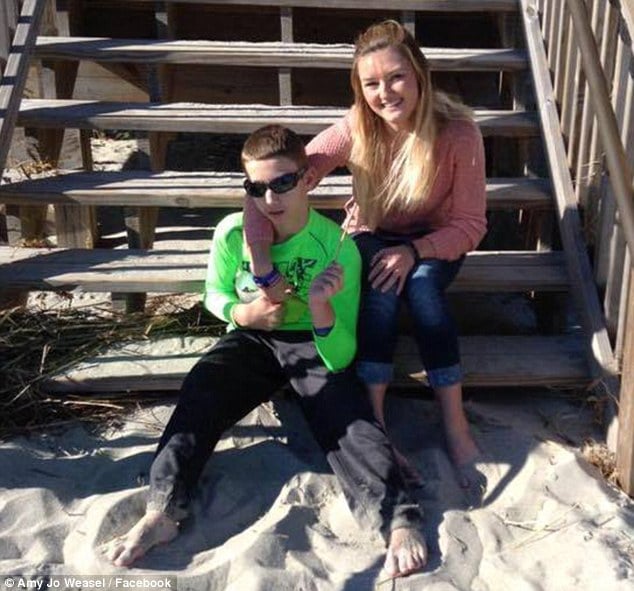 Upon their return home, Amy Weasel complained to the airline and was issued an apology for the way they were treated.
Told the mother: 'It was just very unfortunate that this flight attendant was not trained in knowing how to accommodate people with special needs.'
Adding, 'And hopefully they will hire people that have some compassion for the disabled folks in the community.'
Amy Weasel would go on to tell the dailymail that her son, Bryant had suffered a seizure on the day of the Thanksgiving Day flight back and that the over-all experience left the boy debilitated.
In the days after the incident American Airlines issued the following statement: 'We are aware of the incident, and we apologize to the Weasel family. 
'Our customer relations team has reached out to the family, and had already provided a full refund for their entire journey, and will also reimburse the cost of the rental car. We have notified PSA Airlines, the regional carrier that operated the flight, and they are investigating the matter.'