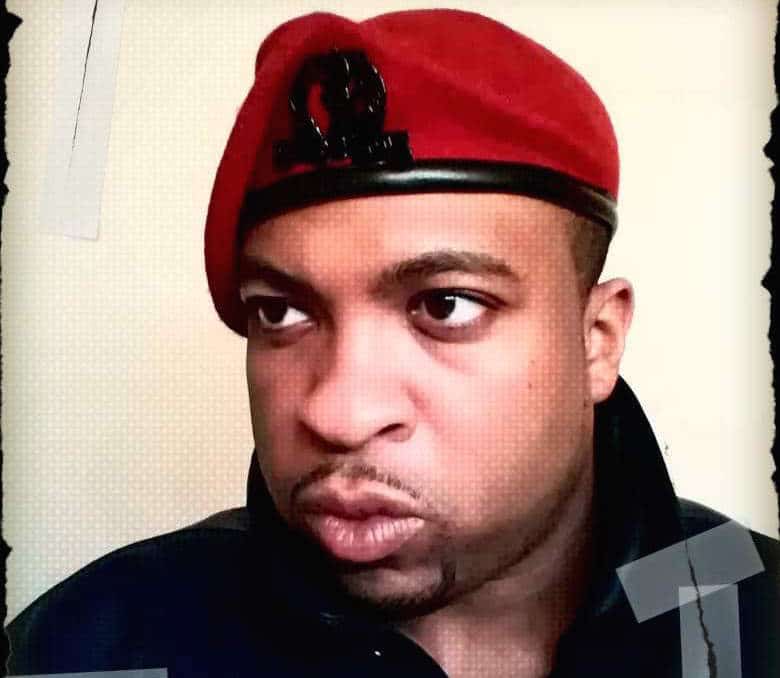 What led to Kirk Figueroa a Boston constable going on shooting spree? An East Boston man is revealed to have had a conflicted relationship with the law.
Kirk Figueroa, 33, a recently sworn Boston constable has been identified as the sole suspect with the shooting of two Boston police officers responding to a domestic incident in the city's East district, Wednesday evening.
The call led to  Officers Richard Cintolo, a 27 year police veteran and Matt Morris, a 12 year veteran being critically wounded upon arriving at the front door, while Figueroa was fatally struck after police reinforcement entered the house.
According to WMTW-TV the shooting involved Figueroa going out blazing while donning body armor and firing off an assault rifle shot-gun.
During a Thursday press conference, Boston Police Commissioner William Evans said both police officers were in stable but critical condition.
Told the Commissioner: 'I'd like to commend my officers for the courage and bravery they displayed last night, I'm really proud of their efforts.'
While confirming that the shooter was a Boston Constable who'd been sworn in late July, Commissioner Evans disclosed Boston Police previously conducting background investigations into Figueroa before issuing his gun license. 
Evans told of State laws prohibited his office from investigating Figueroa on a federal level which would have revealed the shooter having a prior criminal record in other states outside Massachusetts. Records indicated the shooter having a clean bill in-state.
The Commissioner also stressed that Figueroa did not have a license to carry a weapon and was only mandated to conduct civil duties on behalf of the city.
Told Evans: 'Constable is very much like a mailman, he goes and delivers civil process. He had no right in Massachusetts to possess the gun in hand.'
According to The Boston Herald Figueroa three-year term wasn't not set to expire until 2019.
Commissioner Evans disclosed Figueroa along with being a constable was also co-founder of a security firm with the shooter's biography 'boasting' of military and law enforcement experience.
According to heavy, un-substantiated claims revealed Kirk Figueroa's biography describing him having served in the Army Reserves with a military police battalion from 2003 until 2011. Not necessarily understood is what led to Figueroa's either leaving his posts or being forced out?
WCVB-TV described Figueroa's security company, Code Blue Protection Corp as stating that it 'provides police support, fugitive apprehension and extradition services and armored car training. He also says he is trained in mixed martial arts.'
Heavy police presence in Orient Heights right now. Dozens of BPD, at least two choppers, and multiple ambulances. pic.twitter.com/h1v0Ct2jlL

— Toni Stark (@QuestionSleep) October 13, 2016
Matters came to the fore, after police responded to a call just before 11 p.m of a possible domestic disturbance between two male roommates in the city's East Boston neighborhood.
One of the roommates was described as being armed. Upon arrival, officers were met at the door by a victim who claimed his roommate had pulled a large knife on him.
Kirk Figueroa then produced what officials describe as a 'tactical shot gun' began firing on police, wounding the two cops. Fellow officers began applying first aid, while other officers ran into the apartment.
Reiterated Commissioner Evans: 'Officers continued to exchange gunfire and the suspect in question was neutralized and the threat discontinued.'
Screenshot of Boston police shooting suspect Kirk Figueroa's bio pic.twitter.com/fasvCDDt9C

— Zuri Berry (@zuriberry) October 13, 2016
A report via New England Cable News told of Figueroa's roommate not being injured in the standoff. A third roommate was also safely evacuated.
In addition, to Officers Richard Cintolo and Matt Morris sustaining serious injuries, nine officers were treated at Tufts Medical Center for minor injuries sustained during the gun battle and for stress. They were released Thursday.
Suffolk County District Attorney Daniel Conley said his office would conduct an investigation into the shooting because of the use of deadly force on the suspect.
Told the DA: 'It's going to take some time because the two individuals that probably know most about this event are behind us at Mass General fighting for their lives.'
In the interim, commentators wonder if Kirk Figueroa was a walking time bomb and to what degree mental illness, battle fatigue may have set the man off…along with the shooter's long-standing fascination and aspiration within law enforcement.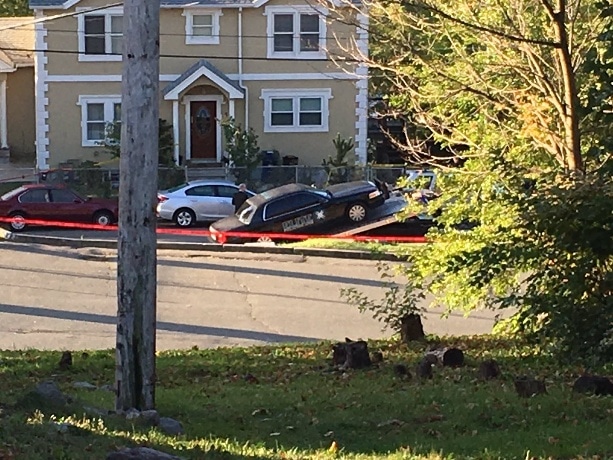 Neighbors describe Kirk Figueroa. Man who was killed after police shootout. #East Boston @fox25news pic.twitter.com/S1CaNUr4Qr

— Malini Basu (@WFXTMalini) October 13, 2016
Our prayers remain with Officer Richard Cintolo, a 27 year veteran of the BPD, and his family as he recovers from his injuries. pic.twitter.com/NKLyqUsEul

— Boston Police Dept. (@bostonpolice) October 13, 2016
Our prayers remain with Officer Matthew Morris, a 12 year veteran of the BPD, and his family as he recovers from his injuries. pic.twitter.com/VLIieG1kSP

— Boston Police Dept. (@bostonpolice) October 13, 2016