Joseph Mann Sacramento police video: Armed and mentally ill: Is deadly force the only treatment left? New questions raised as lawsuit launched.
Shocking video footage has been released (see below) showing the moment two Sacramento police officers, Randy Lozoya and John Tennis tried running over homeless black man, Joseph Mann before they gave chase by foot where they shot dead the man after firing off 14 gunshot rounds.
The release of the Joseph Mann Sacramento police video comes off the back of authorities investigating the manner in which the mentally unhinged man came to be killed at police hands on July 11.
The footage released via the Sacramento Bee includes both audio and visual video, including that of the officers as they take pursuit of Mann after calls the man had been 'behaving erratically.'
Heard in the video is one of the Sacramento Police officers, with one of the them saying, 'Fuxk this guy, I'm gonna hit him,' as the police car the men were traveling attempts to run over the homeless man. All of which was recorded live on police dash cam video.
At the time, one of the officers responds, 'Ok, go for it.'
Both times that police attempt to take down Mann, the man manages to dodge police.
It's then when police get out of their police vehicle and begin pursuing Mann on foot, where they end up shooting him 14 times.
According to the audio, Mann also told officers he did not have a gun, contrary to a 911 report. 
Police say no gun was found, although they found a knife.
The incident has sparked protest from local religious and black leaders, who say Sacramento Police Department officers unnecessarily resorted to lethal force.
Police spokesman Bryce Heinlein told the Bee that Lozoya and Tennis are currently on 'modified duty'.
Robert Mann, Joseph Mann's brother told the Bee that the two officers 'shouldn't be in uniform'
'If this is their state of mind when they go to work, this doesn't serve anyone well.'
Attorney John Burris: "it's called DE-ESCALATION. And it was not in that video" #cbs13 pic.twitter.com/EhHpsf17ZD

— Macy Jenkins (@MacyJJenkins) September 21, 2016
The Mann's family lawyer, John Burris, said the officers' behavior was 'cowboyish' and 'outrageous' as the man's family have since filed a fedeal lawsuit against the Sacramento Police Department and a claim against the city.
He said the car should be considered a lethal weapon and therefore should have been used as a weapon only if officers felt Mann posed an imminent threat to officers or others.
Notes the lawsuit as published in the Washington Post:
'Inexplicably, the Officers failed to contact any properly trained mental health counselors or make any attempt to use less than lethal force and ignored the established police protocols to make attempts to de-escalate the situation."

"Instead, Officers left their (positions) of safety, cornered Mr. Mann against a (fence/wall) and opened fire on him.'
An account corroborated by witnesses.
Reiterated Michele Rudek via the Bee, 'He wasn't walking toward them being aggressive toward them. I felt that he was just trying to get away and he was crazy,'
 'They were obviously just making him feel more and more stressed, there is no question.'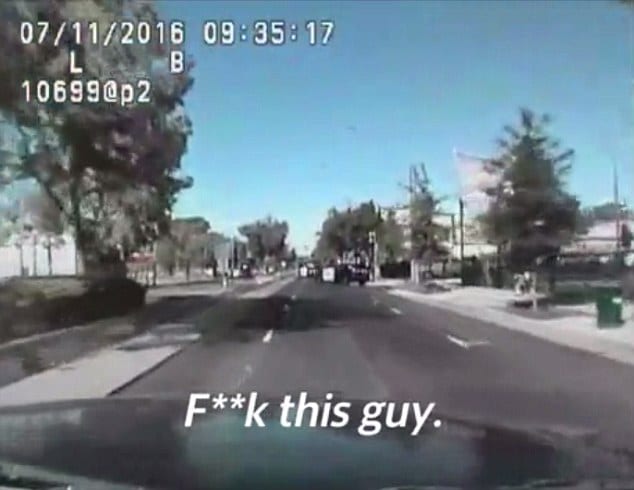 Matters had come to the fore after residents called police to an apartment complex saying that Mann was acting erratically. 
Dashcam footage obtained by the Bee from the first patrol car to arrive on the scene showed Mann telling officers that he didn't have a gun. 
And the officer responded: 'Get your hands up and get on the ground. They said you had a gun. Get on the ground.'
Mann: 'I don't have a gun.'
The officer continued to tell Mann to get on the ground but Mann reportedly didn't comply with the officer's commands.
Mann then yelled threats at police and threw a thermos at their car as he kept walking.
But he didn't drop his four-inch knife despite repeated orders from police.
A toxicology report found methamphetamine in Mann's system.
Police spokeswoman Traci Trapani declined to comment Friday, while a report via kcra tells of the involved officers having more than 25 years of experience with the Sacramento Police Department.
The shooting has since led to a probing report via the Bee where an editorial posed the question, 'Armed and mentally ill: Is deadly force the only treatment left?'
A separate incident in El Cajon, California, involving another mentally ill black man, Alfred Olango, has spurred days of protests. Officers shot Olango after he drew a vaping device they mistook for a weapon from his pocket.