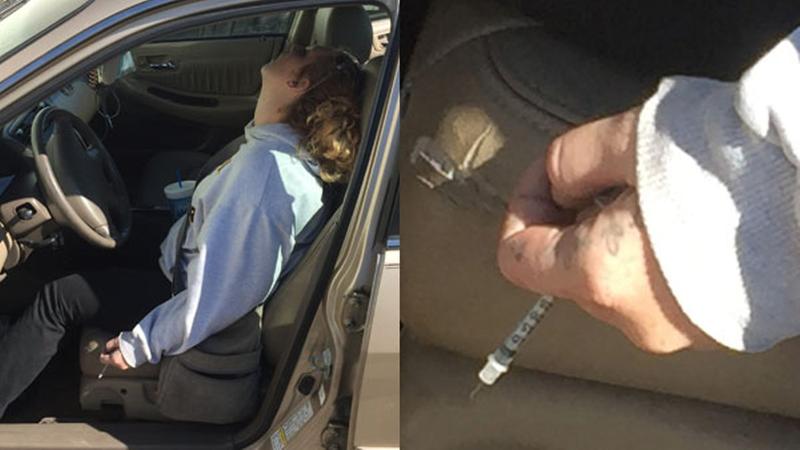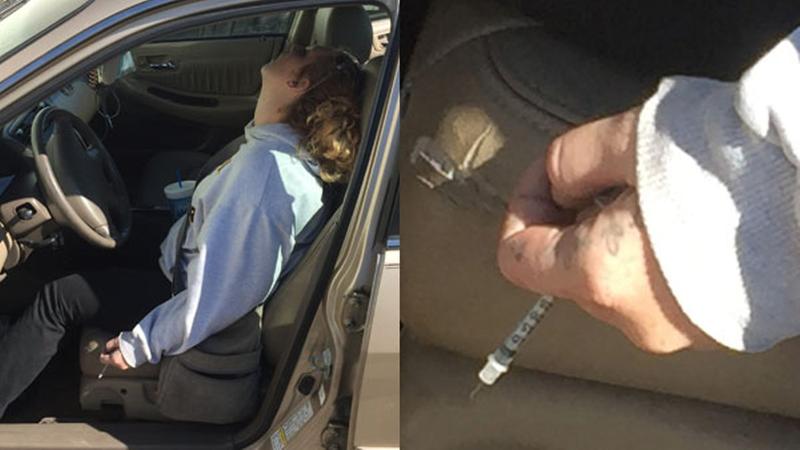 Erika Hurt Indiana heroin mom: Local Indiana authorities release photos of a young mother who was found overdosed with her toddler son in the back seat.
Hope, Indiana police have decided to release disturbing photos showing that of 25 year local woman, Erika Hurt at the moment she was found slumped over her wheel, a needle of heroin still stuck to her arm, with her toddler son sitting in the backseat.
The decision to release the image comes as Indiana Police seek to spread awareness of the heroin epidemic infiltrating the community and how all walks of people in all matters of activity are finding themselves prey to the ravages of the drug.
At the time of the mother's discovery, the mother had parked outside a Dollar General Store when she overdosed on her heroin fix as her 10 month old son sat in the back crying.
While the mother (this time) was able to revived and taken to hospital, police charged the woman with child neglect and possession of drug paraphernalia.
Reacting to the decision to share the disturbing images of the overdosed mother, Town Marshal Matthew Tallent said he wanted the community to see how heroin had 'leaked into small town USA.'
Offered the man via the dailymail: 'I'm trying to show people that this just isn't a city problem. The heroin epidemic is leaking into small town America and it's getting really bad,'
'Not only did this woman overdose and nearly die but, had she not passed out from the drug, she would have driven out of the car park and could still have been driving while passed out or under the influence. 
'She could have killed another innocent family.' 
Did Brenden Bickerstaff Clark go too far with his heroin overdose video?
Alyssa Bazala heroin mom passes out with toddler in back seat of car
Christopher Dilly, Jessica Lally overdose to death: 'Mommy and daddy won't wake up'
James Acord, Rhonda Pasek heroin overdosed photos: Parents passed out with 4 year old in backseat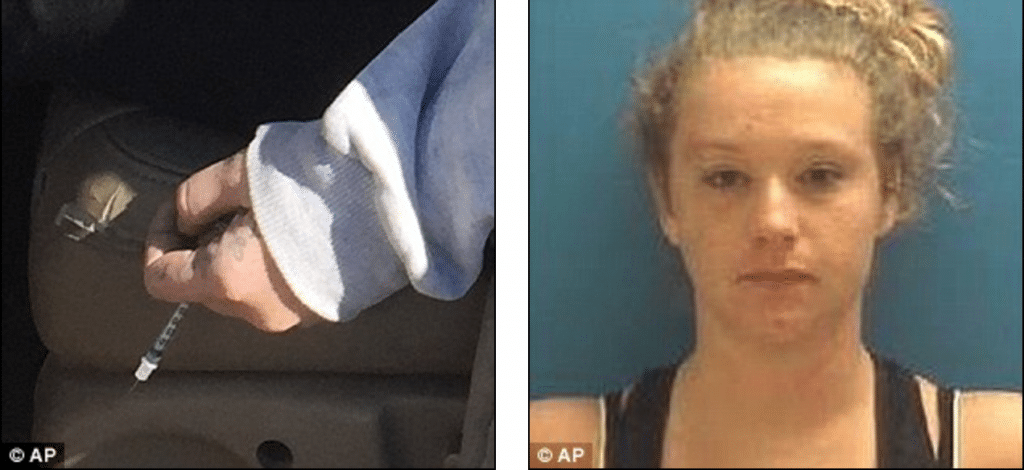 Tallent said the woman's baby was crying when police found them in the car after being called by a passer-by who had seen Hurt unconscious. 
'The child was fine, he got fussy towards the end when they tried to take him out. He was crying when they arrived.' 
He pleaded with members of the public to consider America's drug problem, describing it as 'getting worse by the day'. 
'I hope that people look at it and see what kind of state this is coming to, the heroin epidemic in the country right now. It's getting worse by the day.'
Tallent says child welfare officials were called to the scene and the baby was
turned over
to Hurt's mother.
In the interim Erika Hurt remains in custody on a probation violation. Not understood is if the mother had a lawyer.