How drug addiction plagued the lives of Christopher Dilly and Jessica Lally as a sister fought to have the couple give up their parenting rights. A broken system. 
Christopher Dilly, 26, and Jessica Lally, 25, a Pennsylvania couple have died after allegedly overdosing to death, their slumped bodies recovered at the family home after their 7 year old daughter called school to say her parents wouldn't wake up.
Police said they discovered the bodies of the deceased couple in the living room of their McKeesport home Monday night, along with three other living children elsewhere in the house, the Pittsburgh Post-Gazette reported. Investigators said they found drug paraphernalia in the home as well.
Dilly and Lally may have been dead for a day or two before their bodies were found, according to Allegheny County police Lt. Andrew Schurman. Investigators believe they died from drug overdoses, and they don't suspect any foul play.
A report via KDKA-TV tells of police taking the girl who reported her parents unresponsive along with a 9-month-old girl, a 3-year-old boy and a 5-year-old boy to a hospital for a medical exam. Social welfare officials assumed custody of the children.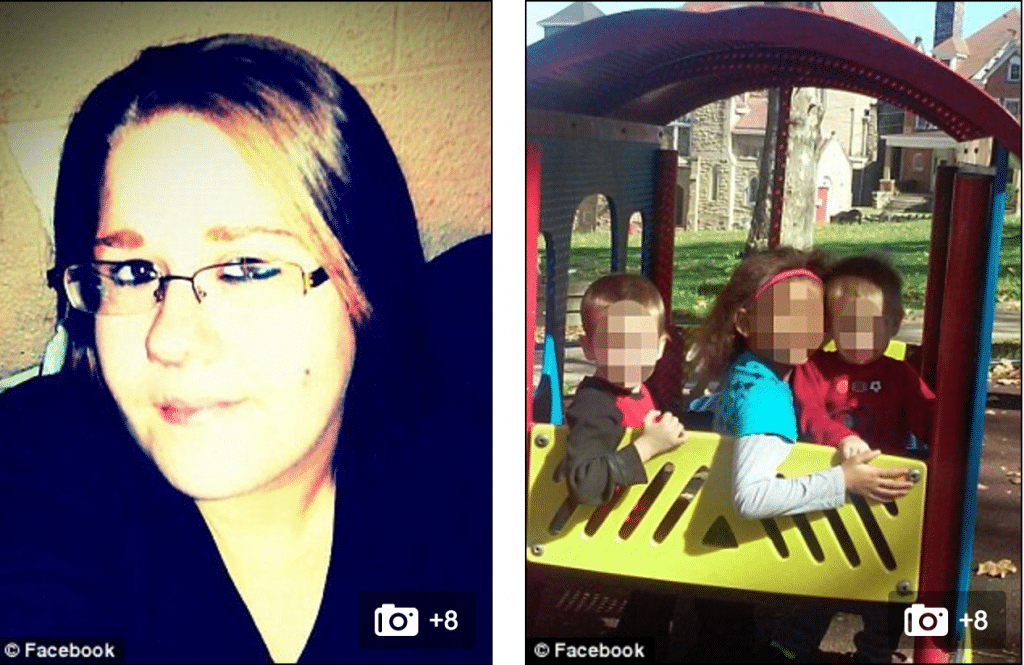 Neighbor Jordon McCallister told WPXI he saw Christopher Dilly and Lally's children on Sunday but there was no sign of their parents.
Still of question is what drug the parents fatally overdosed on. Police told of a 50-year-old man who lived on the same block suffering a fatal heroin overdose Monday in third drug-related death in town 11 miles outside Pittsburgh.
Of note, Christopher Dilly's apparent Facebook page showed a series of rambling posts from March in which he accused people close to the couple of abusing their children. His profile photo showed him and Lally, who listed her last name as 'Dilly,' posing together in a selfie.
Her profile also said she was the 'mom of 4 beautiful children' and 'engaged to my love Chris.' The last post, from Aug. 30, showed smiling portraits of each of the children.
Of disconcert are photos on Facebook courtesy of a woman who identified herself as Jessica Lally's sister, Courtney, where she shared images from her true-crime blog Umbrella of Suspicion purportedly taken inside Jessica and Christopher's previous place of residence.
According to one February blog entry, Courtney Lally accused her sister of being a drug addict and keeping her four children living in filthy conditions.
Lally aired her grievances against her sister in a rambling, punctuation-free Facebook status update dated February 13, which read: 'this is how Jessica Leigh Lally lives with her children and Christopher Dilly flood Facebook with this in till it gets to them I want people to see what dirty bad parents they truly are its so sad they do not care about their children never have never will they beat their kids and make em stand in the corner all day they children are so damaged its not funny'.
The post was accompanied by photos purportedly taken inside the couple's then-home showing filthy rooms strewn with piles of garbage, a dirty bathroom with stains on the wall and a broken door hanging off the hinges.
In a follow-up post, the dailymail notes Courtney Lally claiming that her four nieces and nephews having medical and developments problems allegedly caused by her sister's drug addiction.
She said that one of her nephews was still in diapers and could barely talk at age four, while the woman's other son 'walked like a baboon' and communicated with screams and grunts.
Courtney Lally also claimed that one of Jessica's daughters had to stay in the hospital for several extra days after her birth because she had drugs in her system.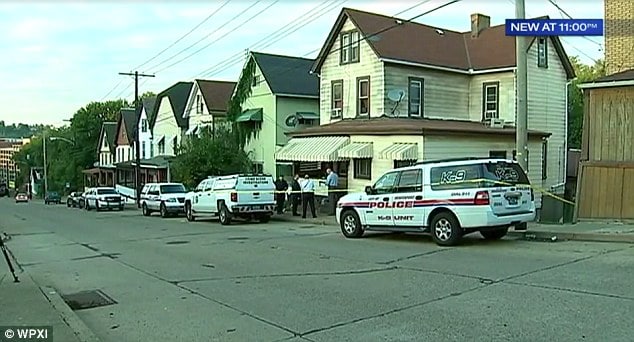 Jessica Lally is alleged to have retorted in a series of text messages, accusing her family of spreading lies about her and her boyfriend so they could take away her children.
Told Courtney Lally via WPXI who as recent as two months ago had tried to get her sister into drug counseling: 'My sister wasn't the person she became when it came to drugs.  She wasn't the person I knew. It was like the drugs had taken over and at first we didn't know it was heroin,'
'She loved her kids — she did. She loved her mom, she loved me, she loved us.'
According to the sister, she had gone as far trying to get police and CYF involved since February. She also reached out to Channel 11's Courtney Brennan and asked if there was anything Channel 11 could do. She ended up contacting police, sending them photos of the deplorable Munhall home where her sister and Dilly lived with their children.
At one point, according to the sister's blog, the Department of Children and Youth Services had taken Jessica Lally's children away from her and placed them in the care of their grandmother, but eventually the woman regained custody of her two sons and two daughters. How is yet to be necessarily understood.
The Tube City Almanac reported that court records in Allegheny, Washington and Westmoreland counties showed no drug arrests for either Dilly or Lally.
The boyfriend was arrested in December on a disorderly conduct charge but was found not guilty.
Courtney Lally intends to now go to court and seek custody of the couple's children.