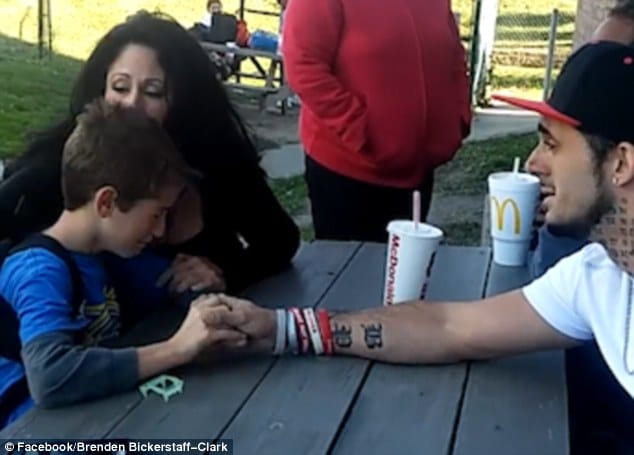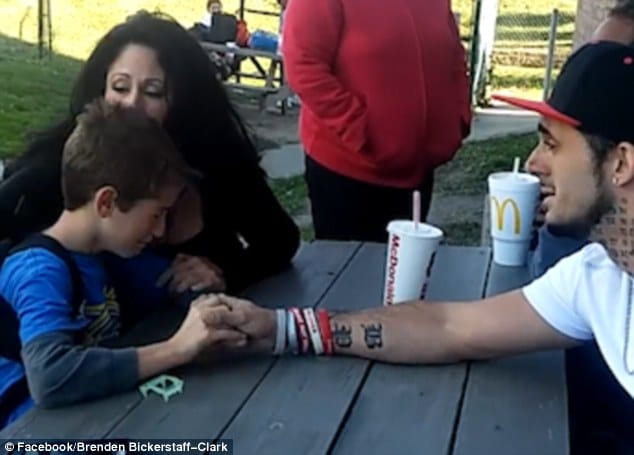 Did Brenden Bickerstaff Clark go too far in choosing to film the moment he tells his son his mother has died from heroin overdose? The internet reacts. 
Brenden Bickerstaff Clark a pizza maker from Youngstown, Ohio has caused upheaval after electing to post a video of the moment he tells his eight year old son his mother has died the night before from a heroin overdose.
Since posting the video (which this author could barely stomach watching, but more about that below) the video has gone viral, with upwards of 14 million views on youtube and 24 million views on Facebook.
The video starts off (see below) as Brenden Bickerstaff Clark and family friend sitting at an outdoor picnic table, chain smoking away (isn't this the kettle calling the pot black?) in front of the young child stare stoically at the boy, bracing him and themselves for what they are about to say and what is eventually going to be an Oscar cringe worthy moment for posterity and fake authenticity. Or as some have wondered at the very least according to the many thousands of responses that soon followed.
As the father sits across his son (not next to him?) he braces himself as he bluntly tells the boy, 'I have something to tell you, OK?… Mommy died last night,'
'What? What do you mean, my mom? How?' asks the shocked youngster as the father now leans over to his son's hand across the table. 
'From drugs,' the father announces.
It's there the eight year old son suddenly breaks down and weeps as Brenden Bickerstaff-Clark's friend hugs him, barely able to get her cigarette out of the child's face.
'I'm sorry' says the father stoically.
Sorry for not allowing his son's mother from overdosing, for not getting her into treatment, sorry for turning up chain smoking, despite mock regard for the dangers of addiction, sorry for posting a violently private moment on social media for others to watch as this were a sporting event or a Steven Spielberg film cut off the slice of reality?
Sorry or not, but one senses in that very moment the father may have been truly sorry for what has happened and for the sake of his son's loss, the father then gets up and climbs over the table in a bid to comfort his son, saying, 'I love you. Do you need a hug?'
Should any father have to ask such a question at such a moment? Doesn't that hint at the family upheaval and dysfunction that paved the way for the child's mother to derelict her parenting duties and seek solace in drugs? Then again since when did being a drug addict ever take less precedence than the drug itself, loved ones and responsibilities to oneself and those dependent on them included?
The father embraces his devastated son before turning to the person filming it, telling them at last, 'That's enough.'
Alyssa Bazala heroin mom passes out with toddler in back seat of car
Christopher Dilly, Jessica Lally overdose to death: 'Mommy and daddy won't wake up'
James Acord, Rhonda Pasek heroin overdosed photos: Parents passed out with 4 year old in backseat
Presupposing that the video would elicit a gauntlet of reactions, many hyper critical of the father,  while others lauded him for his bravery to expose head on addiction in the community (Youngstown is in the grips of unrelenting heroin addiction) and its devastating toll on loved ones, Brenden Bickerstaff Clark took to Facebook where he posted:
'This is for any and every addict with children. Today I had to tell my 8 year old son that his mommy died from a drug overdose last night. This is the realization and reality of our disease. Don't let this disease have to make someone tell your child that you're dead because of drugs.'
'This was one of the hardest things I've ever had to do. My son has no mother because of heroin…kinda hard to hear but u can hear what we're saying. Please get help so our children don't have to suffer.'
The father goes on to deny the filming of the video was staged, telling: 'I am a recovering addict myself with 94 days clean today…please share n help maybe help save a child's parent's life.'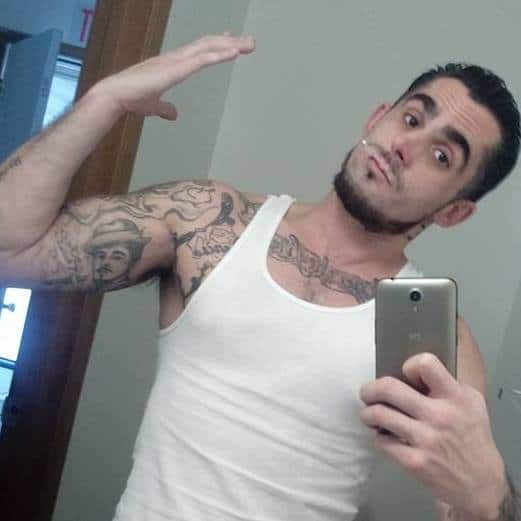 What do you think, did Brenden Bickerstaff Clark go too far in sharing a deeply personal moment (that his son didn't have the chance to agree to) which in some way betrayed his son's memory and took advantage of the boy's grief, despite the father's claims he simply sought to bring deeper awareness of the harrowing toll heroin addiction can exact?
Could the father have done better to have perhaps filmed himself breaking down and coming to grips with the loss of his son's mother or did he really have to go so far as to use the innocence of a child to parlay the horrors of heroin addiction and in some way make the child a victim all over again and the buttress of his own pain? 
And then there were these sampling of reactions on the internet that made me wonder, see what you think and feel free to voice your thoughts too ….
'Its bad enough to find out your parent passed away especially from drug abuse but to have a constant reminder of how your father told u up on the internet forever! I'm a father of 2 young boys and "Dad" you should be ashamed of yourself!'
'All of the people who keep talking about bad judgement on this video.. i remember a couple months ago a picture going viral of a little 4 yr old boy in the back seat of a car where both grandparents passed out in the front seat.. and people weren't mad at the cops for posting that.. this is the same situation… no different.. trying to raise awareness.. so think about it…' 
I was thinking money too – doesn't 14 million views on UTube bring in a lot of $$$? Trailer trash tat dad probably needs it to re-start his habit. That poor child.
Surely his child has privacy rights just like the rest of us? Disgusting and abusive.
Yeah, this will probably mean years of therapy in the future. Not just the overdose but the fact this was made live. Truly the bottom of the barrel.
I understand why he did this…but I would have done it differently. I would've waited until the child was in a better place and then ASKED HIM if he would like to make this part of a message to drug users with children. It would have helped the boy feel like he has choices and he does have control over some things in this world. And it would make him feel good to help others….but only when and if he was ready. At 94 DAYS sober, I'm not sure this father is thinking clearly- he told this to his son, not in the comfort of the child's room, but outside in public. Even without the recording, that is a poor choice. I bet he will get a visit from child services….
The father does not love his son. You go somewhere private and hold your son to tell him something like this. You don't do it smoking a cig at McDonalds, on Youtube, with a dirty picnic table between you and the boy while he cries.
gotta get internet fame somehow