What led to Nathan Desai a Houston lawyer going on a shooting spree Monday morning. Former business partner and associates paint grim picture.
Nathan Desai a 46 year old Houston man suspected of opening gunfire at a local strip mall has died after being killed by responding police officers. The lawyer's shooting death came after Desai began indiscriminately shooting at cars and passerbys in the early hours of Monday morning, circa 6.30 am local time.
Gunfire rang out when Nathan Desai got out of his Porsche just outside of Randall's grocery store before proceeding to shoot at passing vehicles at the Weslayan Plaza strip mall adjacent to Weslayan and Bissonnet streets.
The strip mall shooting told Assistant Chief Richard Mann left nine people injured, including one person critically. 
The shooting lasted for 20 minutes, with three of those injured being treated at the scene after suffering injuries related to glass.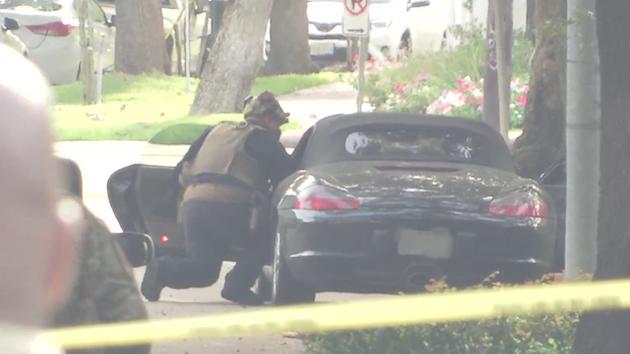 Addressing the Wesleyan Plaza mall shooting, Houston Mayor Sylvester Turner said Desai 'appeared to be a disgruntled lawyer who took out his anger and frustration on individuals.'
The mayor added that the shooting didn't appear to have any connection to terrorism.
Offered Eduardo Andrade, 42, via chron after suddenly finding himself getting caught in the gunfire: 'As I was driving by Law Street I suddenly hard a big explosion. I covered myself, accelerated and tried to get out of there. I did not know if someone was following me or trying to shoot me.'
Adding: 'It's so random, think of it, if I was driving a little faster or a little slower, the bullet would have had a different trajectory.'
NATHAN DESAI ATTY KILLED https://t.co/8LAX1Go0Cb pic.twitter.com/qyXDk6KlUj

— SyndicatedNews (@SyndicatedNews) September 26, 2016
THE 46 YEAR OLD ATTORNEY WHO WAS THE SHOOTER IN THE RECENT HOUSTON TEXAS SHOOTING, WAS NATHAN DESAI, WHO APPEARS TO BE A MUSLIM! I'LL BE!

— Bill (@DWestsirman) September 26, 2016
THE SHOOTER IN HOUSTON TEXAS WAS A 46 YEAR OLD ATTORNEY NAMED NATHAN DESAI… THAT'S RIGHT FOLKS YOU GUESSED IT… HE'S MIDDLE EASTERN!

— Bill (@DWestsirman) September 26, 2016
Nathan Desai
Hindu last name. Biblical FIrst name. But deplorable Republicans would like you to think he's Muslim without showing facts.

— Williams Ibekwe (@Will_Ibekwe) September 26, 2016
During a press conference, Houston Police said that they believed the shooting was linked to Nathan Desai having been a disgruntled lawyer who had 'issues concerning firm'.
A report via ibtimes quoted Desai's former business partner, Ken McDaniel, saying their law practice ended in February when they mutually decided to close it for economic reasons.
According to Yelp, Desai had worked as a lawyer with Kenneth McDaniel at McDaniel & Desai LLP. The firm specialized in family law and criminal cases, felonies and misdemeanors. 
Yes the irony is too palpable….
Of note, on his LinkedIn page, Desai writes under his name, 'Nathan DeSai no longer has any affiliation with Kenneth P. McDaniel.' 
The 'disgruntled' lawyer also wrote, 'McDaniel & DeSai LLP closed and unwound.'
The landlord for the pair's office told KHOU that the firm had a decline in business and were forced to vacate.
ABC Houston spoke to Desai's father who said that his son was still seeing clients and working from home at the time of the shooting.
Addressing his former partner's shooting attack, Ken McDaniel 'pushed back' on the narrative that he and Desai had bad blood, instead blaming the 'weak economy,' for their law firm closing, according to the Houston Chronicle.
Nathan Desai has been licensed to practice law in Texas for 17 years.
While Desai's former partner blamed a 'weak economy' for their law firm having to close doors, indications were that other pressing matters may have ultimately led to the firm's demise.
On the firm's Yelp page, one client, Rhi Marie P., gave the McDaniel and Desai law partnership a one star review.
Wrote the client: 'Nathan Desai acted very unprofessional by asking me (a paying client) out for dinner and drinks.'
The only other review on the site gave Ken McDaniel a five star review.
Yelp review of reoorted #HoustonShooter Nathan Desai. doesn't sound like a guy on the right track… pic.twitter.com/XSK1Gc6Es0

— Southern White Man (@whitemalevoter) September 26, 2016
Also of disconcert was a report via KHOU who quoted a neighbor of Desai's and the wife of a man who was shot, Jennifer Moredo: 'What personal problems he has going on in his life, who knows. I do know that there was a confrontation with a roofing company a few weeks ago that he had a problem with and I believe he was waving around his AR, but what set him off at 6:12 this morning, I don't know.'
Houston Police told after the suspect had been shot dead, a regard of his vehicle revealed more weapons inside, hinting at the degree of destruction Nathan Desai had planned to unleash that morning….
Kenneth McDaniel, former Desai law partner: had positive working relationship for yrs, partnership dissolved in Feb due to economy #khou11 pic.twitter.com/kjx4P2iuxr

— Drew Karedes (@DrewKaredesKHOU) September 26, 2016
"@miyashay: Former law firm of Nathan Desai, lawyer whose car is focus of #HoustonShooting investigation. #abc13 pic.twitter.com/U3eISCAUGF"

— Brian Zygo (@bzygo) September 26, 2016