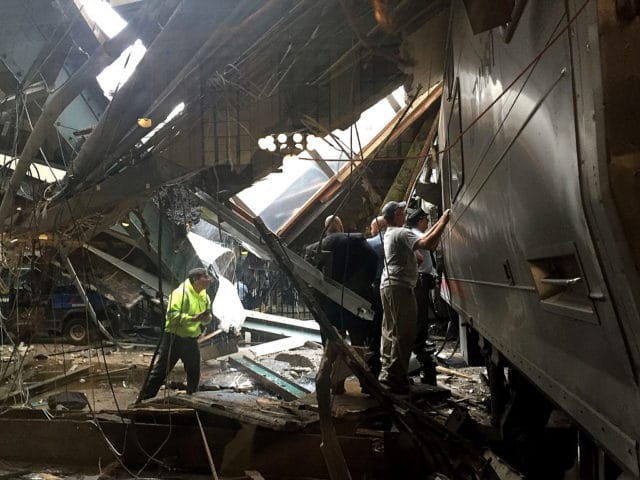 Hoboken train station crash: Why did one train fail to stop as it approached its stop? Human error, technology error or sabotage? 
Authorities have yet to understand what led to a commuter train slamming into Hoboken train station circa 8.45 am Thursday morning.
The incident led to one persons being killed with up to 75 individuals injured, some critically as a NJ transit train slammed into the station.
While immediate answers weren't forthcoming, passengers inside the train told of the train careening into station walls, ending up a jumble of mangled steel, cable and concrete saying the train had been approaching the station too fast.
According to NBC News, the Hoboken train station crash didn't appear intentional or an act of terrorism, with the outlet quoting officials who said that the train involved was the No. 1614 Pascack Valley line train.
The train had left Spring Valley, New York at 7:23am and was scheduled to arrive in Hoboken at 8:38am, but was running late. 
While the train was going too fast as it approached Hoboken station, investigators had yet to determine how fast it had been going as it entered the station and why instead of slowing down it maintained its pace.
"Many injured, some had blood coming from their faces" – Hoboken train crash eyewitness https://t.co/XTOXjBM0aO https://t.co/S7oDATjqj7

— BBC Breaking News (@BBCBreaking) September 29, 2016
"We felt the train slamming into the station": This woman was on the train that crashed in #Hoboken #NewJersey https://t.co/Uw3Irsrho5

— Sky News (@SkyNews) September 29, 2016
Train crashes into platform at #Hoboken Station in New Jersey, injuring more than 100 and killing three pic.twitter.com/QmScBMBogB

— The Telegraph (@Telegraph) September 29, 2016
One passenger, who had been on the doomed train as it entered Hoboken train station, Jamie Weatherhead-Saul told USA Today that the train was moving too fast as it approached the station, adding that it had become apparent to fellow passengers inside her car that something was off.
Told the woman: 'It didn't stop. It didn't slow down,'
'The train just kept going.'
When it crashed, she felt the impact and heard people screaming from the first car. She was between the first and second cars, while shaken, she wasn't injured. She said she was able to exit the train after a conductor lifted an emergency latch.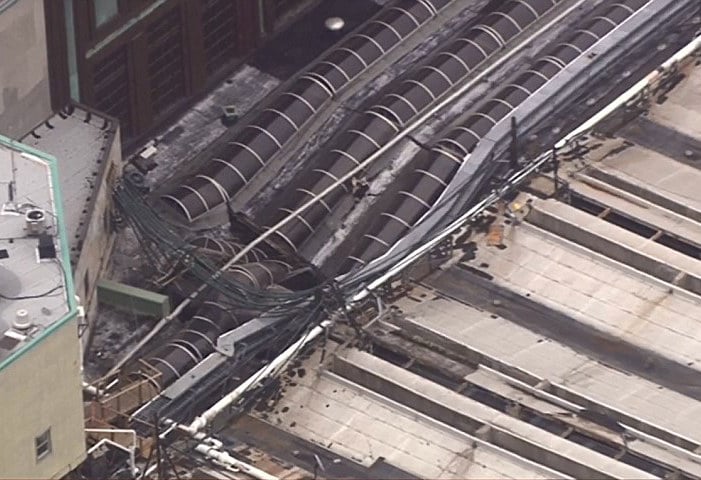 Another witness Mike Larson,  a 29-year-employee of NJ Transit, said he was about 30 feet away from the train when it crashed. He said the train slammed into a bumper block at the end of the track, then roared onto a concourse.
'I heard a bomb-like explosion… then the train was right in front of me,' Larson said. 'It was chaotic. It was pretty horrifying.'
Chris Mann, 34, said he was less than 100 feet from the train when he heard the crash.
'By the time I turned around and registered the train was coming, it had already completely crossed to the pedestrian walkway,' Mann said. 'It all seemed to be very fast.'
Moments later he saw passengers climbing out from the train's windows.
Steve Mesiano, a passenger in the train's second car, told MSNBC the train was 'going a little faster than it seemed it should have been going' as it pulled into the station.
But why was the train going too fast? Had there been a lapse with the train's driver? Had the driver struggled to control the train, and if so why? Or were there other failures or slights related to traffic signals? Did sensor technology not exist to tell if the train was going too fast and override speed? Was such technology not in place?
Added Mesiano: 'All of a sudden, there was just an impact, all the lights went out,"
'I saw a lot of people with gashed heads, there was blood on the floor, there was blood everywhere,'
An aerial look at the Hoboken train station damage: pic.twitter.com/w3ys2gNLzc

— Eyewitness News (@ABC7NY) September 29, 2016
It's unclear if there were any fatalities in the Hoboken train crash. At least 100 are injured. https://t.co/ThlJUzXCeF pic.twitter.com/M5rI5f6e8m

— NPR (@NPR) September 29, 2016
Scanner audio reveals the chaos from the scene of the #Hoboken train crash. https://t.co/BIWBxpZ1ON pic.twitter.com/xkKXJzdYJ5

— Fox News (@FoxNews) September 29, 2016
Images on social media showed serious damage to the platform. The train slammed into an exterior wall of the terminal building. The crash also brought down large sections of the roof that covers the train yard.
Offered Jennifer Nelson, director of media relations for NJ Transit, 'Obviously this is an ongoing investigation.'
Nelson went on to say that the cause of the crash had yet to be determined.  
An average of 60,000 people travel every weekday through Hoboken Terminal, which is the fifth-busiest station in the New Jersey Transit system. In addition to New Jersey Transit, the station also serves trains from Metro-North, the Port Authority Trans Hudson, and the Hudson-Bergen Light Rail system, along with New York Waterway ferries.
And then there were these comments on the web that caught my attention, see what you think?
Regular riders know that NJ Transit is poorly funded and poorly managed, and has complacent employees. Execs have been fleeing in recent years, leaving NJ residents wondering who is running NJT. And Chris Christie seems to get no blame for NJT's chronic problems, even though he heads NJT's board. NJT took 11 months just to fix two escalators at Secaucus. Lord knows how long it will be until Hoboken Terminal is repaired.
We're still struggling with a transportation technology that is almost 200 years old and operates in two dimensions over a highly restricted line,
Did the operator have a medical episode as the train was approaching the station? I assume that the train has a deadman override, but it sounds as if no one was in control.