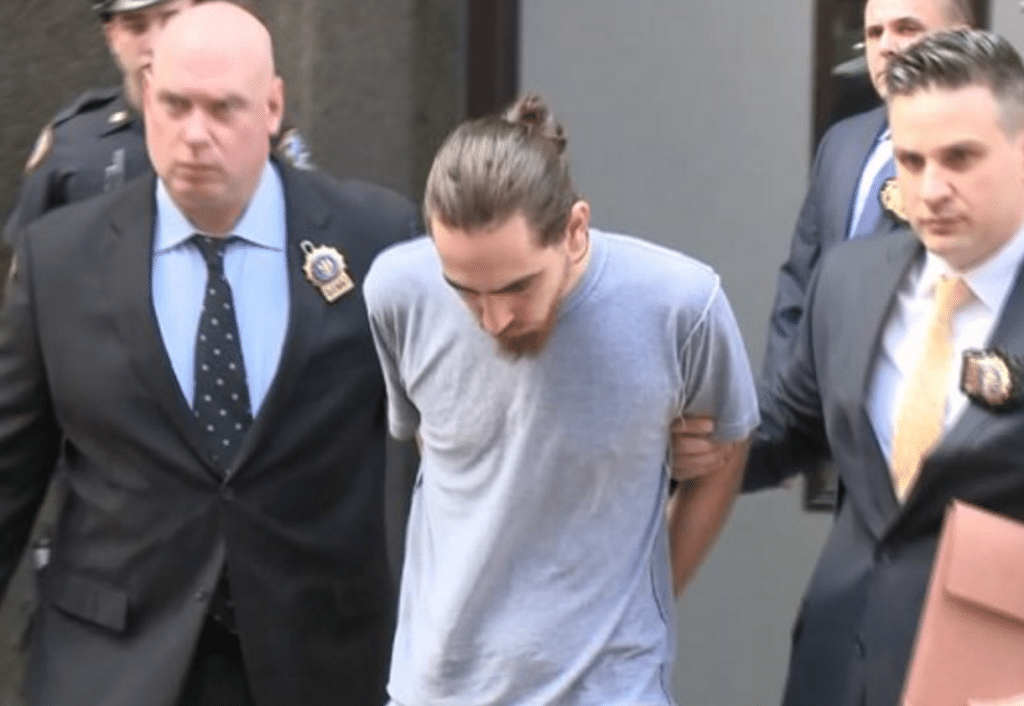 How Broyoan Lopez the Harlem mugger responsible for stealing Maria Vasquez' monthly pension became the most hated New Yorker.
Broyoan Lopez has been identified as the scumbag who was observed on video surveillance (see below) mugging 93 year old East Harlem woman, Maria Vasquez.
The 26 year old man's arrest came Friday morning, just three blocks from the East 116th Reginald clothing store where Lopez ripped Vasquez of her $600 monthly pension, Wednesday early afternoon.
Maria Vasquez Harlem scum mugger arrested: 'I needed the $600 to pay my bills'
Upon his arrest, the man was Friday afternoon charged with charged with two counts of robbery, grand larceny and criminal possession of stolen property according to a report via WPIX.
A report via nycbs quoted investigators saying it was Lopez's first arrest, with cops tracking the mugger user surveillance video from the bank. He apparently made a transaction using his own account at the same time, as Marquez made her own.
Asked how she felt upon Broyoan Lopez's arrest, the 93 year old woman who had been fretting being unable to pay this month's rent, water and electricity said she was relieved.
Told the Dominican Republican native via the nypost: 'I feel a little more relieved now. I've been praying they find him and thankfully, they caught him quickly.'
Added Vasquez, a self confessed Jehovas Witness who moments after the robbery forgave her assailant:  'I was hoping he would be caught,' 
'I am thankful to all of you — especially [The Post]. You were the first ones to report this and without you they would not have found him.'
Have people started calling Broyoan Lopez a white guy yet?https://t.co/xLvBcaBSu1

— sevenwithcheese (@sevenwithcheese) September 9, 2016
As Broyoan Lopez was led out to be taken to court, the 26 year old resident faced the fury of press agents who demanded to know why he 'mugged a 90 something old woman in a wheel chair.'
Lopez looked past the media throng, perhaps in disbelief that he had become the most hated man in NYC, while saying nothing.
Yelled a bystander as Lopez was led into a waiting police car, 'You're a piece of shxt'
Disgust and anger has been rampant against Lopez ever since video of him showed him swiping an envelope the aged pensioner had placed with this month's pension payment in her brasserie after having minutes earlier withdrawn the money from Banco Popular three stores down.
Having withdrawn the money, Vasquez and her health aide worker set about acquiring slippers for the pensioner who was forced to carry the bank withdrawal in her brasserie as rules forbid health aide workers carrying patient's money.
At the time, Vasquez had come out wearing a dress bereft of pockets, when Lopez spotted her withdrawing the money moments earlier and decided she was easy prey.
Sitting in her wheelchair and looking the other way inside the store, Lopez nonchalantly walked up to the woman, as he brazenly swiped the sum of money from her brasserie before bolting out of the store.
Told Vasquez: 'I was scared, I wasn't expecting it,'
'He reached over and startled me, yanking the envelope from the bra.'
While saying she has already forgiven Broyoan Lopez, the 93 year old woman nevertheless hopes the mugger gets what he's got coming to him.
Told the woman: 'I hope they put him in jail,'
'He is only 26, but he should not have done it. I don't want them to kill him, but punish him so other robbers get scared and stop robbing those who are vulnerable. Whatever the law says he deserves, he should get. They need to make an example out of him so other thieves learn a lesson.'
Added the 93 year old woman: 'If I wasn't sick, he would drag me outside but I would grab him and punch him.'