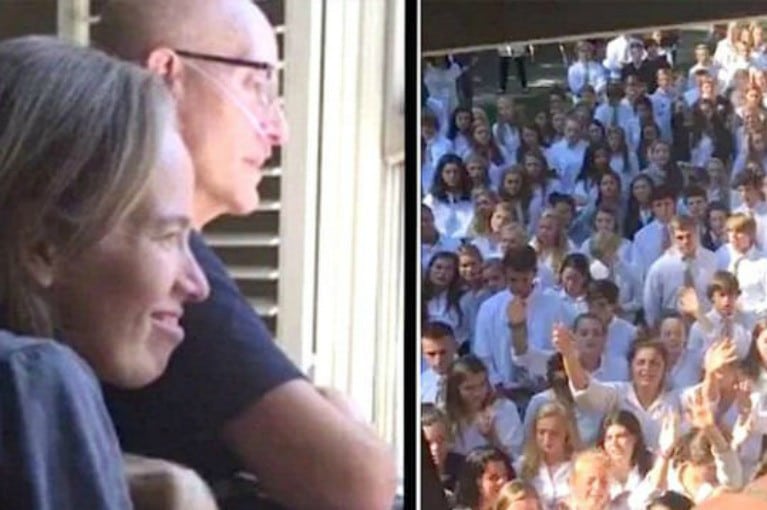 Ben Ellis Nashville teacher dies from cancer. How a dying cancer patient's resolve and communal love came to serve as a testament to greater humanity.
Beloved Nashville, Tennessee teacher Ben Ellis, has died ten days after 400 students serenaded the teacher battling cancer outside of his home.
The man's death came Friday morning at his home after 400 children a week and a half ago had stood outside serenading him with song of worship, 'Holy Spirit You are Welcome Here.'
The clip of the Christ Presbyterian Academy teacher being serenaded wound up being viewed more than 30 million times after country music singer Tim McGraw shared it on Facebook.
Posted the country music legend: 'A friend sent this to me today.
'Ben Ellis is a Nashville area high school teacher battling cancer . The entire student body – 400 plus students plus HS faculty – drove to his house to worship with him.'
He added: 'Our thoughts and prayers are with him and his family… So precious and kind.'
The video was recorded on Wednesday September 7, with the lyrics resonating poignancy given Ben Ellis' condition: 'Holy Spirit You are welcome here, come flood this place and fill the atmosphere, your glory God is what our hearts long for, to be overcome by Your presence Lord.'
In the video, Nashville teacher Ben Ellis could be heard joining in at times and singing the hymns with the children as he looked on from his bedroom window. Fellow teachers, parents and students were awash in tears and joy in a kind of communal revelry for the courageous teacher who'd taught at their school since 2008.
Ellis was diagnosed with an aggressive form of cancer last December, and forced to take leave from teaching to receive chemotherapy until it eventually became apparent his condition was too far ahead.
In the months during his treatment, the highly avowed teacher along with his wife and their five children came to be showered daily in accolades of love and good faith.
Offered Ben's wife, Shelley of the thousands of cards that wound up being sent to the family home via wkrn: 'They are from elementary students through students that he taught 10 and 15 years ago.'
The event came together after 'three separate and unrelated people' according to a parent revealed on facebook they had been shown visions of the students singing praises on the Latin and Bible studies teacher's front lawn.
Posted the mother, Shannon Lee Seibert: 'So we loaded the buses and cars and went.'
The parent described Nashville teacher Ben Ellis as 'the definition of a teacher, a role model, a servant,' adding: 'He wrote the kids a letter telling them he is even more certain now that God is Good and with us.'
Ben Ellis' father, Bob, thanked Tim McGraw on Facebook, writing: 'Ben is my son. Through his ministry and teaching, he has positively touched countless hundreds of lives directly and many thousands indirectly,'
'He, his wife and children are a beautiful family.'
Contemplated Ben Ellis immediately after the impromptu gathering outside of his home:
'You know none of us were built to think outside ourselves at that age, and it overwhelmed me that God would fill that many students with that much love not just for me but for one another that we have this community that was built on loving one another instead of worried about self. It was a miracle.'