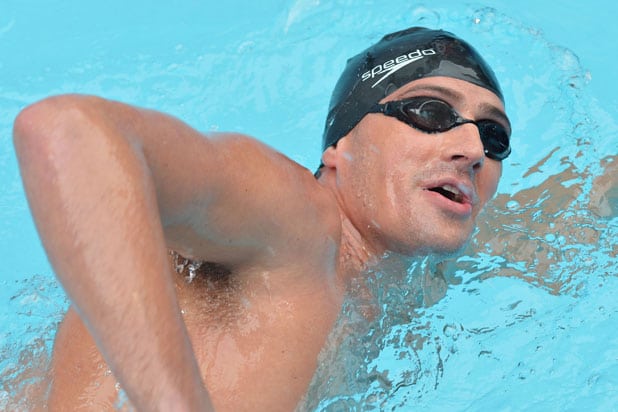 Ryan Lochte sponsorship. Speedo calls it quits with the Olympian raising questions who else is next and whether the swimmer will survive continual negative ratings?
Swimwear brand Speedo on Monday announced it has dropped its sponsorship deal with Ryan Lochte after the Olympic swimmer conceded lying about being robbed about Rio.
The brand signed a ten-year contract with the Olympian in 2006. That said in a statement released today the sporting outlet said it would be ending the deal – which would have been up for renewal this year in any case.
'Speedo USA today announces the decision to end its sponsorship of Ryan Lochte,' it said. 
'As part of this decision, Speedo USA will donate a $50,000 portion of Lochte's fee to Save The Children, a global charity partner of Speedo USA's parent company, for children in Brazil.
'While we have enjoyed a winning relationship with Ryan for over a decade and he has been an important member of the Speedo team, we cannot condone behavior that is counter to the values this brand has long stood for. 
'We appreciate his many achievements and hope he moves forward and learns from this experience.' 
The official response regarding our sponsorship of Ryan Lochte. pic.twitter.com/0DdP2RyceD

— Speedo USA (@SpeedoUSA) August 22, 2016
The decision to dump Lochte comes after the disgraced swimmer was revealed by Brazilian police to have lied about being robbed at gunpoint in Rio de Janeiro.
In reality, he and three fellow swimmers spent the early hours of Sunday morning vandalizing a gas station and urinating on the walls outside.
After days of confusion over who did what, Lochte posted a statement to his Twitter feed on Friday.
'…I should have been much more responsible in how I handled myself and for that am sorry to my teammates, my fans, my fellow competitors, my sponsors, and the hosts of this great event,' he said. 
According to the nypost, Lochte is worth around $3 million.
Of note, Speedo did not drop Lochte's teammate Michael Phelps when he was found to have been drunk driving in 2014. 
Lochte's endorsers were Ralph Lauren, Speedo and mattress company Airweave, according to his website. Come Monday lunchtime, Speedo was no longer listed as a sponsor on the swimmer's personal website.
Lochte had also listed Marriott as a sponsor until Thursday. However by Friday the hotel chain had mysteriously vanished from the list.
Marriott in response advised it only sponsors USA Swimming and does not have an endorsement relationship with Lochte.
Also of contention is whether Syneron Medical, owner of Gentle Laser Hair Removal, which he Lochte has been the face of since late April will stand behind the disgraced swimmer or choose to step aside?
32-year-old Lochte has won 12 Olympic medals and is the second-most decorated swimmer of all time. But his status as one of the darlings of the athletic scene has been put in jeopardy by the Rio fiasco. 
Ralph Lauren did not respond to requests for comment last week, but a spokesman for the upscale clothing brand told the LA Times on Thursday, 'We are working closely with the USOC on the developments in Rio and are reviewing the situation.' 
Airweave declined to comment. 
Speedo USA ends sponsorship of US Olympic swimmer Ryan Lochte; here's how his Rio robbery claims fell apart https://t.co/DBEE05AnMB

— Sky News (@SkyNews) August 22, 2016
Aggravating matters is the fiasco is likely to likely to lead to Ryan Lochte securing any new sponsorship deals, especially in light of Speedo his mainstay sponsor backing out.
Offered sports branding expert Jarrod Moses, of United Entertainment Group, 'Right now, sponsors will be trying to figure the real story and from there they'll take action, but it's difficult to navigate right now.'
Even companies that no longer sponsor Lochte were keen to distance themselves from him – prompted by Twitter users mistaking them for current endorsers.  
It is unclear how much Lochte earns from these companies. However in 2012, the year of the London Olympics, Fortune estimated his endorsement earnings could reach around $2.3 million, with most of those netting him upwards of $250,000.
His sponsors at that time included Ralph Lauren and Speedo.  
The athlete also receives around $30,000 a year in funding from USA Swimming. 
He is currently signed to Hollywood agency CAA, which describes him on its website as 'a transcendent figure in the Olympic world'. 
Since his return to the US, the disgraced swimmer has hired a crisis PR expert to try to save his reputation — and future endorsement deals. Of question is how well any firm can navigate the giant hole the swimmer has dug himself in?
And then there were these comments on the web that made me wonder. See what you think?
someone should definitely rob ryan lochte now because no one will ever believe his story

— RUSS BENGT$ON (@russbengtson) August 22, 2016
How nice that Ryan Lochte gets to explain his actions over and over again. (And dye his hair back.)

— gwen ifill (@gwenifill) August 22, 2016
@RyanLochte you did not make a mistake! You lied! You left your team mates and ran! #LochteIsACoward

— Stephen Mills (@Stephen1117) August 22, 2016
Sponsors, please hold people accountable for the their behavior. People who lie at others' expense are not good role models and do not represent your brand well. It is time to find someone more admirable than Ryan Lochte.
Going forward, I will not patronize any of Lochte's sponsors. He is a disgrace. And now, so are his sponsors.
He should lose all of his sponsorships and USA swimming should cut ties with him as well. I wouldn't want him to be coaching or guiding any of the younger upcoming swimmers. He may be a fast swimmer but he lacks the quality of character that should be as important as his physical skills.