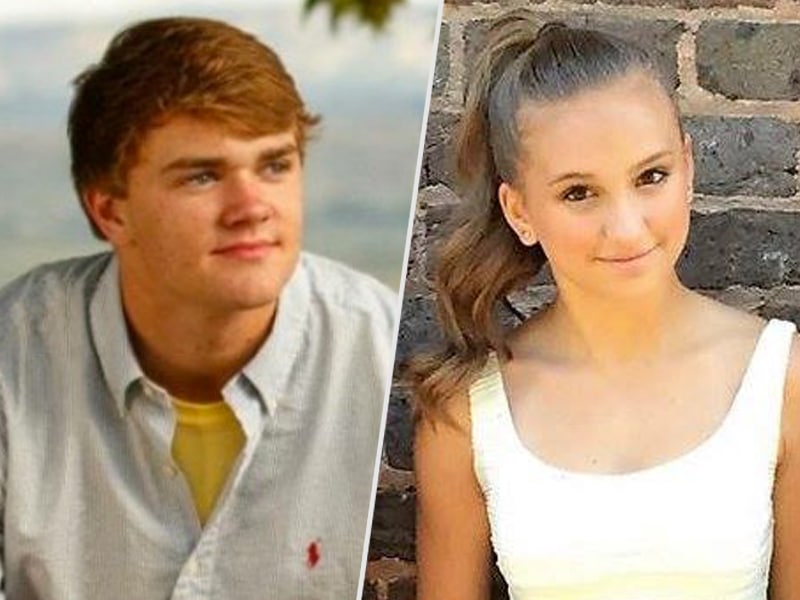 Natalie Henderson and Carter Davis homicide deaths. How did two Roswell, Atlanta teens come to be murdered in mysterious circumstances? 
Roswell, Atlanta authorities have yet to necessarily understand how two local teens, Natalie Henderson and Carter Davis came to be killed after their bodies were found in the back of an Atlanta store.
The discovery of the teen's bodies, both 18 came Monday morning after a delivery driver pulled up at the Publix supermarket just on 6 am.
The bodies were laying on the ground by two vehicles.
According to a preliminary autopsy via the Fulton County Medical Examiner's Office, both teens died from a gunshot wound to the head.
Natalie Henderson autopsy: Nude and in sexual position
Why did Jeffrey Hazelwood murder Roswell, Atlanta teens?
Told Roswell police Det. Zachary Frommer via the dailymail: 'Early indications are that they were killed there. We don't really have reason to believe they were killed elsewhere.'
Police have not commented on possible motives for the killings, with Frommer telling 'we don't have anything to indicate that drugs were involved right now.'
That said, authorities are seeking to understand how and why the teenagers came to be behind the grocery store during the early-morning hours Monday?Along with who was responsible for killing them, and why?
Of note, the Publix and its surrounding shopping center are in a commercial area that sees heavy traffic during the day, but is relatively quiet at night.  
A nearby Steak 'n Shake restaurant is open 24 hours, but most other businesses in the immediate area are not open during the late-night and early morning hours.
'There are a lot of cameras, so we've been able to take advantage of several different angles,' Frommer said.
The shopping center is about 25 miles north of downtown Atlanta, in the northwest part of Roswell.
At the time of their deaths, it was believed that Henderson and Davis were friends and weren't dating. Both teenagers were about to start their senior year of high school. 
Henderson would have been a senior at Roswell High School, just across the street from the shopping center where the bodies were found.
Davis would have been a senior at River Ridge High School in nearby Cherokee County.
A report via ajc told of Natalie Henderson being a member of Roswell High's color guard; and Carter Davis playing football and lacrosse at River Ridge.
@RoswellGAPolice confirm id's of teens found dead behind Publix as, Carter Davis and Natalie Henderson. @wsbtv pic.twitter.com/DVdDAMPxLX

— Audrey Washington (@AudreyWSBTV) August 1, 2016
Vigil underway for Carter Davis at River Ridge HS. He & Natalie Henderson were found dead Monday in Roswell #fox5atl pic.twitter.com/37aFqO24lu

— denisedillon (@DillonFox5) August 2, 2016
Tuesday night, about 200 people — students, parents and members of the community, led by River Ridge lacrosse players — gathered at the school to remember Carter, who wore jersey No. 4 and played the attack position
In the aftermath of Natalie Henderson and Carter Davis's bodies, tributes have been pouring in.
Tweeted Destiny Milton: R.I.P. Natalie Henderson, we used to be besties back at Elkins damn right before senior year. Fly high pretty girl'
While Eileen Clark wrote: 'God gained 2 angels last night,one being a friendly, amazing girl named Natalie Henderson that sat behind me in lifeguard class. r.i.p.'
A GoFundMe page has since been set up for Davis which has so far raised $9,800 of $20,000 goal.
It was created by Julie Downey, booster club president for the RRHS boys lacrosse. 
She wrote: 'It is so heartbreaking and there no words to describe this traggic sudden loss. Carter was a great kid, from a good family and he loved lacrosse.
' His lacrosse family would like this to be a memorial fund for Carter. His family is not from GA and we would like for them to have options for his funeral and final arrangements.'
To date, no arrests had been made in the case late Tuesday, but police had several leads.
Police are asking anyone who may have been in the area from about 2am to 3am Monday to contact them.