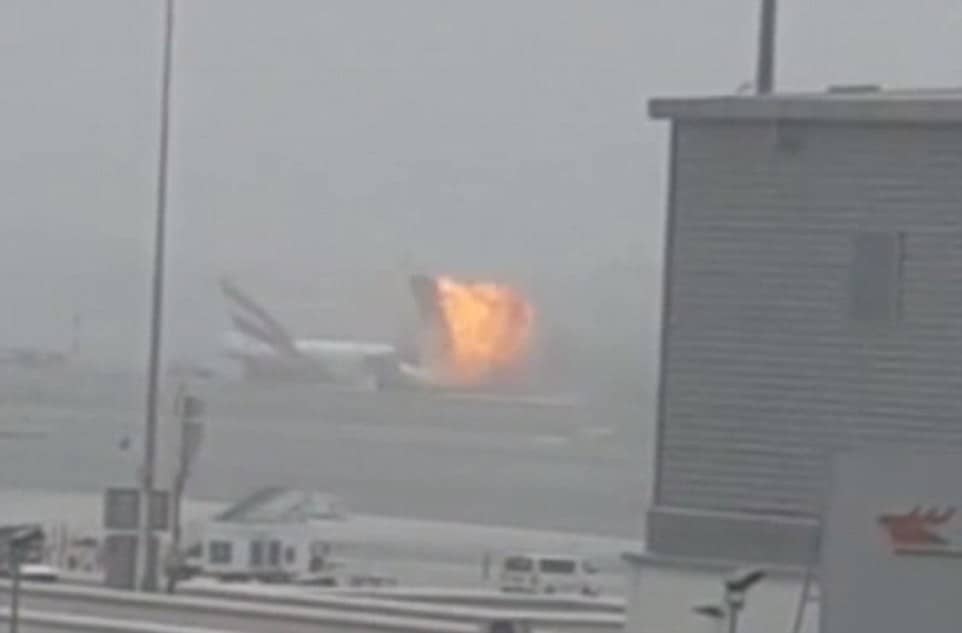 Emirates plane crash Dubai Airport Flight EK521: What led to a Boeing 777 crash landing? Investigation underway as pilot averts catastrophe.
An Emirates plane flight number EK521 has crash landed at Dubai International airport after catching fire after having making its way from Trivandrum in India just on 12.45pm local time.
Smoke and fire could be seen as the Boeing 777 crash landed after its landing gear failed to activate. Miraculously no fatalities were encountered with Emirates saying that all 282 passengers and 18 crew members were evacuated safely.
Raising specter as to what may have led to the precarious landing are reports that the engine on the right side caught fire and fell off while landing. 
Fears were raised as the captain of the flight raised an emergency signal in the moments before the Emirates plane was set to descend at Dubai airport.
A pilot who witnessed flight EK521 landing told NDTV the plane came in 'really hard' and hit the 'runway tail'. A passenger on another plane said she could see emergency chutes deployed.
In the aftermath of the Emirates crash landing all flights to the Dubai terminal have been diverted while emergency crews work at the scene. All take-offs and landings have been suspended.
Amateur footage shows explosion and black smoke after Emirates plane crash-lands in Dubai https://t.co/OwD6bXqeEo https://t.co/NanzHSbIST

— BBC Breaking News (@BBCBreaking) August 3, 2016
bushi_jp (Journalist)

"Emirates Plane Crash-Lands am Flughafen Dubai Nach Catching Fire (VIDEO)" YouTube https://t.co/DwJiPPHbcd

— journalist (@bushi_jp) August 3, 2016
Responding to the incident, Emirates released a statement in which the airliner said: 'Emirates can confirm that today, August 3 2016, flight EK521 travelling from Trivandrum International Airport in Thiruvananthapuram, India to Dubai has been involved in an accident at Dubai International Airport. There were 282 passengers and 18 crew on board.
'The Boeing 777 aircraft, departed at 10.19am from Trivandrum International Airport and was scheduled to land at 12.50pm at Dubai International Airport.
'We can confirm that there are no fatalities among our passengers and crew. All passengers and crew are accounted for and safe.
'We are expecting a four-hour network wide delay, more information will be available on the Emirates website and social media channels.'
Told Dubai government's official media office: 'All passengers were evacuated safely and no injuries have been reported so far.
'Concerned Authorities at Dubai International Airport are dealing with the incident at the moment to ensure safety of all.' 
#EK521 Update:

• Trivandrum (India) to #DBX
• 275 pax evac safely
• Landing gear issue
• S'board engine sep/expl

— Mikey Kay (@MikeyKayNYC) August 3, 2016
A report via the dailymail told of Boeing releasing a statement in which the plane maker said it was monitoring the situation in Dubai and it would be working with Emirates to gather more information. Not necessarily understood is if any infrastructure flaws may have led to the Emirates plane crash landing?
In the interim, the pilot and crew have been praised for the way in which they handled the volatile situation, with praise being heaped on the captain for managing to avert any deaths.
Dubai International is by far the Middle East's busiest airport, and is the world's busiest air hub in terms of international passenger traffic. 
Government-backed Emirates is the region's biggest carrier, and operates the world's largest airline fleet of the wide-body 777 long-haul aircraft. 
#Emirates #EK521
Glissade, perte moteur 2: https://t.co/iMoQQJxbTI
Explosion https://t.co/TMz7MIxVWW

— Yasser Louati (@yasserlouati) August 3, 2016
timesofoman: #VIDEO: #EmiratesAirlines crash-lands in #Dubai. https://t.co/VcAHPYL4fG emirates #EmiratesCrash pic.twitter.com/UdJooVpFlq

— أخبــار عمـــــان (@dailyomannews) August 3, 2016
The incident comes almost four months after a plane belonging to Dubai's other carrier, flydubai, crashed and burst into flames as it was landing in Rostov-on-Don, in southern Russia, killing all 61 people onboard.
On July 26, an Emirates Boeing 777-300 aircraft heading to the Maldives made an emergency landing in Mumbai because of a 'technical fault'.
Emirates is the largest single operator of the Boeing 777, as well as the Airbus A380 superjumbo, and has expanded its fleet to 250 aircraft last year.
Thiruvananthapuram is the capital of the southwestern Indian state of Kerala, a popular beachside tourist destination. Many blue-collar migrant workers employed in the United Arab Emirates and other Gulf nations come from Kerala. 
Big world news story today https://t.co/Lff0NrN9lz

— Birmingham Mail (@birminghammail) August 3, 2016
Breaking News: Emirates plane from Thiruvananthapuram to Dubai crash-lands at Dubai airport, no casualties reported. pic.twitter.com/3LwyKnsxpC

— Aditya Raj Kaul (@AdityaRajKaul) August 3, 2016
#VIDEO #Emirates plane crash lands at #Dubai Airport. DubaiMediaOffice tweeted, all passengers were evacuated safely pic.twitter.com/8Lr8gxwSYT

— Dr. Sandeep Kohli (@drsandeepNEWS24) August 3, 2016