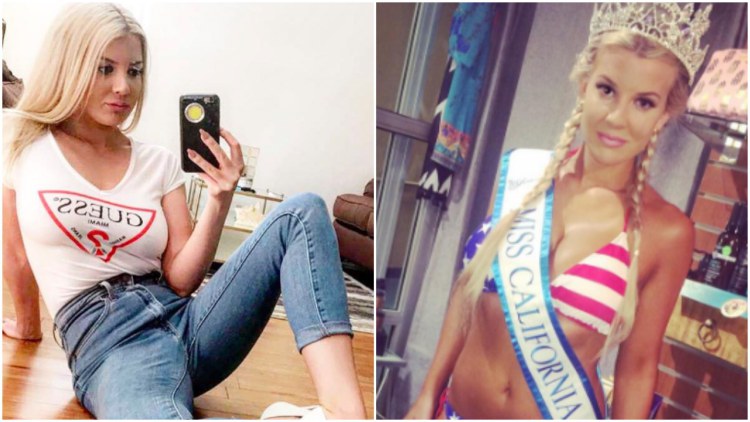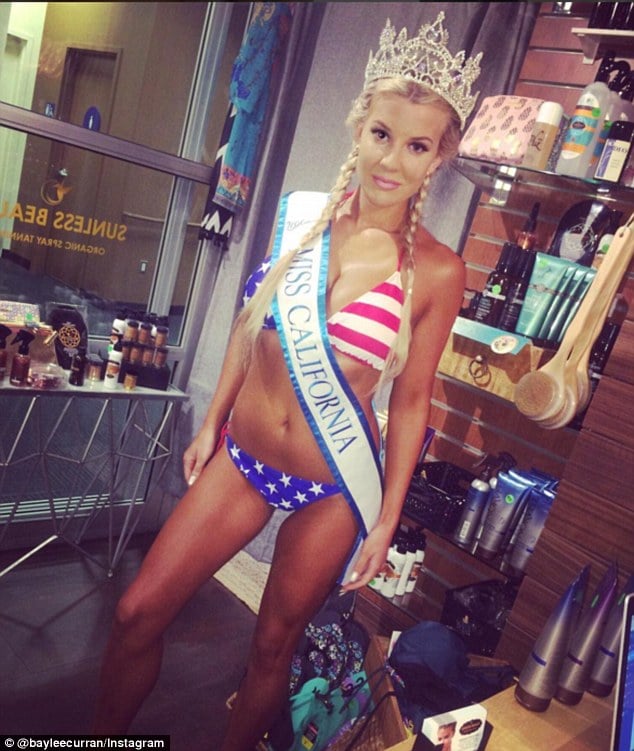 Baylee Curran has told of rapper Chris Brown having pulled a gun on her as the singer refuses to cooperate and leave his property in a tense stand-off.
Baylee Curran a former Miss California Regional 2016 beauty pageant winner has told of having a gun pointed to her head at the home of singer Chris Brown after admiring jewelry.
The incident comes as police until a short while ago remained in a tense stand off with the rapper who after after protracted negotiations finally surrendered to police.
The stand off came after Brown had refused to surrender after Curran called 911 circa 3am Tuesday morning from Chris Brown's $4 million southern California mansion.
In the hours after the stand off began, police described the incident as an 'assault with a deadly weapon (investigation).'
Appearing on tmz, Baylee Curran who is also an equestrian told at the time she was 'partying' with the rapper when Brown suddenly became aggressive after Curran and a friend who were in a hot tub admired a piece of jewelry that a friend of the rapper's was showing off.
It's at this point, Brown is alleged to have gone 'nuts' and demanded Curran 'get the fxck out' while allegedly pointing a gun at her.
According to the tabloid, Curran alleges that Brown appeared to be 'drugs or alcohol.'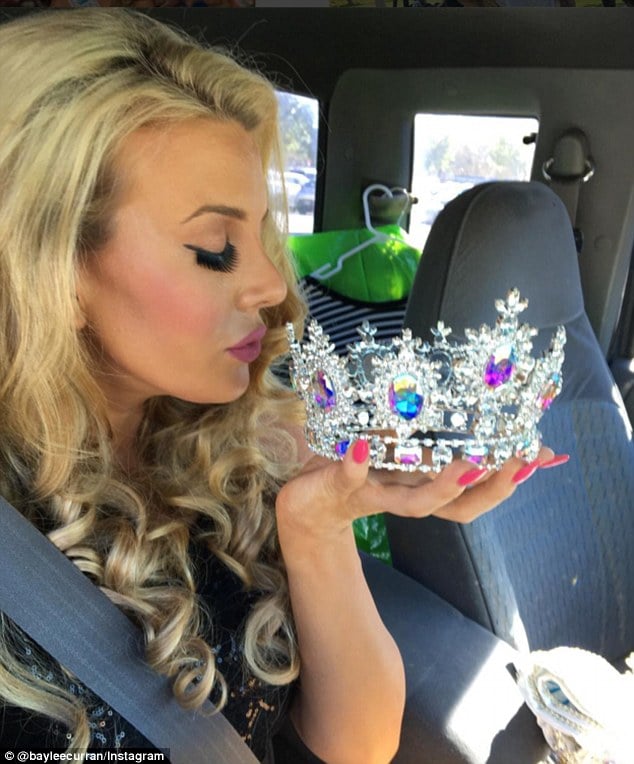 Attempting to leave the property, Curran claims Brown's posse refused to let her go unless she signed a non disclosure agreement.
Refusing to sign the waiver, the model left the house with her friend and called 911.
Sources close to the singer have, however refuted Baylee Curran's version of events.
They claim the rapper and several friends, including Ray J, were at the house when 'uninvited guests' appeared and were asked to leave, including Baylee and another woman.
Ray J was reportedly getting a tattoo when events kicked off, while insiders claimed Brown was asleep.
Curran has since responded insisting she was invited inside.
A regard of Baylee Curran's IMDB profile describes her as an 'on screen actress, model, red carpet host, and former Miss California Regional.'
Curran's Twitter page says she is, 'French, Italian, Irish, German international Model and Actress. Miss Los Angeles County USA 3rd runner up.'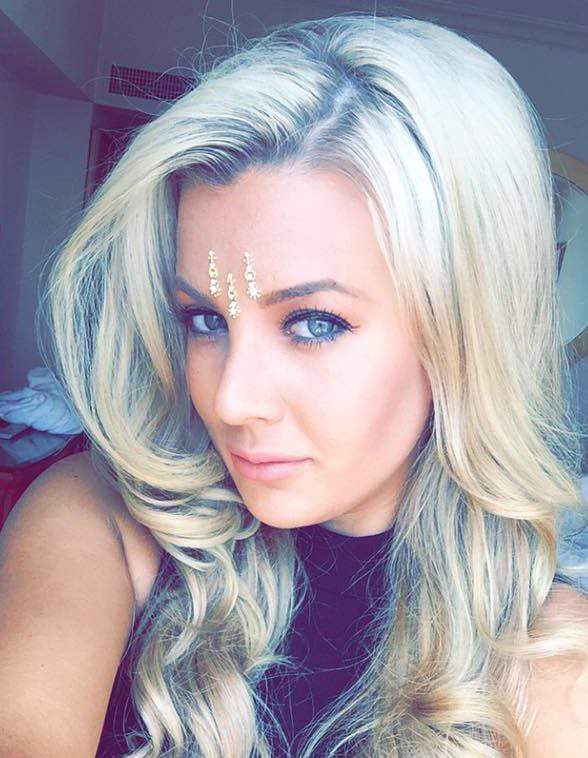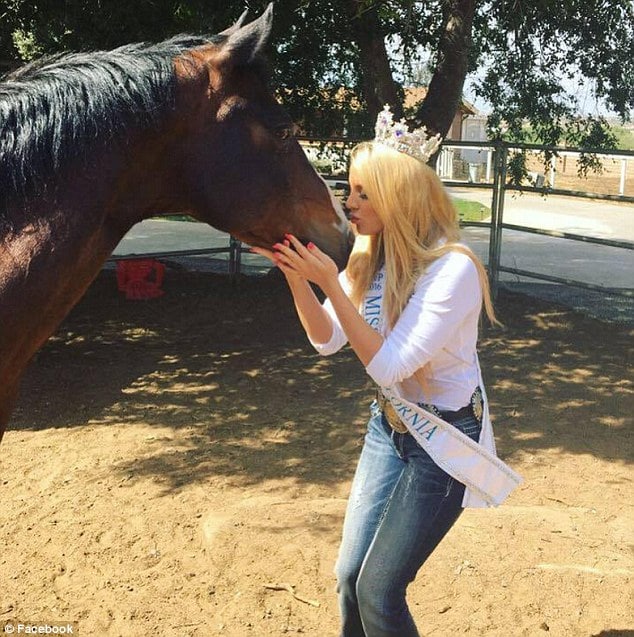 A report via the latimes earlier in the afternoon told of police awaiting a search warrant so they could enter the property in the Tarzana area outside Los Angeles after Brown and his entourage failed to respond to repeated requests to open the front door.
In the hours since tensions flared, the rapper went online to post a series of instagram videos beseeching what he calls police harassment.
The 27-year-old artist  also shouted 'come and get me' and allegedly threw a bag containing drugs, a gun and other weapons out the window as officers surrounded the property Tuesday morning. 
In Brown's multiple Instagram posts he said he had just woken up to the sound of circling helicopters, and was 'too tired' to be dealing with police.
'So I'm sleep half the damn night,' he told the camera. 'I just wake up. All these mother***ing helicopter choppers is around. Police out there at the gate.
'Come on my n****! What the f*** hell else do you want from me?
'I stay out the way, take care of my daughter, do work. I don't f*** ugly b**ches, trifling b**ches, whatever else.'
Accusing cops of over-reacting, the rapper posted: 'I'm way too tired to be dealing with this bulls***,'
'Every three months you come up with something. What's gonna be next?
'At the same time when I call the police for stalker people that are endangering my life, they don't come 'til the next day.
'Let somebody make a f***ed up allegation about me, and "oh yeah the whole f***ing swat team".'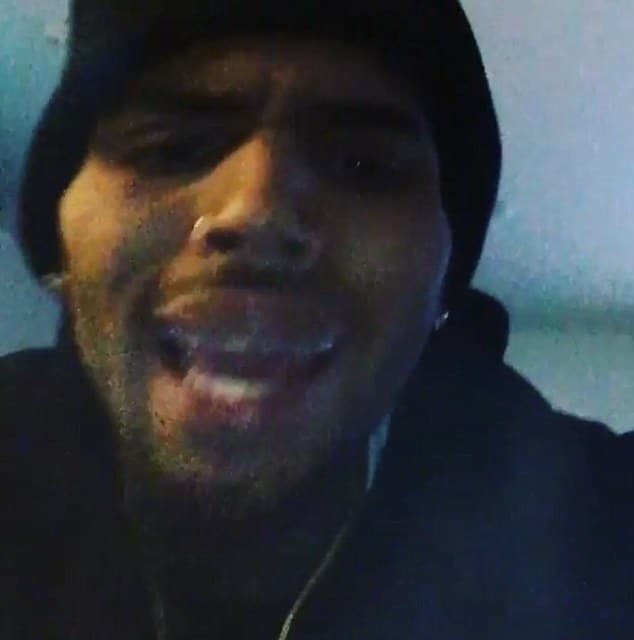 Chris Brown responds to the latest allegations of him pulling a gun on Baylee Curran this morning pic.twitter.com/sYXlkDAfYx

— Lee Harvey (@MusikFan4Life) August 30, 2016
Along with plugging his new track and referring to the Black Lives Matter movement in the rambling videos, Brown also stated that the media were blowing the stand-off out of proportion.
"Barricaded myself in my house?" Have you seen my house! Imma barricade myself in a palace! "I'm not coming out!" But what?
'I ain't did s***. I ain't gonna do s***!
'You idiots. I'm tried of f**ing with it all. You're the worse gang in the world, the police. And I said it. F*** you.'
As the stand off continues to drag on, a police told gathered reporters outside the home that police were trying to beseech residents inside the home to come out.
Told the cop: 'We're trying to make contact with the residents here in Tarzana,'
'They've been uncooperative so we're working to obtain a search warrant.'
Adding: 'We need their co-operation in order to deal with this in a peaceful manner.'
As tensions flare, media reports tell of a SWAT team remaining on stand by.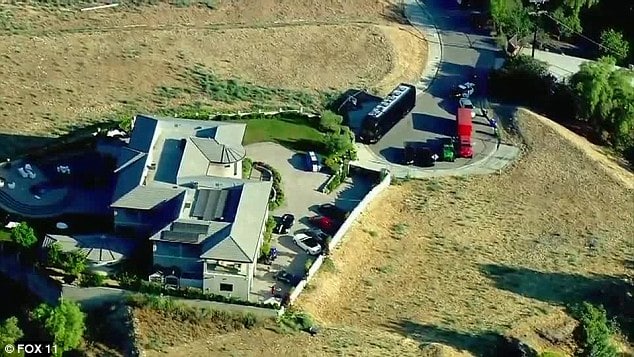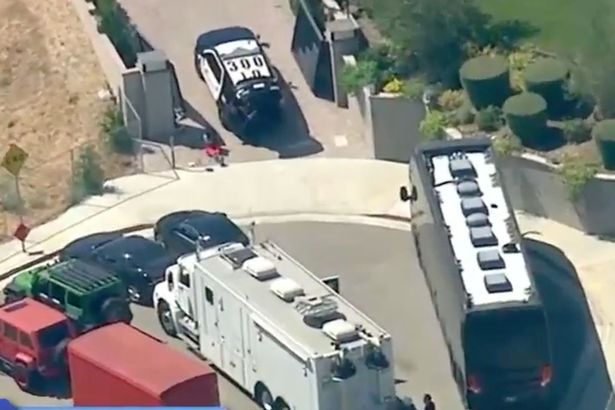 The fracas comes off the rapper having previous run ins with the law, beginning with his conviction for assaulting then-girlfriend Rihanna in February 2009.
For that offense, he was sentenced to five years of probation, one year of domestic violence counseling, and six months of community service, and his probation was finally lifted in March 2015.
In 2014, he spent almost three months in jail last year for violating his probation after allegedly hitting a man in Washington, D.C.
Brown had his probation revoked in January 2015 following a poor report which claimed he had a 'knack' for finding trouble and had been present at two shootings, though he was not involved in either.
In January, a Las Vegas woman alleged that Brown hit her and took her cellphone. Police investigated but did not find evidence to file charges. 
Then in June of this year, a report via the dailymail tells of Brown being accused of stomping on a man's head during a club appearance at the Cannes Film Festival. 
Police are also reported to have been called to Brown's property at least five times this year, in response to complaints of disturbance of the peace.
Of question is whether Chris Brown will surrender himself or be forced to be subjected to an imminent search warrant…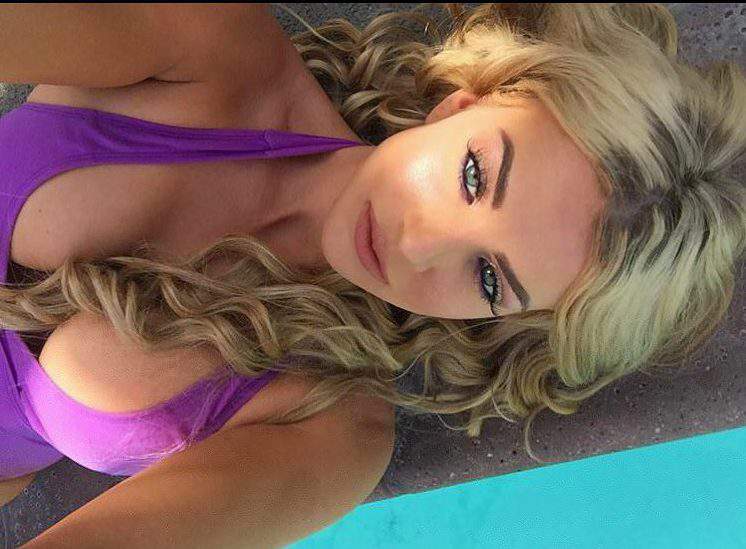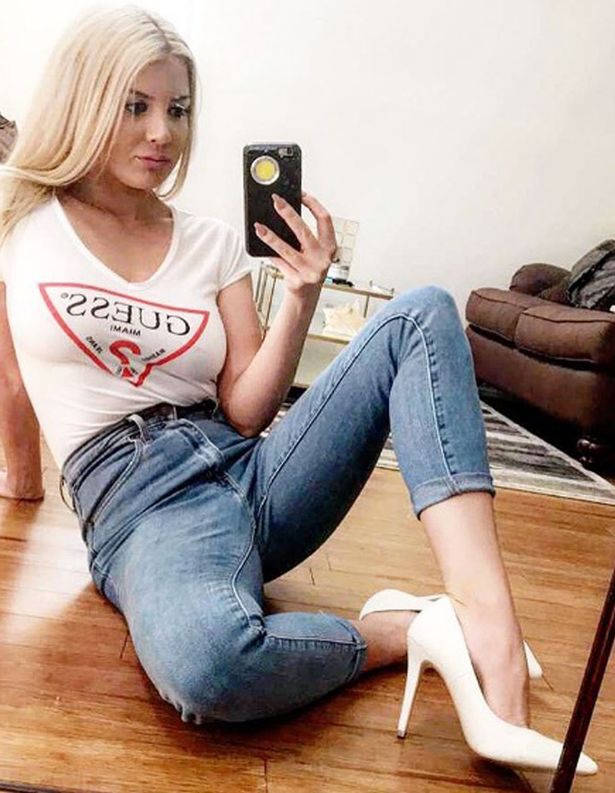 #BREAKING: Chris' attorney just entered the house. We're expecting Chris to surrender soon: https://t.co/hnwbZZN6qB pic.twitter.com/VgksvuzEnN

— The Edge (@TheEdgeNZ) August 30, 2016
Before the glorification of being "skinny", there was something called "Sexy" pic.twitter.com/mFa5SYRGXM

— Baylee Curran (@BayleeCurran) November 8, 2015
#bayleecurran must be stopped. pic.twitter.com/fzQJgD8cdx

— baeomie. (@baeomie) August 30, 2016