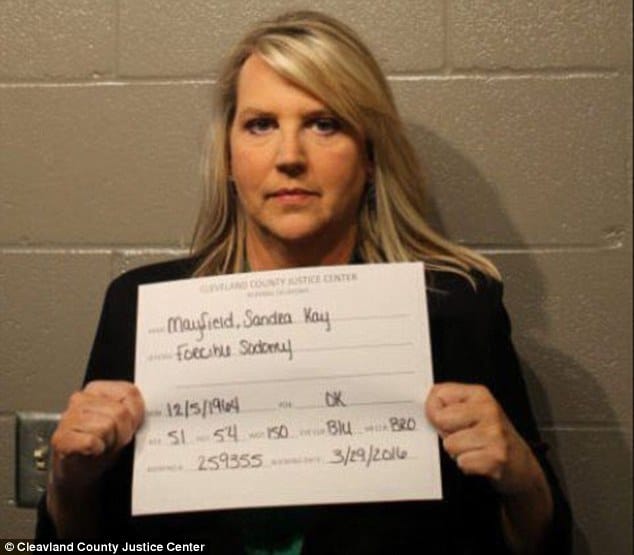 What led to Sandra Mayfield a 51 year old Oklahoma high school teacher sodomizing a teen student under her authority and trust?
Sandra Mayfield an Oklahoma City teacher with the Cleveland County public school system has been booked on a felony charge of having an inappropriate relationship with a 17 year old male student.
The charge against the 51 year old teacher comes after the woman was caught on multiple security cameras performing oral sex on the underage student. Initial reports tell of the high school teacher teaching at Moore High School in Moore, Oklahoma.
The charge against Sandra G. Mayfield comes after an initial probe was conducted after allegations of an off-campus incident involving the teacher and student in February in the back of the defendant's car.
A review of the incident pursuant to an 'undisclosed tip' led to prosecutors recommending the sexual predator be charged with forcible sodomy. 
Told a statement via Moore Police Department spokesperson, Sgt Jeremy Lewis:
'They met at a business here in Moore, drove around in Oklahoma City, made a few stops, ended up late that night at a park here in Moore, Buck Thomas Park, where she performed oral sex on the 17-year-old.'
Also incriminating the teacher was video footage which showed Mayfield 'kissing and hugging' the minor at various places in Oklahoma City, with the teenage boy's accounts lining up with CCTV footage.
Of note, police conceded that the student was a 'willing participant' despite the woman violating state laws.
Mayfield denies the charge of 'forcible sodomy.' Still, she has been banned from Moore High School's campus and has since been ordered not to have any contact with the victim.
Responding to the 'incident,' the school district offered this response:
'The charges filed this afternoon against our employee are shocking and upsetting and are not representative of the hundreds of other teachers who work hard every day to provide a safe and quality education for the students in the Moore Public School District.'
Moore Public School District has since placed Sandra Mayfield on administrative leave and banned her from the campus. Of question is if the teacher is on paid or unpaid leave?
To date investigators have only been able to cite the alleged parking lot incident as the only sexual encounter that took place between Sandra Mayfield and the student. Not necessarily understood at present is how when the teacher began her 'affections' towards the minor and why she chose to abuse her position of trust and authority to prey on the child?
Sandra Mayfield is scheduled to make her first court appearance on July 28. If found guilty she faces up to 20 years jail.