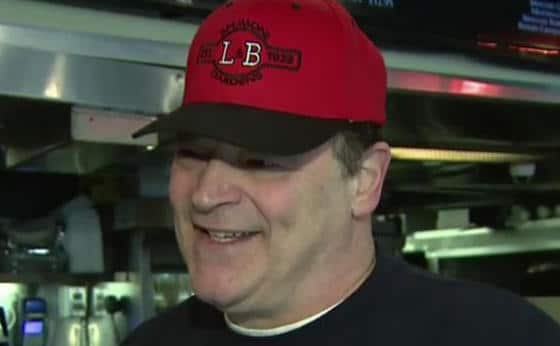 Louis Barbati L&B Spumoni Gardens pizza co owner shot dead: A bungled robbery or a long standing vendetta? Authorities yet to make arrests.
Authorities are trying to piece together who may have shot and killed 61 year old Dyker Heights, Brooklyn pizza man, Louis Barbati, who was slain outside his home while carrying more than $10 000 in cash. Cash that the killer didn't bother taking.
A co owner of the famed L&B Spumoni Gardens Pizzeria, the NYPD told of Louis Barbati being shot dead on Thursday in the back yard of his home just on 7pm.
Barbati's death came half an hour after having left work and driven home in his white Mercedes SUV.
Having parked on 76th st, just around the corner of his home on 12th Ave, the marked man got out carrying a loaf of bread for dinner, walking up stairs to his backyard when confronted by a gunman.
A police source cited via the nydailynews tells of a hooded shooter, described as white, in his 30s and dressed in a black hoodie and gray pants, pumping no less than five bullets into Barbati.
Bleeding profusely, Barbati was able to scream out to his wife, inside cooking, before collapsing and dying.
Told the police source: 'The killer didn't take any property.'
At the time of the shooting, along with Louis Barbati's wife, the man's two sons and another woman were at the home. None of whom were harmed or marked.
Yet puzzling cops is not only why the assailant didn't take off with Barbati's wad of cash is how Barbati came to be carrying that amount of cash to begin with?
According to sources, it was 'unusual for Barbati to bring home that much cash- something he did only about six times a year.'
But with the cash not taken, authorities have yet to necessarily understand what may have motivated the killer?
Told a police source: 'We have a bunch of working theories,' 
Adding: 'Don't have a ton to work with at the moment.'
That said, some think that Louis Barbati's death may have been the result of a botched robbery.
At L&B Spumoni Gardens Pizzeria, which opened on time at 11 a.m. Friday, loyal patrons were in shock.
Told Michael DeRosa, 48, a former regular: 'I know that he was a family man and a hard working business man, took care of his employees,'
'By all indications, everyone who has ever come through here has always had nothing but good things say about him.'
Known for its Sicilian pizza and Italian ices, L&B was founded by Barbati's grandfather in 1939. Ludovico Barbati started off selling pizza products from a horse and wagon on the streets of Brooklyn.
He built the current restaurant on 86th St. in Gravesend in the 1950s.
Barbati was a fourth-generation co-owner of his family's popular restaurant in the Bensonhurst neighborhood.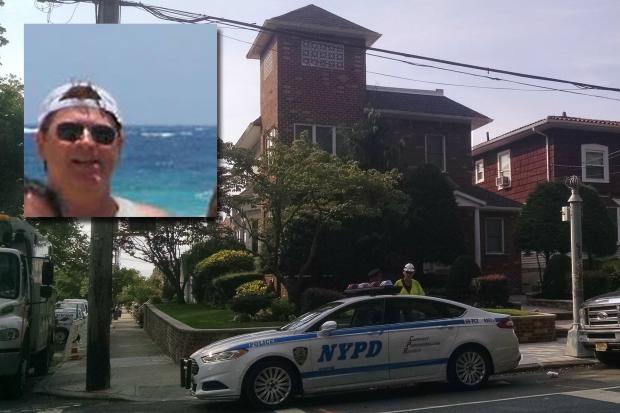 Of intrigue are claims that a 'mob war' erupted over a 'gravy' recipe at the pizzeria several years ago, according to testimony in a 2012 extortion case.
Francis Guerra, a reputed Columbo crime family associate whose ex-wife was a part owner of the pizzeria, was acquitted of a double murder of former underboss Joseph Scopo and Staten Island club owner Michael Devine, as well as extortion of a former Spumoni employee, who he accused of lifting L&B's secret sauce recipe.
Guerra is currently serving time for dealing Oxycontin.
A scheduled press conference outside L & B Spumoni Gardens at 11 a.m. today involving Brooklyn Borough President Eric Adams, and City Councilmembers Vincent Gentile and Mark Trager, was abruptly cancelled earlier on Friday. No reasons were offered.
To date, no arrests have been made in the murder of Louis Barbati.
I'm outside home of @LBGardens coowner Louis Barbati-gunned down in backyard last night. Was this a mob hit?@fox5ny pic.twitter.com/YgliY9zLyu

— Teresa Priolo (@Fox5Teresa) July 1, 2016
#Brooklyn mourns the fatal shooting of @Spumoni_Gardens co-owner Louis Barbati in #DykerHeights, another senseless victim of #gunviolence.

— Eric Adams (@BPEricAdams) July 1, 2016