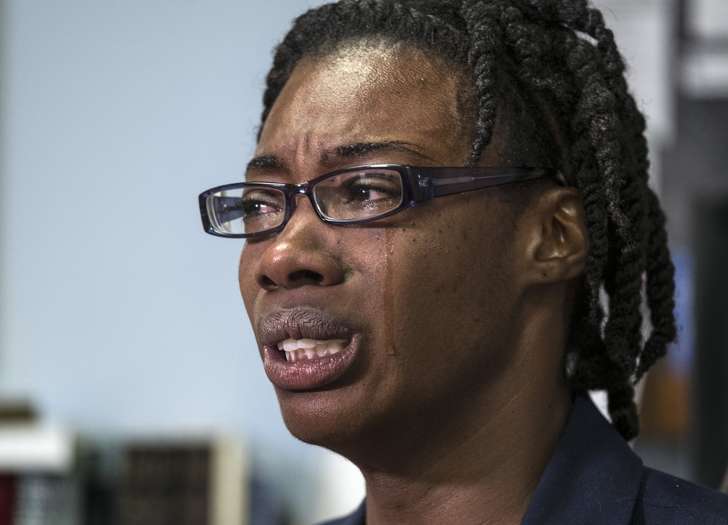 Breaion King African American teacher abused by Austin Police leads to a police inquiry and possible grand jury indictment as questions of race are asked.
A June 2015 incident involving Austin, Texas school teacher, Breaion King has led to local police officers facing an investigation after the black female elementary teacher, was filmed being body slammed to the ground during an arrest, in which one of the arresting officers was filmed saying, 'blacks have violent tendencies.'
The evidence comes courtesy of the Austin American-Statesman which has produced previously unpublished dash-cam video showing Austin police officer, Bryan Richter, who is white slamming school teacher Breaion King to the ground twice during a speeding infraction.
Separate footage also revealed conversations King and another white officer, Patrick Spradlin had.
Asks Spradlin of King: 'Why are so many people afraid of black people?'
Responds Breaion King: 'That's what I want to figure out because I'm not a bad black person,'
Retorts Officer Patrick Spradlin: 'I can give you a really good idea why it might be that way: violent tendencies.'
Prosecutors cleared King, a 26-year-old elementary teacher, of a resisting arrest charge after viewing the video of the June 15, 2015 arrest.
The 112-pound woman has since conceded hiring lawyers as she considers a suit against the department.
'I've become fearful to live my life,' King said. 'I would rather stay home. I've become afraid of the people who are supposed to protect me and take care of me.'
According to the outlet, Richter wrote in his report that he'd acted 'quickly' because King demonstrated an 'uncooperative attitude' and was 'reaching for the front passenger side of the vehicle.'
The policeman's report also noted him saying he didn't know whether King had a weapon, along with the woman resisting by pulling away from him and wrapping her hands and arms around the steering wheel.
Since news of an internal review, Austin Police Chief Art Acevedo announced he has removed both Richter and Spradlin from patrol. An internal probe will include both a criminal investigation and an administrative review into how Richter's supervisors arrived at the decision to give him the lowest level of discipline: counseling and training at the time of the incident.
The chief said he didn't know of Spradlin's comments, which he called racist, until local media began inquiring about it.
During a press conference he said he wanted to apologize to King, who hadn't file an immediate formal complaint with the department after her arrest. 
Told the police chief: 'After reviewing both videos, I and our leadership team were highly disturbed and disappointed in both the way Ms. King was approached and handled and in the mindset that we saw on display in those videos,'
Adding: 'But there is another piece, which has caused concerns as to our review process and the systems we have in place.'
The video of the arrest in a parking lot started with Richter asking King to get back inside her white Nissan Versa. He told her he had pulled her over for speeding.
'You were about to go inside without a wallet, so I know you were only coming over here because you knew I was going to pull you over,' Richter said. 'I can absolutely stop you if you've already parked, yes.'
Matters escalated when Richter asked Breaion King to get out of the car. When she didn't immediately get out, he began pulling her out of the car.
Responded the teacher: 'No, why are you touching me?'
'Oh my God! Oh my God!'
'Stop resisting!' Richter yelled. 'Get out of the car!'
Retorts King: 'I'm getting out, let me get out,'
'Do not touch me.'
From there, video shows Richter pulling out the black school teacher and flinging her to the pavement, yelling at her to put her hands behind her back.
Heard is the officer saying, 'I was about to Tase you.'
Responded the teacher as she struggles to her feet: 'Oh God, why are you doing this to me?'
From there, Richter is observed kicked the teacher's legs out from under her, picking her up and throwing her down again. Eventually the woman is handcuffed as another officer showed up to the parking lot. 
A second video shows King handcuffed in the back of a police cruiser as she spoke with Officer Spradlin where a conversation about whether racism still exists ensues.
'Why are so many people afraid of black people,' Spradlin asks King.
She replies, 'That's what I want to figure out because I'm not a bad black person.'
'I can give you a really good idea why it might be that way,' the officer tells her. 'Violent tendencies.'
When she asks if he thinks racism still exists, he says, 'Let me ask you this. Do you believe it goes both ways?'
'Ninety-nine percent of the time, when you hear about stuff like that, it is the black community that is being violent. That's why a lot of the white people are afraid, and I don't blame them. There are some guys I look at, and I know it is my job to deal with them, and I know it might go ugly, but that's the way it goes,'
Adding: 'But yeah, some of them, because of their appearance and whatnot, some of them are very intimidating.'
King paid a $165 ticket and court costs after Richter said he had clocked her driving at 50 mph in a 35 mph zone on Riverside Drive that day. 
Responding to the video evidence, Breaion King's attorney Erica Grigg told: 'When I looked at this video, I was heartbroken because I thought, 'That would never happen to me because I'm white.'
Travis County District Attorney Rosemary Lehmberg has since told that the case will likely go before a grand jury.
And now #BreaionKing also shows us what living while black means in white America – she's still alive, and we must listen to her voice.

— Jason Chesnut (@crazypastor) July 22, 2016
I only started watching the video of Breaion King's arrest because I knew she would live, but I couldn't last even a minute.

— Doyin (@doyinoyen) July 21, 2016
#BreaionKing This issue reminds us that a man with twice the strength of a woman will hurt,harm,& danger,based upon color. #PoliceBrutality

— Queen of Zamunda (@XaVonATX) July 21, 2016
"I'm afraid of the people who are supposed to protect me." #BreaionKing #BlackLivesMatter https://t.co/vCC5d1DPTt pic.twitter.com/dhWZ7j3M2V

— dare dukes (@daredukes) July 21, 2016