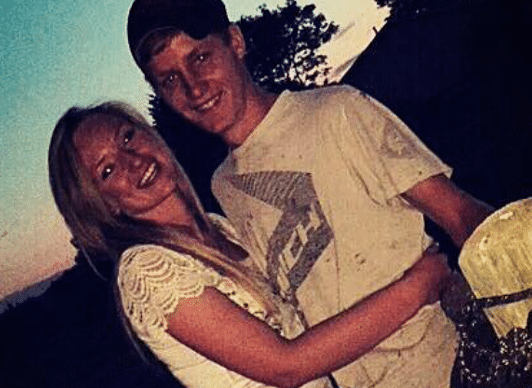 Tanner Flores a jilted teen shoots dead his high-school girlfriend, Ashely Doolitte after feeling betrayed after she calls off their one year relationship.
Tanner Flores a spurned 18 year old Berthoud, Colorado teen has admitted killing his ex girlfriend, Ashley Doolittle, 18, after becoming upset by their break up.
The boyfriend's confession comes after Ashley Doolittle had been reported missing by her family the previous day after her car was found abandoned near Lon Hagler Reservoir in Larimer County – five hours away.
An affidavit cited by CBS-Denver told of Tanner Flores shooting his former high school girlfriend whom he had dated just on a year, twice in the head after she broke up with him, telling authorities he killed Doolittle because he was 'angry'.
The confession in turn led to Tanner Flores being arrested on Friday and charged with first degree murder and second degree kidnapping after having driven his ex's body five hours across the state to his grandfather's ranch.
Prior to the murder of Ashley Doolittle, friends of Flores told of the boyfriend being 'particularly' depressed and suicidal.
The arrest of the jilted boyfriend came after Tanner Flores' concerned father reported to authorities that his .22-caliber revolver vanished from his locker at home — and that his son knew where the key was.
A report via the nydailynews told of the Doolittle's family had first reported her missing on Thursday, June 9, when she didn't return home that night. Her mother had found her car unoccupied near the Lon Hagler Reservoir in Loveland, Colo.
On the morning of June 10, authorities contacted someone who lived near Flores' grandfather's ranch, where the teen later admitted to taking Doolittle's body.
The woman told cops that she saw someone who looked like Flores 'had opened all the doors to the truck, and pulled out what looked to be a bundled up blanket from the back seat of the truck and set it on the ground,' according to the affidavit.
The woman would add she 'was not totally sure, but she thought she could see an arm sticking out of the bundle.'
Responding authorities at the Mesa County property discovered Doolittle's body in the back of Flores' truck. It was later deduced Flores had taken the body in a bid to hide evidence of her murder.
Friends of the murdered teen described Ashley Doolittle as an outgoing girl, active in the Future Farmers of America organization and in Colorado's rodeo scene.
'She was just a confident, happy example of what a teenager should be,' Rhonda Johnson, who helped Doolittle compete in agricultural and rodeo competitions, told the Reporter Herald. 'She was so happy, so full of life, she didn't have anything to worry about.'
Johnson set up a GoFundMe account to help Doolittle's family with expenses, describing the slain girl as a 'smart, a wonderful horsewoman, and an extraordinary young lady.'
As of Friday afternoon, the crowdfunding campaign has raised $16 000 of its $100,000 target.
According to the Denver Post, Doolittle was enrolled as an agricultural business major at Colorado State University. She won a $1,000 to attend the university, and is also interested in horses and the rodeo.
In the days after Ashley Doolittle's murder, Boulder County Fair and Rodeo Royalty Committee whom Dolittle was a member of posted a statement to their Facebook page, honoring Doolittle as the 2017 Rodeo Queen after her death.
'(We) would like to thank everyone for the support that has been extended by various royalty programs and individuals from across the state. Ashley was a blessing to this program and her legacy as 2017 Boulder County Fair and Rodeo Queen will live on forever. Please continue to pray for her family and encourage everyone to remember her as a great role model and ambassador for the sport we love so much.'
To date, friends and family have yet to necessarily understand what led to Ashley Doolittle choosing to break up with Tanner Flores. Or do they…?