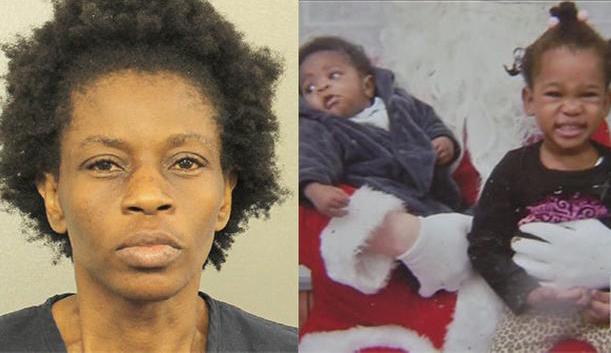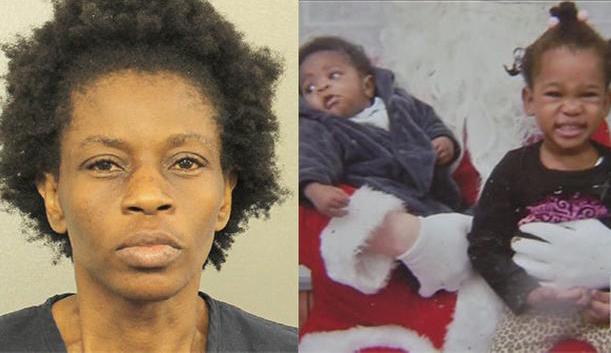 What pushed  Sophia Hines a caring and nurturing mother in to killing her two infant children. Was she suffering mental instability?
Miramar, Florida authorities are struggling to understand what led Sophia Hines a visiting mother of two from Philadelphia suffocating her two children to death, 7 month old son, St Leo Hines and 3 year old daughter, Ariel Hines.
Since charged with murder, Sophia Hines, told authorities was visiting friends in Miramar, a suburb of Fort Lauderdale when she used bedsheets at the Miramar home and suffocated her two baby children.
The 40 year old mother's arrest came after police received a 911 call from the property about a 'medical emergency.'
When the police arrived, Hines and a relative led them to the back of the house, where they found the two unresponsive children, the Miami Herald reported.
The officers performed CPR on the children until fire rescues crews arrived and declared them dead.
At the time, Hines had called the relative after using a bed-sheet against her two children, first her daughter and then her son.
Despite frantically attempting to resuscitate the children, attending medics described the infants dead at the scene.
Addressing the two children's deaths, Miramar police spokeswoman Tania Rues did not say how the children died, telling only 'foul play' was suspected. 
Not necessarily understood is how the Philadelphia mother came to end up at the South Florida home and whether her visit was one of her taking a short break or escaping circumstances up north?
Student Marcus Freeman, who lives in the area, told Local 10 News he was getting ready for class when a woman knocked on his door asking him for help. 
'She was like hysterical. She was kind of in shock,' Freeman said. 
'I came out, I (saw) her down the street. I asked: "You know what was going on?" and she asked me to call the police and I was like: "Do you need me to call them to the house or what?"'
It is not clear if that woman is Hines. 
Back in Philadelphia, Anthony Singleton, St. Leo's father, said he was struggling to comprehend what had happened, saying that his wife hadn't exhibited signs of mental instability.
Told the father via WPVI: 'This is the last thing I would expect, the very, very last thing.'
Singleton said he and Hines had been married for four months, but hadn't known she had gone to South Florida. They last spoke last Thursday; he thought she was in New York with the children.
'She was really good with the kids,' Singleton told WPVI. 'This is the last person I would think would do something to my son, to her daughter.
'I don't know how anyone could have saw this coming. I still don't understand. To me I still don't believe she done this.'
Not necessarily understood is if the 'couple' lived together?
Of note, Antoniqua Singleton, Sophia Hines' step daughter told via nbcmiami Hines had been suffering from postpartum depression and had recently been taking medication until having recently being obstructed from continuing taking them, while conceding family were still not clear on the details.
Nicole Nikki Kelly. A question of postpartum depression or malice?
Nicole 'Nikki' Kelly suffocates her toddler son and posts pictures on Facebook 
Postpartum psychosis? Carol Ann Coronado sentenced to life for stabbing 3 daughters dead
David Bjorklund, a developmental psychologist at Florida International University contemplated the murders may have been the result of maternal fillicide.
Wikipedia defines the term as the deliberate act of a parent killing their own child during infancy.
Told Bjorklund via the sun-sentinel: 'When it does happen, it is often in association with schizophrenia or severe depression.'
Explains further wikipedia: A direct correlation has been identified between child abuse rates and child homicide rates. Research suggests children who are murdered by their parent(s) were physical abuse victims prior to death. This is often seen as an indicator of the larger issue being domestic violence.[4]
Since her arrest, Sophia Hines has been booked into Broward County Jail since being booked on two counts of premeditated murder. Police added that Hines did not offer an explanation for her actions when she was arrested.