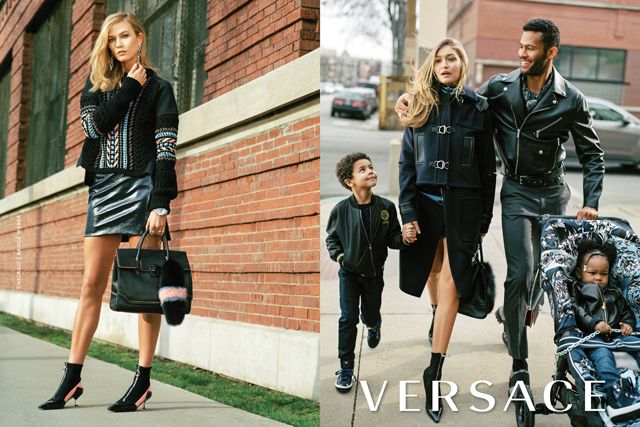 Gigi Hadid for Versace: Did one fashion label's portrayal of young motherhood, racial harmony and gritty Chicago fall far short off the mark? Social media erupts.
Raising eyebrows are Versace's fall 2016 ads showcasing current it girls du jour, Karlie Kloss and Gigi Hadid of reality tv bought me access fame starring in the ubiquitous Italian label's racially in/tolerant campaign.
The images which are set to appear in print magazines this summer as shot by Bruce Webber, purport to show life in Chicago, or at least a stylized and idealistic portrayal of what Donatella Versace thinks life in Chicago is like.
In an interesting switch from fantasy to heightened reality, the Versace fall 2016 campaign sets out to use the city's hyper reality as a backdrop in a bid to sell its wares.
A post via the nytimes explains that it was Webber's idea to shoot in Chicago and to 'put together all kinds of very diverse families in the pictures.'
Because using twenty something polished white girls with extra fine features and long supple limbs is always going to be a reflection of reality? Surely this is not the reality of most early 20 something mothers living the gritty reality of early motherhood?
While the ad initially led to intrigue, others began to wonder how Gigi Hadid at 21, the very symbol of celebrity spawn came to be used as the idea of a female matriarch ( for more thoughts on the domination of celebrity and reality spawns go here) with two inter-racial kids tagging along, as if an after thought to the aloof inattentive mother who presumably like Hadid is focused on her supine beauty.
Symbols and status aside, what though has drawn more frenzy is how a 21 year old can possibly end up being the mother of a child in one of the pictures who appears to be around 7. Unless we are to believe Versace's Gigi Hadid fall campaign was fine with the idea of the depicted mother having given birth at the age of 14?
This in turn has led to many crying out that the Italian fashion outlet tacitly approving (or at least not calling out) teen pregnancy, or at the very least tone death to the idea of a young woman no matter how famous she is in reality, can not for most purposes be a parent to a seven year old. Unless of course she is an actual mother in Chicago's inner south, where such things in impoverished neighborhoods do go on too often. Then again one presupposes this is not Donatella Versace's targeted audience…
Pointing out the inconsistencies in the photo shoot was also Mic which points out that the racial breakdown of models (with only a handful of people of color) actually doesn't reflect what the population of Chicago actually looks like. Again one can only agree that this is not Donatella Versace's targeted audience.
Also not sold is racked which pointed out that the campaign despite its bold aspirations fails to come close to exemplify or depict the actual reality in Chicago, skirting issues of gritty inner city life full of crime, drugs issues and discrimination issue- which would have been a far more breathtaking campaign to have laid eyes on than a gilded tripe photo shoot insulting our common sense even if it luxuriates our fantasies.
Defending the shoot, Versace posted the following statement in part:
"The campaign is made of a series of tableaux, some real-life and some fantastical. One part of the story is very glamourous, almost a fantasy, a kind of dream. The other part of the story is the same people, but in their real lives. They're on the streets of Chicago. They're with their friends and families. The combination perfectly illustrates the relevance and wearability of modern Versace for all parts of one's life, from the ultra-glamourous to the everyday. The images were shot in Chicago and, in classic Weber style, womenswear and menswear are shown together. Some of the campaign photos reflect a take on the modern family, which is wonderfully Weber and very Versace.
Ultra glamorous perhaps but then why bother with the notion of using Chicago as one's focal point when one is bestowed to a preferred vision at all costs save for a few token motifs/tattoos/chains in the background?
Added the retailer: "For the past few seasons, Versace have been showing collections that represent a new relevance at Versace. The collection is in touch with the way real people live in the 21st century. That's the reason why there are these two parts, because that's the essence of Versace. Versace makes amazing clothes for the red carpet, for parties, for a special night out. But also makes clothes for the rest of your life. And the important thing is, the clothes we make for you to wear to work, or to a luncheon, or to a meeting, are no less exciting than what we make for the red carpet. The new pictures show that. Bruce is amazing at making the ordinary feel extraordinary. That's what Donatella and Bruce wanted to say about Versace today."
Since when did getting by and making it in Chicago, as a mom, poor or rich ever translate to an experience of that of the red carpet? Unless of course you are one of the two models, Karlie Kloss and Gigi Hadid who by now have become their own parodies exemplars and red carpet personas- which is fine, but don't pretend that reality stars are now also reflective of the reality of most urban people- cause that would be stretching it beyond any reasonable notion of suspended belief. Even a reality star/fashion label has to know their limits ….