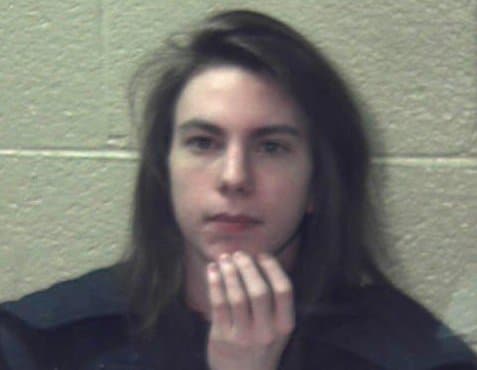 What led to Jacob Taliaferro a 17 year old Lebanese County, Penn youth brutally murdering his mother and waiting hours before calling authorities?
Jacob Taliaferro a 17 year old Lebanese County, Pennsylvania teen has been arrested after stabbing and strangling his mother to death early Monday, sitting down to watch TV for several hours, take a shower before then calling authorities.
An arrest affidavit obtained by WPMT-TV tells of the Susquehanna Valley teen calling the Palmyra Borough Police Department circa 5am, describing how he'd earlier stabbed his mother Lorrie Ann Demko, to death with a kitchen knife.
Told the affidavit: 'He stated that the knife was in the kitchen sink,'
'He also stated that she has been dead for awhile, and that he wanted to turn himself in.'
Police officers dispatched to the home on E. Cypress St. in Palmyra, about 25 miles east of Harrisburg, found Demko lying covered in dried blood on the floor of a bedroom with a 'large laceration on her chest.'
Attending officers pronounced the woman dead at the home.
Jacob Taliaferro, whose apparent Facebook page interestingly identifies him as Jacob "Feelthepain" Taliaferro, told investigators he'd stabbed his mother in the chest and strangled her with a rope until she died.
Noted arresting documents: 'Taliaferro stated he checked her neck and found she had no pulse,'
'Taliaferro stated he then watched TV for some time, took a shower and eventually called 911 to turn himself in to police.'
The incident according to the Lebanon Daily News led to prosecutors deciding to charge the youth as an adult with murder, while a judge at his arraignment Monday ordered Taliaferro held without bail at the Lebanon County Correctional Facility.
During Monday's arraignment, District Attorney David Arnold told no one else had been home at the time of the 'brutal' killing.
Asked what may have motivated the son, the DA declined to discuss possible motives, while telling PennLive investigators didn't believe drugs were involved in the murder.
'I don't believe mental health played a substantial role,' Arnold said. 'When you do something like this, obviously something has gone a little wrong in your life.'
Melissa Hess, a friend of Demko's whose son was best friends with Taliaferro, told Demko was sometimes known as 'the mother of the neighborhood.'
Of note the woman told of Taliaferro having problems with his mom, while telling, 'but we never would have dreamed he would have gone this far.'
Reiterated Hess: 'I don't know why – he didn't want to talk to her,'
'I tried to talk to him, but he didn't want to listen.'
Since the mother's death, sympathizers have taken to social media, with one user writing: 'There was no person more caring, loving or forgiving on this earth than Lorrie,'
'You were truly the bright light of hope in this crazy family. You will truly be missed everyday. You made my Dad a better man and for that I'm always grateful and will always love you.'
Of question is where the teen's father was at the time of the murder and how that may have played a part in the dysfunction that led to Jacob Taliaferro strangling his mother?
To date no bail has been set for the youth. A preliminary hearing is tentatively scheduled for June 6.