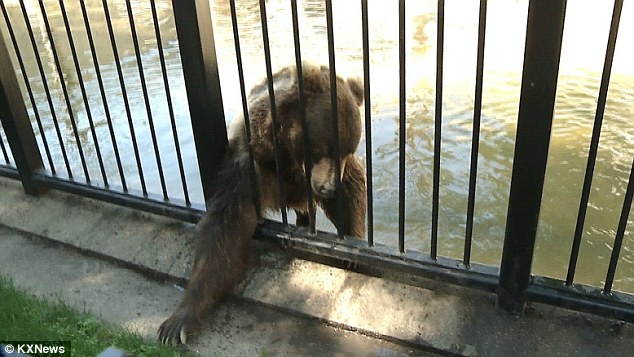 What led to David Shepard a North Dakota man breaking into a zoo enclosure and taunting one of the caged animals? 
David Shepard a North Dakota man has had his arm mauled after breaking into local Roosevelt Park Zoo where the 21 year drunk man at the time, taunted a caged bear with savage consequences.
According to a report via kxnet, Shepard illegally snuck into the zoo along with pal, 23 year old Cody Nelson Kage, Saturday night.
After having climbed an outer fence, the pair began walked the grounds of the zoo enclosure.
Upon coming to the bear enclosure, Minot police told of David Shepard beginning to shout at the bear before sticking his arm through the fencing to lure the animal closer.
Kids, can you guess what is going to happen next?
According to KWCH.com the bear bit our collective hero's hand, leading to the drunk man being rushed to hospital for his 'inconvenient' injury.
Upon being transported to Trinity Hospital, staff alerted police that David Shepard had attacked the bear.
Not necessarily understood is what prodded Shepard and his drunk mate to break into the zoo, nor why for that matter, the pair proceeded to taunt the caged animal.
A police report told of the man still being hospitalized with pending criminal trespass charges, a class C felony to be charged against Shepard upon his release.
Kage for his troubles was also arrested and charged with the same crime.
Zoo officials have since told that they are watching the incensed bear and hope the attack doesn't cause the animal to stress in the future.
Offered Roosevelt Zoo Director, Becky Dewitz: 'I think that people sometimes think that just because they are in captivity they are somehow not a wild animal.
'But they are wild animals. They have natural behaviors, they're going to have curiosity, and in this situation they're protecting their habitat.
'That is their protected home and they felt threatened and they also felt scared.'
Not necessarily understood is if other animals at the zoo also came to be taunted by the two men?