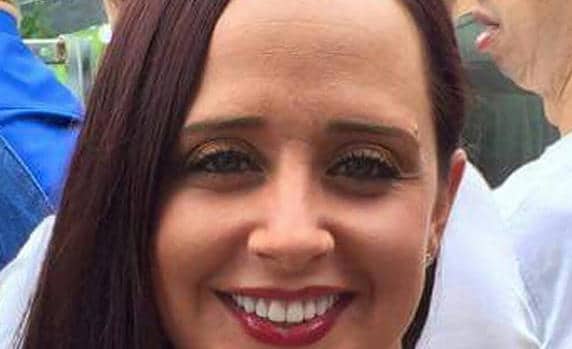 Could Samantha Broberg a Liberty Carnival passenger, presumed death have been averted? Will the cruise liner be sued as Coast Guard now calls off search?
Texan woman Samantha Broberg is feared dead, three days after the Texas woman was reported falling off a cruise ship in the Gulf of Mexico three days ago.
In latest developments, the Coast Guard announced late Sunday evening that it was suspending the search for the missing Arlington, mother of four.
According to authorities, Samantha Broberg, 33, was seen on ship surveillance footage scaling a railing on the Carnival Liberty's 10th deck moments before falling overboard circa 2am on Friday.
A desperate search ensued but after almost three days and 4,300 square miles covered, rescuers called off their search at 8.15pm on Sunday.
It wasn't until as late as 5pm on Friday that the Coast Guard was called in to help after a count of passengers confirmed that she was missing.  
'Based on the video analysis, we can confirm that it appears she climbed up and sat on a deck railing and subsequently fell backwards,' Carnival spokeswoman Jennifer De La Cruz told ABC News. 
What may have tempted the woman is yet to be necessarily understood, whether she was under the influence or as some have wondered, purposefully fell overboard?
The incident comes after the 952 foot Carnival Liberty, according to the cruise line's website with a maximum guest capacity of 2,974 and has 1,160 onboard crew departed from Galveston, Texas, for a four-day cruise to Cozumel, Mexico on Thursday.
The cruiser had been slated to return Monday morning. 
Initial forays from the Coast Guard, included an aircraft being dispatched from Mobile, Alabama, to search the area about 200 miles southeast of Galveston. 
Search efforts continued into Sunday evening as authorities held out that the woman may have survived in warm waters around the Mexican Gulf.
Alarm of Samantha Broberg's disappearance came after traveling companions notified staff that she was missing – sparking a ship-wide search. It wasn't until the cruise liner's surveillance footage was reviewed that the Coast Guard was notified, where she was observed on tape falling backwards into the Mexican Gulf, that the Coast Guard were notified.
Reports tell that the woman's friends hadn't realized their companion was missing until up to 13-15 hours later at the time of falling off.
At the time of the cruise, Samantha Broberg is reported not to have been accompanied by her husband, Karl Broberg, a top Thoroughbred horse trainer in the U.S.
Told Carnival Liberty in a statement since Samantha Broberg's disappearance: 
'Authorities were notified including the U.S. Coast Guard which has been conducting search and rescue efforts in the area the ship was located when the individual was last seen,' 
'Carnival's CareTeam is providing support to the guest's traveling companions and family. We are keeping our guest and her loved ones in our thoughts during this difficult time.'
'Unfortunately, it appears the guest may have gone overboard early this morning. Authorities were notified including the U.S. Coast Guard which is initiating a search effort in the area where the ship was located when the individual was last seen.'
Reacting to the loss of Samantha Broberg, passenger Jo Trizila of Dallas told NBC that Carnival had conducted what she believed to be a thorough investigation.
Told the woman: 'Our steward came into our room, checked the closets, checked the bathroom, looked under the bed looked out on our balcony. I mean, they did a very thorough search,' 
'We knew it wasn't going to end well when the last few updates the announcer said: "Would you please just keep this family in your thoughts and prayers."
Told relatives told the Houston Chronicle in a statement prior to the Sunday night's announcement to call of the search: 'We are shocked and deeply saddened by the incident that occurred on the Carnival Cruise Ship. We hope and pray the U.S. Coast Guard is able to bring Samantha home. We ask for privacy as our family comes together during this difficult time.'
Of note, according to CruiseLawNews, the ship was 'apparently not equipped with an automatic man overboard system which should have alerted the bridge immediately when the young woman went over the rail so that immediate rescue measures could have been undertaken.'
Of question is if Samantha's family will seek to bring a lawsuit against Carnival Liberty and whether they have a claim?